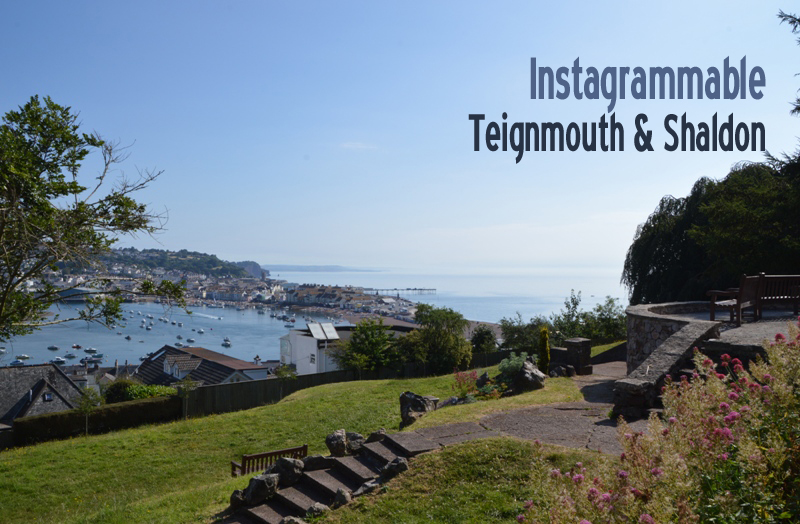 Welcome to our latest blog post in our instagrammable series, this time we're lifting the lid on our favourite places to photograph in Teignmouth and Shaldon. Both popular coastal resorts in sunny South Devon, Teignmouth and Shaldon border the Teign Estuary meaning there's a whole host of Insta-worthy spots that you won't want to miss! Check out our top ten below.
Teignmouth Pier
Photo Credit: @allfabethical
Kicking of our list is Teignmouth Pier which is probably the most iconic feature of Teignmouth. One of only two remaining pleasure piers in South Devon, it truly epitomises a Great British seaside holiday with tons of arcade games to play and a spot to grab an ice cream. The exterior of Teignmouth Pier is pretty cool too, ideal for a close up shot or if a landscape view is more your thing, why not head down to the beach at sunrise or sunset to get a really atmospheric photo.
One of our favourite instagrammable places in Shaldon is Homeyards Botanical Gardens. Constructed in the late 20s and early 30s, these stunning gardens are certainly worth visiting if you're in the area. Not only do the terraced gardens include a pond, rill garden, Italian rockeries and even a pretty impressive castle, but the views across the River Teign and looking down on Teignmouth are superb too – you'll be spoilt for choice when it comes to photographs!
Located in Shaldon at Ness Cove, Café ODE has sublime views and is perfectly situated on the South West Coast Path. During spring and summer food-lovers can enjoy wood fired sour dough pizzas and an array of delicious choices and if it's a tipple with a difference you enjoy, be sure to try out their ODE ale. If all of that wasn't enough, Café ODE is at the forefront of sustainable business here in South Devon and their chic décor makes this an Insta-lover's dream.
The perfect destination to while away the hours, Teignmouth River Beach also known as Back Beach is situated on the estuary side of the town and has beautiful views up the River Teign and towards Dartmoor. Grab yourself some fish and chips and head here at sunset to watch the fishermen come and go and the golden light appear as it dazzles across the water. Regardless of the time of day, the eclectic selection of boats makes the perfect subject for a very pretty Instagram post.
How could we write about the most Insta-worthy spots in Teignmouth and Shaldon without including the River Teign?! Separating these two gorgeous coastal resorts, there's always a hive of activity taking place. From stand up paddle boarders and kayakers to boats and walkers, the River Teign is a central focus for the two destinations with the riverbed even being farmed for shellfish. Take a walk along the estuary and you're sure to find a picture-perfect spot.
Old Walls Vineyard
Not too far from the centre of Teignmouth, near the village of Bishopsteignton, overlooking the River Teign, you'll find Old Walls Vineyard. Wine enthusiasts will love visiting this magical vineyard on one of their tours where you can learn about the history of the site and taste their sumptuous still wine collection. With south facing slopes and countryside vistas, you may even forget you're in England, but one thing you won't forget, is to take a few snaps of this idyllic place.
Crab Shack
Crab Shack, as its name suggests, is a wonderful seafood and shellfish restaurant on Teignmouth River Beach. With the spotlight on local seafood, this eatery is the place to go for the freshest most delicious dishes. The specials board changes daily depending on what has been caught and there are also two set menus to choose from - and don't panic if one of your party isn't a fish-lover, there are options for them too!
Just a short drive away from Teignmouth and Shaldon, is Little Haldon Heaths or just Little Haldon as it's more locally known. Comprising of two small areas of lowland heath, it is now a Site of Special Scientific Interest (SSSI) and is home to an abundance of wild plants and different species of birds and other animals. Both areas have a car park and picnic area and the views are breathtaking, looking down towards the River Teign and across the stunning landscape down to the coast.
The London Inn
The London Inn in Shaldon can be found on The Green. A charming and characterful pub, their food is delicious and of course there's a wide range of alcoholic and non-alcoholic beverages on offer. We decided to include this little gem on our list of the most Insta-worthy spots in Teignmouth and Shaldon due to not only it's pretty exterior, especially in the warmer months when the flowers are blooming, but also because of its view across The Green, where colourful houses also make for a great photo.
The Ness
A Grade II listed Inn, The Ness is also located in Shaldon and offers stunning vistas across the Teign Estuary over to Teignmouth and of the coastline. With modern yet cosy décor this beautiful pub is the ideal place to stop for refreshment after a day at the beach or a bite to eat whilst out walking. A gorgeous terrace is on offer for those summer days and an appealing fire roars during winter nights, it's a sure win all year round!
Make sure you're following us on Instagram here for your regular dose of our beautiful region! And don't forget to tag us in your photos of South Devon by using #southdevon, #visitsouthdevon or @visitsouthdevon, we love seeing your images and we might even share one of yours with our followers!
Other Posts You Might Like
Related
0 Comments