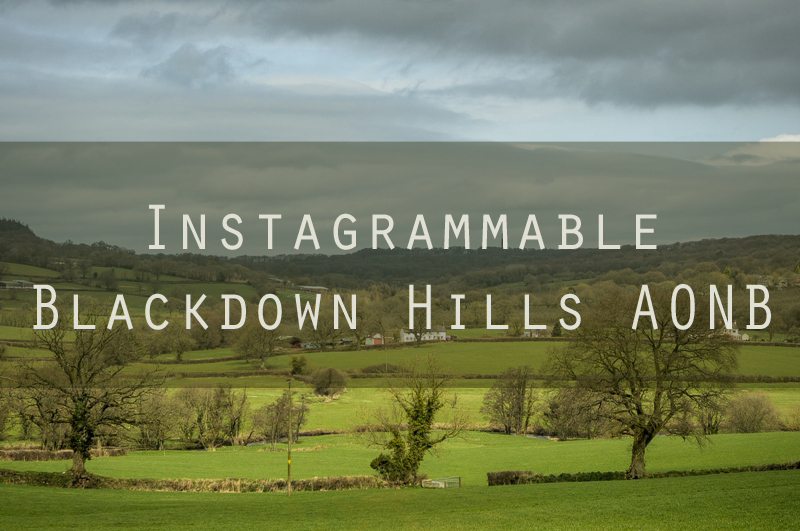 The Blackdown Hills Area of Outstanding Natural Beauty (AONB) can be found to the eastern side of South Devon and spreads over the border into Somerset. Besides being an area of important historical sites it also boasts mesmerising countryside for visitors to enjoy. From Iron Age hillforts to enchanting forests, there is truly something for everyone and of course a wide array of places to photograph. Find out our most Insta-worthy spots in the Blackdown Hills AONB below.
Hembury Hillfort
Found near the wonderful market town of Honiton, Hembury Hillfort is considered to be one of the finest prehistoric hillforts in the whole of the county of Devon. The site shows evidence of Neolithic settlements as well as Iron Age and Roman occupation. Not only is this destination in the Blackdown Hills AONB of great archaeological and historic interest to visitors, but the vast area provides glorious walks and of course plenty of opportunities to capture some magnificent photographs.
Culmstock Beacon
Situated on Blackdown Common to the north west of the Blackdown Hills, Culmstock Beacon is an Elizabethan beacon which was used for lighting fires to warn of advancing enemies. Following the original flint constructions collapse, it was rebuilt in 1870. Its high position means that this structure offers unparalleled views of the incredible countryside and is also a haven for wildlife, if you enjoy having a bird or animal to be the subject of your Insta post.
Otterhead Lakes
Otterhead Lakes can be found within the Somerset part of the Blackdown Hills AONB and is a local nature reserve. The nature reserve resides on part of what was formerly a grand Victorian estate, Otterhead House. Nowadays visitors to Otterhead Lakes can enjoy a varied environment perfect for walking and wildlife watching and we can assure you that you'll definitely want to take a few snaps for your social media feed!
Wellington Monument
Similarly to Otterhead Lakes, Wellington Monument is just over the border in Somerset. A Grade II* listed structure, the triangular obelisk was completed in 1854 in order to commemorate the Duke of Wellington's victory against Napoleon at the Battle of Waterloo in 1815. Now owned by the National Trust, a trip to see this striking landmark can be combined with some fantastic walks with superb views of the Somerset countryside.
Dumpdon Hillfort
Dumpdon Hillfort is located north east of Honiton within the Otter Valley. A notable Iron Age hillfort, the defensive earthworks and nearby beech forest are a great location to explore. The hillfort is managed by the National Trust and you won't be disappointed if you climb the hill to the top of the fort, you'll be rewarded with panoramic views of this stunning area – the perfect photo opportunity to grab a pic for your Instagram feed.
Hemyock Castle
Set in the Culm Valley, Hemyock Castle is the remains of a 14th century moated castle. The ruined medieval building would have been very impressive in its day, and those wishing to visit Hemyock Castle can do so when it is open to the public, usually on Bank Holiday Mondays from Easter until September. If you're lucky enough to be in the area on one of their open days, be sure to stop by and have a look around.
Castle Neroche
Castle Neroche is on the Somerset side of the Blackdown Hills AONB and unlike its name suggests, unfortunately a castle is no longer present at the site. However, visitors can expect earthen ramparts and a mysterious forest where an Iron Age hillfort and later a motte and bailey Norman castle once were. We had to include this on our list of the best places to photograph in the Blackdown Hills not only due to the vistas but the gnarly trees make for a very atmospheric shot.
Loughwood Meeting House
North west of Axminster, Loughwood Meeting House is a Grade II* listed building now owned by the National Trust. It is a historic Baptist chapel and thought to be one of England's earliest surviving Baptist meeting houses. The current thatched building dates to around the late 17th or early 18th century, although there are records of a meeting house on the site in 1653. Much like all of our favourite spots listed, the views will not disappoint and the building itself also makes for a great photo.
The Greyhound Inn
The Greyhound Inn is situated right on the border of the Blackdown Hills AONB south east of Taunton in the quaint village of Staple Fitzpaine in Somerset. A traditional countryside inn, snuggle up next to the open fire in the cooler months or stop by for a refreshing pint in the warmer ones after you enjoy a leisurely stroll in the surrounding countryside. We included this hidden gem on our most instagrammable list because of its charming décor which is sure to tempt you to a photo if village scenes and cosy pubs are a staple of your social media.
Finally on our list we come to a bit of a general one, but we couldn't write about the most instagrammable places in the Blackdown Hills AONB without mentioning how stunning this Area of Outstanding Natural Beauty is as a whole! Wherever you visit in the Blackdown Hills you're bound to be greeted with outstanding views whether you simply go for a walk around one of the local villages or enjoy a drive between destinations, we can assure you that you won't be short of photography opportunities!
Make sure you're following us on Instagram here where we're sharing regular photos of our beautiful region. And for your chance to be featured, make sure to tag us in your photos of South Devon by using @visitsouthdevon, #southdevon or #visitsouthdevon.
Other Posts You Might Like
Related
0 Comments