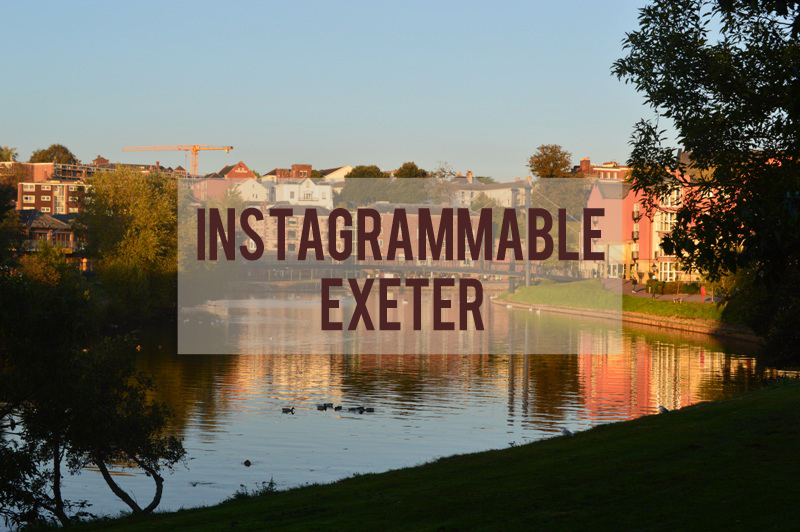 The captivating city of Exeter isn't short of stunning landscapes and historical landmarks, plus there are plenty of great attractions and things to do. Whether you're a shopaholic looking for a fix, a coffee lover or an avid history buff, there's something for everyone in Exeter. And it's definitely a popular city for budding photographers with plenty of aesthetically pleasing places so as part of our instagrammable series we've put together our top 10 most Insta-worthy spots in Exeter, have a read through them below.
Gandy Street
First on our list is the famous Gandy Street, which is not only well known for its eclectic selection of shops and beautiful cobbled walkway, but also because it is widely believed to be the inspiration behind Diagon Alley in JK Rowling's Harry Potter. Dotted along the street are independent boutiques and gorgeous bistros making it perfect for those wishing for a slightly different shopping experience to the usual city scene and of course its charming look means it's perfect for capturing an Insta-worthy street shot.
A real gem in the city of Exeter, the historic quayside is truly one of the most picturesque spots in the city. The buzz around this area cannot be denied, with plenty of wonderful shops and events taking place throughout the year and the waterfront eateries, bars and cafés provide the perfect location for some al fresco dining. The colours and glistening water are what makes this spot an ideal place to photograph and add to your growing Instagram collection. For more information about Exeter's Historic Quayside, please click here.
Stepcote Hill
One of the oldest surviving parts of the city of Exeter, Stepcote Hill can be traced back to 1270 when it was referred to as Styppecotehyll although the hill itself is believed to have been in use since the Roman times. These days it's still as attractive as we imagine it would be back then and it really feels as though you're wandering through a land of days gone by. The crooked buildings and cobbled pathway give a real air of charm and sense of history to any image.
Rougemont Castle & Gardens
Rougemont Castle, also known as Exeter Castle, was built around the late 11th century in the Roman city walls. The Norman gatehouse of the castle is a striking red building which can be viewed from Castle Street and Rougemont Gardens where there is also a monument. Visitors will enjoy a walk around the area with Northernhay Gardens just next door too and the impressive brick structure of the Gatehouse is a perfect centrepiece for an image.
Pink Moon
We simply had to include Pink Moon on our list of the most instagrammable spots in Exeter due to its sublime décor. A true Instagram user's favourite, this fabulous café come restaurant come club combines a Californian feel and swish interior with tasty food, divine drinks and of course the colour pink with the added bonus of a focus on sustainability. If it's photos of food, grammamble furnishings or a snazzy backdrop for a selfie that you're looking for, Pink Moon is certainly the place to be.
The House That Moved
The House That Moved in Exeter is a landmark with a truly remarkable story. A Grade II listed property dating back to around 1430, it was in the way of a new road being built and was due to be demolished, fortunately it was listed just in time. In 1961, in order to save it, Exeter City Council, with the help of the government, spent about £10,000 and contracted a London company aided by a local company to move the house 70m up the road! An incredible feat of engineering, there's even a short video you can watch covering the event here and don't forget to pay it a visit whilst you're on your next tour of the city!
Book-Cycle
A forward-thinking and innovative UK based charity; Book-Cycle in Exeter is the original branch of the organisation which now has many other outlets across the UK and even one in Italy. With the idea of providing reading and educational materials to children for free, shoppers can choose what they pay for up to three books a day. We've chosen to include it in our most Insta-worthy spots in Exeter not only because of its awesome premise, but the façade is pretty special too!
The Glorious Art House
Photo Credit: https://theboutiqueadventurer.com/
If quirky and colourful spots are what you look to photograph then a visit to The Glorious Art House on Fore Street is a must! A coffee shop with a difference, this vibrant café serves up delicious coffee and mouth-watering treats in a colourful and unique setting of visual art. Whether it's the quaint and cosy courtyard, the fun crockery or the rainbow exterior, there's plenty of photo opportunities in this hidden jewel.
Pinces Gardens
Pinces Gardens can be found to the south west of the city of Exeter and is on the site of William Lucombe's nursery which was founded in 1720. It's probably most notable for its 45 yard long beautiful wisteria tunnel which attracts plenty of visitors during the spring months. The gardens are worth a trip whatever the time of year however and we're certain that you'll be sure to get a very pretty photo to add to your Instagram account.
NGNG
Last on our list but by no means least, is NGNG which stands for No Guts No Glory. This chic shop and coffee bar on Fore Street sells beautiful house plants and lifestyle products with a firm focus on sustainability. Besides the quality merchandise and important message, the minimal and earthy décor of the shop is what makes it on to our list of the most instagrammable places in Exeter – we just adore it!
And one for luck...
Exeter Cathedral
Now we couldn't write about the most photographic spots in Exeter without mentioning the grand Exeter Cathedral! The cathedral and the green could be considered the beating heart of the city with its imposing yet intricate structure. From the stunning carvings on the exterior to the vaulted ceiling inside (the longest uninterrupted medieval vaulted ceiling in the world!) visitors and photographers are sure not to be short of striking images.
Tag us in your photos on Instagram using @visitsouthdevon, #southdevon or #visitsouthdevon. We love seeing all your beautiful images and we might even feature yours on our feed! You can follow us on Instagram here.
Other Posts You Might Like
Related
0 Comments