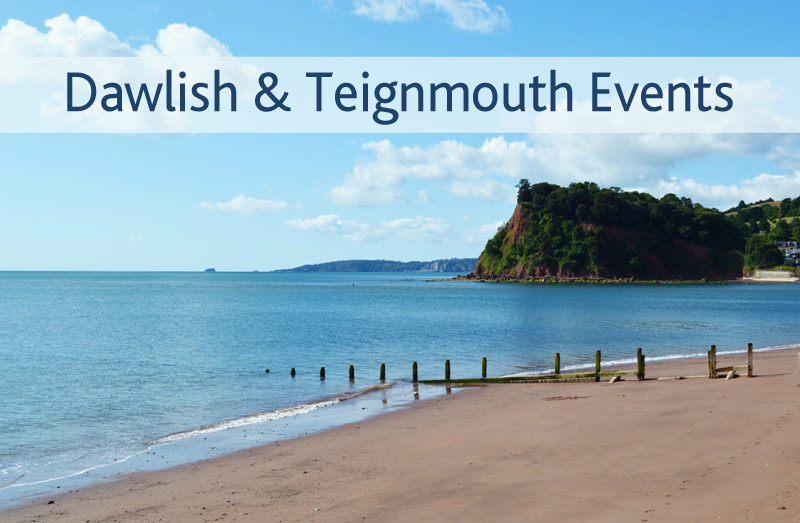 If you're looking to visit the coastal towns of Teignmouth or Dawlish during 2020 you won't be disappointed with the superb assortment of events being held throughout the year.
Below you'll find all the top events taking place in or close to both coastal resorts throughout the year.
This year's flower festival is entitled "Dance for Joy". There will be over 40 floral exhibits created by local flower arranging clubs and church members at St Michaels Church, Teignmouth. There will be craft and gift stalls, musical presentations and concerts along with delicious homemade cakes and beverages.
Big Screen Events (10th – 12th July)
The big screen will be up on The Lawn and will be the focus of attention from the 10th – 12th July.
On the 10th an Open Air Cinema Night will be held from 7pm till late and it's free.
On the 11th & 12th watch the Wimbledon Finals. Screenings will start at 12noon and continue until the matches finish.
Toby's Garden Festival is back at Powderham Castle on the 1st and 2nd May 2020. It's the perfect way to kick-start your gardening year with expert talks and demos, heaps of horticultural know-how and a wealth of award-winning nurseries, offering quality plants and advice.
Wander around the classic cars which will take over The Lawn from 10am to 4pm.
Dawlish Against Plastic and Dawlish Town Council are holding Dawlish's first ever 'Go Green Fest' from 10am to 4pm on The Lawn.
Somewhere between a carnival and a regatta, the Shaldon Water Carnival provides a day of creative explosions, colourful entertainment and nautical brilliance. The earlier stages of the celebrations take place on Ferry Beach with beach competitions, along with an assortment of stalls, before the boats take to the water. The kids will love it, whether they want to take part in the fancy dress parade or the children's disco.
This week long event celebrates Teignmouth's love of the sea and river - with all things watersports included - with rowing, sailing, kayaking and paddleboarding events. For those who like to stay on dry land there is plenty going on throughout the town for kids of all ages - crabbing, quiz nights, fun runs, treasure hunts and more.
A short service to commemorate the 75th Anniversary of the end of the Second World War in the Far East, remembering the Forgotten Army. Time and venue to be announced.
Carnival Week in Dawlish is a seven-day action packed event. The big event of Dawlish Carnival is the main procession, a colourful and noisy celebration that covers a two and a half mile route through the seaside town. There are a range of competitions and sporting events during carnival week, and whether you intend to participate or merely spectate, the atmosphere is friendly and welcoming with a well-organised and affordable range of activities for party-goers of all ages.
Teignmouth and Shaldon will play host to anything up to 20 shanty groups performing in 12 venues and providing over 70 hours of "free to attend" shanty singing. The resorts will be filled with music, singing and infused with a great community spirit.
The autumnal foodie event that celebrates the South West's finest food and drink producers will return on Saturday 3rd and Sunday 4th October 2020. Now in its 9th year, the festival will be hosted in the grounds of the beautiful Powderham Castle and promises to provide a fantastic family, foodie and fun day out for all to enjoy. Brimming with all things edible, drinkable and delectable from over 150 producers, there are also demonstrations from a line-up of the region's best culinary talents.
Commemorate Remembrance Sunday at Dawlish War Memorial, followed by a civic service in St Gregory's Church.
Teignmouth Farmers' Market is held at The Triangle, town centre, on the last Saturday of the month between 10am and 2pm, all year round. Meet the farmers who work hard to bring you the fruits of their labour to the market. Great food and drink from within 30 miles of Teignmouth and a fun way to support the community.
To find out what's on across South Devon during 2020, please click here. And to keep up to date with events, blog posts, competitions and more, make sure to follow us on Twitter here.
Other Posts You Might Like
Related
0 Comments