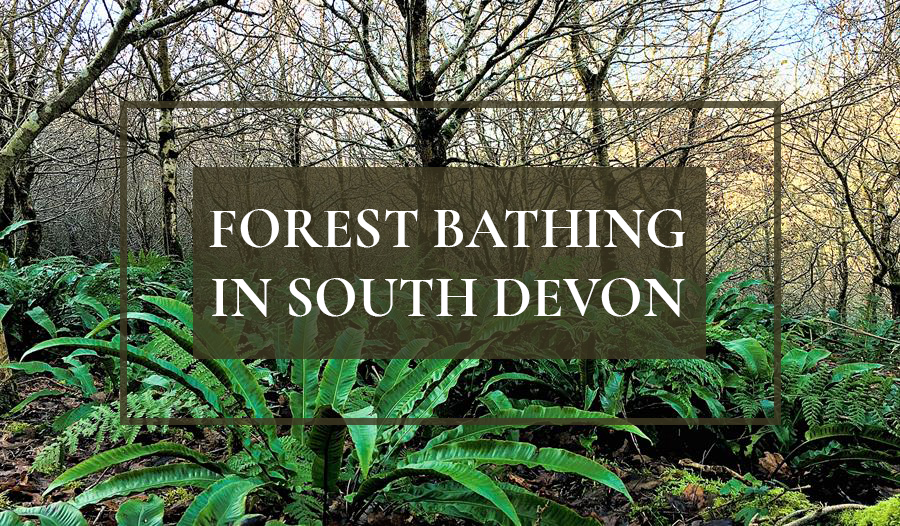 Guest Blog Post - Donna McCheyne from Simply Soulful Yoga
Step into the magic of one of many, beautiful woodland locations in South Devon to enjoy a total immersion into the joy, beauty and healing power of nature. Create an alliance with the trees and enhance your connection to both the environment and inner wisdom through the great outdoors. Local residents and visitors to South Devon have endless opportunities to enjoy a diverse range of fresh-air activities, exploring a stunning natural playground at all times of the year, with the bonus of wellbeing benefits.
The importance of looking after our physical, emotional and mental wellbeing has never been more important than right now. Traditional wellbeing techniques are making a comeback, helping us to introduce more wellness and relaxation into our everyday lives.
One such method is Forest Bathing. Originally from Japan in the 1980's, known as Shinrin Yoku, it translates in English to 'Forest Shower' or 'Forest Bath', and relates to total immersion into a quiet woodland setting inviting the gifts of nature to wash over us.
Japanese and South Korean researchers, have studied health benefits of spending time in woodland areas and have identified positive changes in the nervous system, reducing the stress hormone cortisol and boosting the immune system. In fact, research has shown just 15 minutes of forest bathing can lead to reduced blood pressure, stress levels, and improved concentration and mental clarity.
Other benefits include:
· Boost immune system and sleep quality.
· Reduce blood pressure, stress levels, anxiety, depression, anger and fatigue.
· Increase focus and clarity with emphasis on grounding in the present.
· Enhance feelings of playfulness, curiosity, love, gratitude and inner peace.
Research tells us "two hours of forest bathing can have a positive effect for up to 30 days"
Now popular in the UK, woodland wanders offer opportunities to slow down, unwind, step away from the stresses and strains of modern life society and living in the fast lane; and appreciate the healing gifts of our natural environment.
Try following these five simple steps to enhance your wanderings in nature:
1. Leave your phone at home
You may be tempted to take photos and share your experience with your social media buddies, however forest bathing is about switching off and letting the forest stimulate the senses. So, leave your phone on silent, better still, leave your phone at home so that you can be fully present in the glorious moment.
2. Take a pause
Forest bathing is about taking time out from the busyness of life. So please take your time, there is no need to rush. Trust that there is no where you need to be, there is nothing you need to do, except enjoy the time you have allocated to just being grounded in the present. Try sitting under a tree, or against the trunk of a tree. Soak up the healing ambience and invite the gifts of nature to wash over you.
3. Use your senses
Forest bathing is a sensory based experience. Stop; stand, sit or lie and try to observe your environment by engaging one sense at a time. Consider the small detail and the large.
· Touch the leaves, the trees.
· Listen to the sound of birdsong, the wind.
· Smell the fresh scent of pinecones, the soil.
· Look at things in minute detail, then expand your range of vision as far as you can.
· Notice the sensation of the ground beneath your feet, the sun on your skin.
· Observe, without judgement, what emotions and thoughts arise for you.
4. Be curious and intrepid
Leave any goals, expectations and time restraints at the forest gate. Allow yourself to wander aimlessly without any objectives or set walking route in mind. Explore your natural playground with a childlike curiosity.
5. Have fun
Finally, have fun, there are no set rules. Follow your natural instinct and simply go with the flow.
To book a guided forest bathing session with Donna visit Simply Soulful Yoga. The walks take place in the beautiful rewilded woodlands of Dittiscombe Estate & Cottages near Slapton.
We look forward to seeing you in the forest soon!
Related
0 Comments