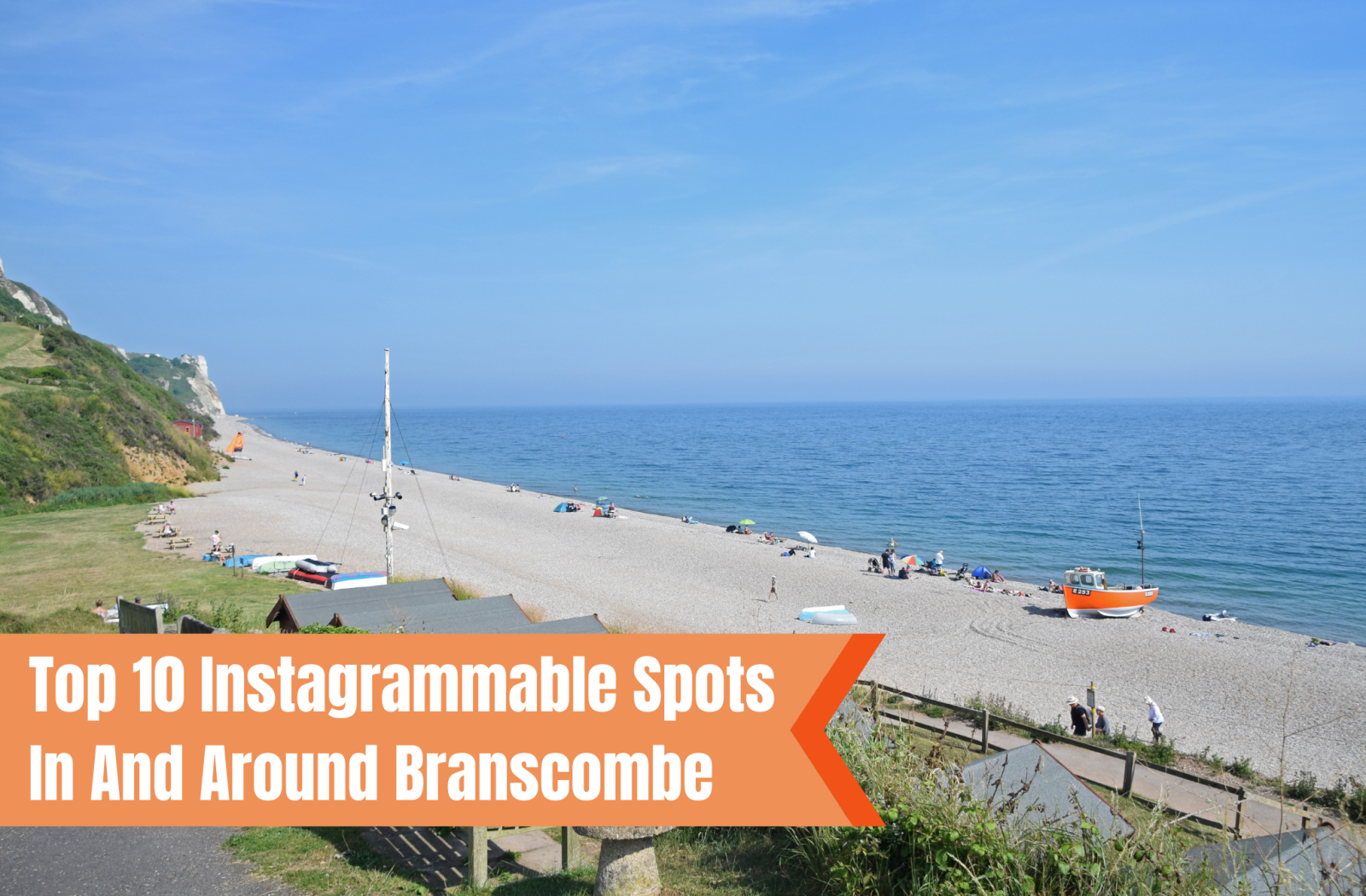 The idyllic village of Branscombe is set on the Jurassic Coastline of Devon between Sidmouth and Seaton, in East Devon. This peaceful village runs through the valley to the sea and is lined with picturesque cottages and thatched buildings. Being such a quaint and charming holiday destination, drawing visitors from all over the country and world, there is an abundance of places to photograph. Here are our top 10 Instagrammable spots in and around Branscombe.
First up on our list has to be the stunning Branscombe Beach, a long shingle beach which continues east to Beer Head, within the East Devon Area of Outstanding Natural Beauty. The colourful beach houses and moored boats make this beach incredible Instagrammable. Our favourite time to visit is during sunrise or sunset – both are equally as beautiful!
The picture-perfect village of Branscombe is the ideal place to visit if you're looking for a blissful day trip or a longer vacation, you'll find all your worries will quickly evaporate when stepping foot in this timeless community. You won't fall short of things to photograph here either as the village is made up of quaint cottages and nomadic buildings, it's almost as if you've walked straight into a postcard.
Follow the South West Coast Path from Branscombe Beach, past Hooken Cliffs and back down to Beer Head for unbeatable views of the Jurassic Coast. Take the track up the grassy hill to East Cliff, where you'll meet a variety of wildlife and animals, as well as a stunning view of Sidmouth and the surrounding coastline. We're sure you'll be snapping photos the entire walk, but this is the best place to go for a 360-degree panoramic view of the sea and countryside.
Hooken Cliffs
An intense landslide in 1790 left the tall, chalky Hooken Cliffs an area of extensive pinnacles and ravines, providing a haven for wildlife, and is the perfect place to take some coastal pics. Walk the trail through the Hooken Undercliff, or follow along the path to the clifftops above, where spectacular views of Branscombe, Beer and the rest of the Jurassic Coast can be seen.
Beer Quarry Caves
Beer Quarry Caves is a man-made limestone underground complex located just 2 miles from Branscombe Beach. When underground, you'll find yourself transported back in time. The history surrounding the caves is vast and over 2000 years old, as the caves were also used as a place of refuge, worship for Catholics and a hiding place for smuggled goods! Whilst the caves are mostly dark, you will find some slithers of light, making a truly beautiful and mysterious photograph.
The Mason Arms Inn
In the heart of Branscombe village you'll find The Mason Arms, a stunning 14th century Inn. The stonework is something to be admired and the interior is just as authentic, with timber frames, low beamed ceilings, pine cladding and a comforting log fire. Whether you admire it from the outside, or pop in for a bite to eat, you'll certainly enjoy taking photos of this charming inn.
Walking through the village you'll see gorgeous cottages with thatched roofs, hanging baskets filled with flora, and rose bushes climbing the walls. Each cottage is unique, bursting with a variety of colours and is likely to have existed for hundreds of years.
The Old Bakery Tearoom
A beautiful, stone-built and thatched building in the heart of the village, The Old Bakery Tearoom is a historic bakery, which, as of 1987, is currently a tearoom and museum. The bright yellow exterior is perfect to add a splash of colour to your Instagram feed, and it also makes the ideal backdrop for a selfie! Their cottage garden is the perfect place to relax for a while if its blue skies, but if the weather is a bit miserable head inside and appreciate the cosy antique interior.
St Winfred's Church
Built between the 12th and 14th century, St Winfred's Church is among the oldest parish churches in Devon and was dedicated to Welsh martyr Saint Winifred. The church is nestled into a valley in Branscombe and surrounded by beautiful countryside. The inside of the church is just as impressive, it's likely to have been owned by the monks of Exeter Cathedral which resulted in architectural improvements in the medieval period.
The Forge
Branscombe Forge was built around the 16th century and is believed to be the oldest thatched working forge in the county. Blacksmiths still work at Branscombe forge using traditional methods to create both practical and artistic works. We're sure they'd be happy to pose for a photo or two!
Keep up to date with all things south Devon by liking us on Facebook and following us on Instagram and Twitter. We'll let you know about the latest competitions, blog posts, events and plenty more!
Related
0 Comments