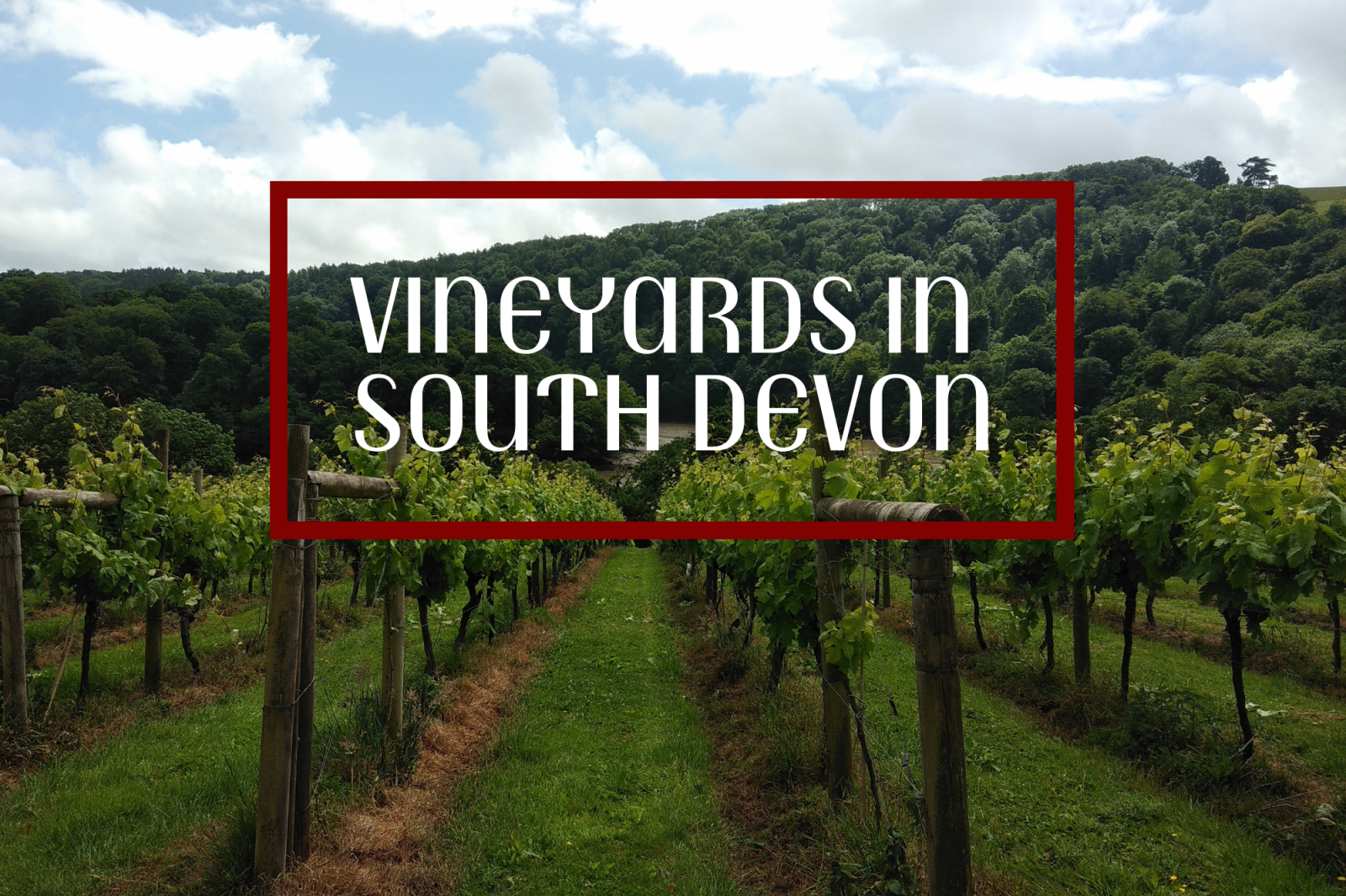 Devon is home to a lot of vineyards - each producing stunning wine, many of which are award-winning. From coast to countryside, these drink producers are dotted across the region so wherever you're staying, there's a very good chance you won't be far from one. A large portion offer guided tours and tastings so you can truly get to grips with the world of English wine and have shops where you can purchase their drinks. Be sure to look out for some of these names when you visit our restaurants and bars too or if you want to try them in the comfort of your own home, many of them can be bought online. Discover the vineyards in South Devon below.
Sandridge Barton may sound like a new name on the vineyard scene in South Devon but it's actually the new home of Sharpham Wine. Located within the South Devon Area of Outstanding Natural Beauty in a sheltered valley just a stones throw from Stoke Gabriel, this new site has a brilliant winery visitor centre. Guided or self-guided wine and cheese tastings can be enjoyed as well as winery and vineyard tours - all of which can be booked in advance online. Visitors can also look forward to a farm shop selling their wines, local produce and Sharpham cheeses. There's some beautiful walks to be had at Sandridge Barton on the vineyard trails or around the woodland and you can stop for lunch at their restaurant too. Discover more about Sandridge Barton here.
Primarily known for its famous chef/patron Michael Caines MBE and as a luxury 5* hotel, Lympstone Manor, just outside of Exmouth, is also home to a vineyard. In May 2018, 17,500 vines were planted on their southwest facing grounds overlooking the Exe Estuary. Their first wine from Lympstone Manor vineyard, Triassic Pinot Noir 2020 is available in their Restaurant and Pool House Restaurant & Bar. Sometime in 2023 they will release their Lympstone Manor Cuvée, their premium sparkling wines. Find out more about Lympstone Manor here.
Around a ten to fifteen minute drive from Axminster, nestled in the Axe Valley, Lyme Bay Winery produce more than just award winning English wine, they're known for their cider, mead, fruit wine, spirits and liqueurs too! They opened their doors 25 years ago and been winners of countless prestigious awards since. You can visit their Cellar Door shop which is open every day to purchase their incredible selection of beverages and there are always samples available as well - it's always good to try before you buy! Read more information about Lyme Bay Winery here.
Tamar Valley Vineyard
Situated just 20 minutes from Tavistock, Tamar Valley Vineyard planted their first vines in 2016. Guided tours are available on selected dates for the chance to enjoy the spectacular views of the vineyard and of course taste some of their delicious wines.
Calancombe Estate
Calancombe Estate can be found near Modbury and is an award-winning vineyard, winery, and distillery. They are open to visitors Thursday to Sunday and offer guided tours and tastings which can be booked online.
Old Walls Vineyard
Old Walls Vineyard is home to not just a vineyard, but a bistro and holiday lodges. Located in Bishopsteignton, visitors can enjoy tours, food or even a 'stay and pick experience' where you'll get to be involved in the harvesting process.
Huxbear Vineyard
Nestled between Chudleigh and Bovey Tracey, Huxbear Vineyard was planted in 2007 on south west facing slopes in the picturesque Teign Valley. All their wines are vegan and the vineyard operates with sustainability at the forefront. Walking tours are available here too.
Brickhouse Vineyard
Established in 2008, Brickhouse Vineyard rests between the Exe Estuary and Haldon Hill just a short drive or walk from Mamhead. They offer wine tasting packages and are also a stunning wedding venue.
Kenton Park Estate
Kenton Park Estate is a family-owned vineyard that was first established as a wine estate in 2003. Located in Kenton, they offer vineyard tours, gin tastings, whisky tastings any you can even visit their animals on their farm!
Lily Farm Vineyard
Surrounded by beautiful East Devon countryside in Knowle, just a short distance from Budleigh Salterton, Lily Farm Vineyard has been producing award winning wines since 2005. Visitors can pop along to their vineyard shop and enjoy a glass of vino overlooking the vineyard or join one of their guided tours.
Pebblebed Vineyard
Situated close to Topsham, Pebblebed Vineyard is open to visitors. You can join them for one of their 'Winemakers Tours' where you'll discover the vineyard, winery and finish off with a variety of Darts Farm artisan cheese and charcuterie.
Manstree Vineyard
With the oldest, commercially productive vines in Devon, Manstree Vineyard is not the only thing to be found at this site. They also have a nursery stocking a wide variety of plants as well as a fruit farm. You can find them near Matford in Exeter.
Dalwood Vineyard
The first vines were planted at Dalwood Vineyard in 2009 with the first acre devoted to seyval blanc. The site rests on a west to south west slope in Dalwood within the Blackdown Hills Area of Outstanding Natural Beauty.
Sidbury Vineyard
Sidbury Vineyard is located on the outskirts of Sidbury and in within the East Devon Area of Outstanding Natural Beauty. It's a small vineyard covering just 2 acres, producing fresh and fruity English wines.
Froginwell Vineyard
Situated around a 20 minute drive from Exeter, Froginwell Vineyard and Cider Barn rests on 20 acres of East Devon countryside. This stunning venue makes the perfect backdrop for weddings as well as hosting corporate events and conferences.
Heron Farm
Heron Farm can be found on the outskirts of Honiton and is a small family run vineyard complete with a shop and Vineyard Kitchen. Visitors can look forward to a bite to eat, vineyard tours, play areas for children and of course, plenty of delicious wines.
Castlewood Vineyard
On the outskirts of the village of Musbury in East Devon, Castlewood Vineyard emerged from 2006 - 2009. Wine lovers can enjoy a private tours and tastings or you could stay with them in one of their traditional holiday cottages - they even host an annual wine festival too!
Wellhayes Vineyard
Wellhayes Vineyard, near Tiverton, began in 2008 when 150 vines were planted at the site in Mid Devon. In 2011 the vineyard expanded to include 2500 vines covering a full hectare. Visits including tastings are available via appointment on selected days at certain times of the year.
Ten Acres Vineyard
A 25-minute drive from Okehampton, Ten Acres Vineyard offers tours and tastings from just £10 per person. There's a campsite and they also offer glamping so those staying can enjoy a fabulous glass of wine whilst enjoying views over Dartmoor.
Torview Wines
Torview Wines is close to Beaworthy in West Devon. Planted in 2007, with more vines being added to a second field in 2010, the vineyard grows Pinot Noir, Dornfelder, Rondo and Acolon grapes. Tours and tastings run on selected dates and can be booked online.
Alder Vineyard
Based at Alder Farm on the western outskirts of Dartmoor National Park, Alder Vineyard was planted over 10 years ago. Tours can be enjoyed here and there is a kitchen and bar, perfect to stop by for lunch and a tipple or two!
Swanaford Estate Wine
Swanaford Estate Wine, on the northeastern edge of Dartmouth, boasts three holiday cottages, meaning you can stay within their 50 stunning acres. For those looking for just a day trip, visitors can look forward to a tour and tasting experience.
Did you enjoy learning about all of our wonderful vineyards in South Devon? If so, be sure to sign up to our e-newsletter here where we'll keep you posted with all of our latest blog posts as well as competitions, events and plenty more.
Related
0 Comments