South Devon is lucky enough to have it all; from bustling cities to charming villages, vast moorland to secluded beaches and everything in between. Whether you're looking for a family seaside holiday, romantic spa break or a long weekend in the countryside, you're sure to find whatever it is you're looking for in this special region. Read on to find out a little more about the diverse landscapes and exciting things to do when you visit the area...
Enchanting Villages, Towns & Cities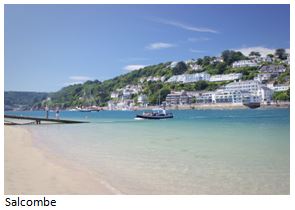 With a number of gorgeous towns and villages, as well as two large cities, South Devon has a wide range of places to stay and visit. Seaside resorts are in abundance along the South Devon coastline, with places such as Teignmouth and Salcombe being the perfect destination for a coastal holiday. Further to the east of the region you'll find towns like Sidmouth and Seaton perched on the Jurassic Coast with plenty of attractions and stunning beaches. Sprinkled across the region are a number of quaint villages and smaller towns, some on the edge of the moors such as Bovey Tracey and Buckfastleigh, or if you'd prefer river views, Kingsbridge offers captivating vistas along with a host of other destinations that are riverside. Regardless of your taste or budget, you'll certainly find somewhere that takes your fancy. Have a look on our Explore page to discover more of the beautiful places on offer in South Devon.
The Best of Coast & Country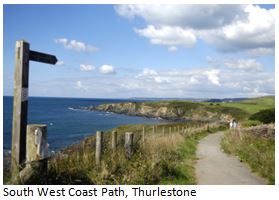 Along the length of the coastline of South Devon you will find the South West Coast Path, with plenty of walks and hidden gems to be uncovered. The coast in this region is rugged yet beautiful and the coastal path running alongside it allows access to some stunning scenery which sometimes may only be accessible by foot or by water. Along the east coast of the county lies a World Heritage Site, the Jurassic Coast, spanning millions of years of history and often a hotspot for those wishing to go fossil hunting or learn about the prehistoric period of the Earth.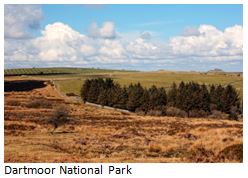 Not only does South Devon have breathtaking coastal views, but the region also boasts a National Park and three Areas of Outstanding Natural Beauty (AONBs). Dartmoor National Park rests to the left of the region and this dramatic landscape never fails to impress. With historical sites, magnificent tors and ancient woodlands to be discovered, there are plenty of adventures to be had up on the moors. Within the area you will also find the South Devon AONB, East Devon AONB and Blackdown Hills AONB, all with their own unique attributes and lots to unearth. These protected areas of land offer a wealth of fascinating places to visit such as chapels and burial grounds, as well as more natural environments.
Fabulous Events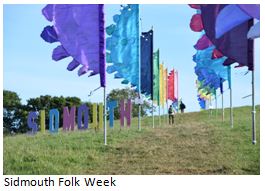 Come rain or shine there is always something happening in South Devon that will peak the interest of any visitor. During the spring and summer months, the coastal towns come alive with regattas, music festivals and even an air show! Many towns and villages are home to markets throughout the year too where you can sample the best local produce and pick up great holiday gifts.
In the autumn, South Devon plays host to an array of fantastic food festivals and during the winter months the region has a broad selection of seasonal events and activities, with Christmas markets, lantern parades and light switch-on events. To find out what might be happening during your stay, or to plan your holiday around a specific event, head to our What's On page.
Tantalising Food & Drink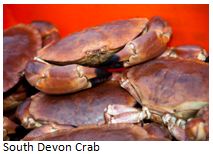 With such amazing farmland and access to the coast, it's no wonder that Devon is known for its great range of local produce. This array of mouth watering food and drink is celebrated throughout the region all year but especially at the food festivals, markets and beer festivals that can be found in many of the towns and villages.
The producers in South Devon love people to enjoy their sumptuous delicacies, so when holidaying in the area, why not take some time to visit a vineyard or distillery to learn about this intriguing trade, or simply pop into a local restaurant or café and be enamoured by the amount of fresh and locally produced food and drink on offer. It wouldn't be a trip to South Devon without enjoying some of the delicious seafood and of course a renowned cream tea, just remember that here in Devon the cream goes on first, we wouldn't want you upsetting the locals! Our Food and Drink page can help you discover more.
Thrilling Attractions
From zoo's to theme parks, nature reserves to castles, South Devon has attractions to rival any county and the range is what makes it so special. If you're visiting as a family, or bringing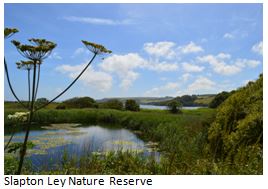 children along, the region has plenty to keep them entertained all week long. A beach day is of course always popular but we also have two steam railway lines, plenty of indoor play areas and country parks with a plethora of activities to keep everyone active.
South Devon is a beautiful destination for nature and wildlife lovers too, with lots of nature reserves and boat cruises either at sea or on one of the glistening rivers. Much of the region is steeped in history as well, with some towns and cities offering guided tours. There are also a few National Trust properties, on top of other historical sites such as prehistoric settlements on Dartmoor. Head to our Things to Do page to find out about all the amazing attractions in South Devon.
Welcoming Accommodation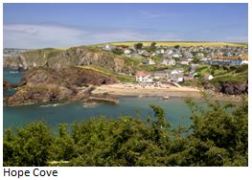 Whatever the reason for your break in South Devon, we have something that caters to all. Perhaps you're looking to go on a family camping trip? Or maybe a weekend B&B stay? With lively holiday parks, boutique hotels, grand manor houses, yurts and more, there is every type of accommodation available in South Devon. From chic waterside apartments to cosy cottages in little hamlets, you will find all you can dream of here. Use the links below to have a more in depth browse at the type of accommodation in South Devon on offer:
Holiday Parks/Camping/Caravanning
We think you'll agree that we have everything you could possibly want here in South Devon, so why not take some time to plan your holiday in the region.
Don't forget to show us your pictures of South Devon on Instagram by using #southdevon or tagging us @visitsouthdevon. We love seeing your photos and sharing them with our followers too!
We have plenty more blog posts for you to read here and have a look at our Special Offers section to get the best deal in South Devon.
Related
0 Comments