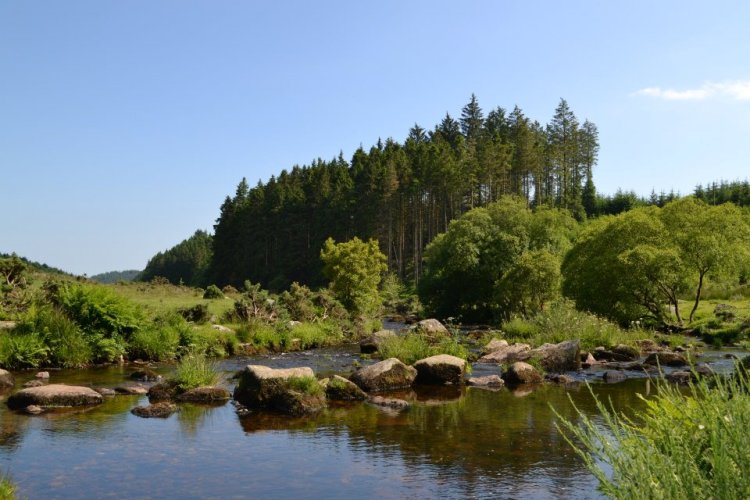 New Year's resolutions are bound to be on a lot of people's minds as we begin 2019. This is a time many of us choose to reflect on the previous year and set ourselves some goals to achieve for the coming year. But you needn't feel trapped by these or bored, we've got loads of things to do and ways that you can stick to your New Year's resolutions in South Devon. So you can book that holiday after all!
Get active
We all want to be more active, whether that's to lose weight, get fit, keep up with the kids, better our mental health or simply to lead a more healthy lifestyle, either way, chances are this is something you've thought about.
There's loads of ways to stay active in South Devon, we have a range of standard gyms and swimming pools if that's your thing, or you could go for a bike ride and enjoy cycling through the idyllic scenery, even head to the South West Coast Path for a brisk walk along the rugged coastline. Perhaps you're more of a daredevil and fancy trying out a high ropes course, whatever it is, South Devon will have the activity for you.
Eat better
After an indulgent period over Christmas a lot of us attempt to be a bit kinder to our bodies and aim to kick off the New Year with a large focus on what we're eating.
With a fantastic range of food producers in South Devon, it's easy to start eating a little better. You could visit one of the local farmers' markets and pick up some fresh delicious fruit and veg to rustle up a gorgeous homemade meal at your self catering accommodation, or, if you've nowhere to cook, head to one of the local restaurants or cafés, many of which are proud to serve a selection of locally and regionally produced food so you can be sure to know what's in it and where it comes from.
Save money
We'd all like a few extra pounds in our pockets, especially after Christmas! So deciding to take a little trip away seems a bit silly right? Wrong.
A South Devon holiday needn't be expensive, we've got a wide range of affordable accommodation to suit all needs, whether you want to brace the elements and go camping, fancy a lovely self catering house or cottage, or want a good old welcoming hotel, we have it all. And when you get here there's plenty to do that won't cost a penny (unless you count the odd ice cream!), check out our 50 free things to do here, free attractions here, free events here or our top 10 free things to do here.
Drink less alcohol
Maybe we had a few too many proseccos at the New Years Eve party, or got carried away at the pub whilst catching up with friends over Christmas, most of us will probably admit that we could do with cutting down our alcohol intake.
The region is not only known for its scrumptious food but also its locally produced non-alcoholic beverages. So whilst you're out and about in the region, try to swap your usual tipple for a fruit juice option or yummy sparkling drink, there's plenty to choose from and lots of local eateries, bars and pubs serve them so there's really no excuse!
Try something new
Whilst at home trying something new may be taking up a hobby such as knitting or gardening, but why not go all out when you head to South Devon and try your hand at something you wouldn't normally get to experience.
From kite surfing to kayaking, stand up paddleboarding to sailing, the South West is recognised for its watersports and South Devon in particular is no different. Sailing hubs such as Salcombe and Dartmouth are great places to have a go at this sport and the coastline and rivers across the area provide the perfect backdrop for a whole host of watersports.
Indulge in some 'me time'
We're often so busy all the time that we rarely get five minutes to ourselves, and it's often much harder when at home as there are so many distractions. The perfect opportunity for some 'me time' often comes therefore whilst we're on holiday and there's no better place to indulge than in South Devon.
Take a break while you're here and why not treat yourself with a trip to one of our luxurious spas. It doesn't necessarily mean that you don't take anyone with you, but just a morning or afternoon with a friend or loved one relaxing and taking some time to recharge really is important.
Travel more
Travelling is something that a lot of us like to do but sometimes there are obstacles in the way that don't allow us to travel as much as we'd like. But a trip or holiday doesn't have to mean a long flight and full week.
South Devon is easily accessible by car or public transport and for a lot of people within the UK, the time spent getting here won't be nearly as long as catching a flight overseas. That means that you could just pop down for a weekend, no need to use up your holiday at work or any costly extras. And if you have got the chance to stay longer, it can be much more affordable than your average summer break abroad.
Spend more time with loved ones
Family time and time spent with friends is always extremely important, however, often we get so caught up in the hustle and bustle of everyday life that sometimes we forget what it's all about.
Take some time away from your busy schedule to take a trip to the region with those that you love and really enjoy some quality time together. Head to the beach, go out for lunch, or snuggle up by the fire in a holiday cottage and play some good old fashioned board games, whatever you decide to do, you can definitely tick this one off in South Devon.
Appreciate nature
In this day and age we can be guilty of not appreciating what's really around us, so one New Year's Resolution that we think is essential is to get outside and take note of your surroundings.
Nature is beautiful anywhere in the world and in South Devon it's no different, slightly more beautiful we'd be inclined to say, but we wouldn't want to be bias now. Undulating hills, staggering cliff faces, meandering rivers and towering tors are just a few of the landscapes here for you to explore.
Get off your phone!
So we don't mean ditching the phones completely, of course they are very useful, but we think it's imperative to spend less time on our phones and similarly to the above, spend more time noticing the more important things.
South Devon is the place to read a book on the beach, wander through the woods or just have some fun doing things you love with the people you love, so put the phone down and experience it – although we won't penalise you if you're taking a few photos! It's pretty amazing and we find it hard not to get a snap too!
Keep up-to-date with all things South Devon this year by following us on Twitter here, liking us on Facebook here, and for truly inspirational images of the region, follow us on Instagram here.
Related
0 Comments