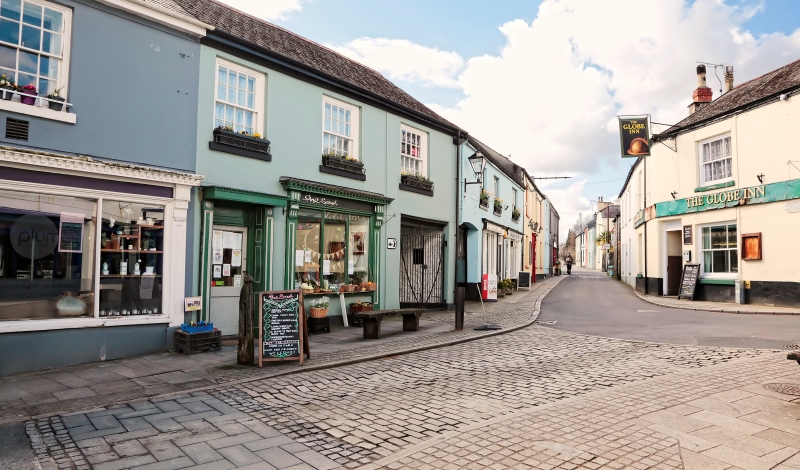 These days we all love taking snaps on our phones and cameras and whilst you're on holiday, it's no different. Buckfastleigh and Ashburton have a plethora of unique and alluring places to visit during your stay, which of course will help capture a sensational image for your Instagram feed. Check out our top 10 Instagrammable spots for Ashburton and Buckfastleigh below.
Nestled on the captivating south eastern edge of Dartmoor National Park, River Dart Country Park has plenty to do that those of all ages will enjoy. Whether you're going to camp for the week, or just enjoy a day trip, you can try your hand at canoeing, rock climbing or splash about in the water. What's more, the scenery is breath-taking, perfect for a quick snap to share with your followers on Insta.
For all the animal lovers, we had to include Pennywell Farm in our top ten insta-worthy spots in the area. Just south of Buckfastleigh, this popular family attraction is a sure hit if you want to cuddle adorable piglets and get up close and personal with an array of enchanting animals. This being said, it's no surprise that an image of one or lots of these animals are sure to make your Instagram friends a little jealous.
Running between Buckfastleigh and Totnes is the South Devon Railway. Step back in time from the moment you arrive with the vintage décor and characteristic charm – it's a splendid day out. Photo opportunities arise at all three main stations as well as on the train and around the area. An image of one of these delightful steam trains or anything along the line won't go amiss on your Instagram feed.
Just outside of Buckfastleigh, in the small village of Buckfast, this grand building is a keen spot for tourists. Buckfast Abbey is a stunning place to visit with attractive grounds and forms part of a Benedictine monastery which is still active today. Arguably most famous for its Buckfast Tonic Wine, this gorgeous abbey makes for impressive photos perfect for your Insta feed and there's plenty to see and learn whilst you're there.
Hill House Nursery, Ashburton
Situated just east of Buckfastleigh and south east of Ashburton is Hill House Nursery. The house was once the vicarage of St Matthew's Church in Landscove and after moving to the house in 1981, the family decided to restore the garden. Nowadays it is home to a large array of spectacular and unusual plants some of which are quite rare. A visit to this pretty nursery will offer many photo opportunities and certainly brighten up your Instagram or any other social media channel.
Resting upon a hill overlooking Buckfastleigh and Buckfast Abbey, you'll find Holy Trinity Church. These days it is simply a shell after a devastating fire in 1992, but what's standing today is still hauntingly beautiful. These interesting ruins can certainly make for some exquisite Insta-worthy gems and the views of the countryside are just a mesmerising. Keep an eye out for Richard Cabell's tomb in the graveyard too – local villagers believed he was so evil that when he died they laid a slab on his grave and built a complete structure around his tomb to prevent his soul haunting them. Legend has it that dogs visit his grave howling every night and they race across the moors together – this story is believed to have inspired Sir Arthur Conan Doyle's Hound of the Baskervilles.
Pridhamsleigh Cavern, Ashburton
Pridhamsleigh Cavern is a cave located between Ashburton and Buckfastleigh and is a popular location for cavers. There are various adventure providers that visit the site for those wishing to experience deep inside the 1.1km cave but the opening is still pretty impressive for others who simply want to have a look. Access to the cave is across an orchard on the opposite side to Pridhamsleigh Farm and the farmer charges a small fee for crossing his land but this natural feature is a great setting for a truly unique photograph to add to your Insta feed.
Buckfast Butterfly Farm & Dartmoor Otter Sanctuary, Buckfastleigh
Buckfast Butterfly Farm & Dartmoor Otter Sanctuary can be found in Buckfastleigh and offers up a great place to visit for those interested in getting to know these amazing creatures a little better. Wander through the enclosure and gaze at the colourful butterflies as well as getting close to the cute otters in the underwater windows. With so much to see, getting a wonderful photograph of an otter or butterfly will make an Insta-worthy addition to your collection of online photos.
Ashburton High Street, Ashburton
Ashburton High Street deserves a space on this list as we think it is one of the most attractive main streets around. Perfect for a spot of retail therapy, the vast mix of eclectic shops provide a great opportunity for picking up unique items and for taking a divine and pretty picture for your Insta profile.
If you're a vegetable lover then you'll adore Riverford Field Kitchen, with organic herbs and vegetables direct from the farm you're sure to enjoy a veritable feast of amazing food. There's sustainable fish and grass-reared meat available too but the vegetables are always the star of the show and you can enjoy all this in a relaxed and unusual dining experience – sharing tables with other guests. Of course, the whole place looks pretty amazing too, hence why it's on our Instagrammble list!
Make sure you're following us on Instagram too where we share daily photos of South Devon! Follow us here and don't forget to tag us in your photos using @visitsouthdevon or #southdevon for your chance to be featured on our feed!
Related
0 Comments