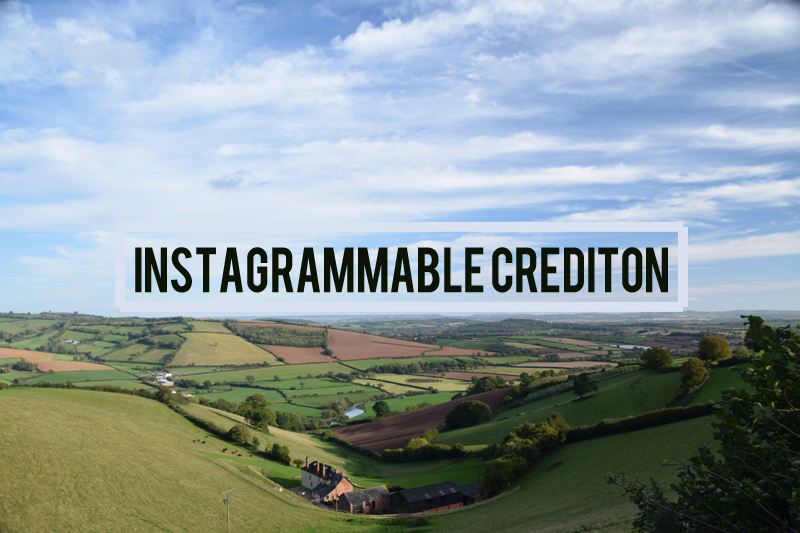 Crediton can be found in Mid Devon and is surrounded by magnificent Devonshire countryside. Home to some beautiful scenery and close to lots of quaint villages and hamlets, it's not hard to imagine that there are plenty of great photography spots in and around the town. We've pulled together our favourite Insta-worthy locations in Crediton and the area around the town to give you some inspiration for where to visit and of course where to photograph.
Crediton Parish Church
Crediton Parish Church, also known as the Collegiate Church of the Holy Cross and the Mother of Him who Hung Thereon, can be found down the road from the High Street on Union Road in the centre of Crediton. The nave and chancel that reside today date back to the 15th century and the site on which the church can be found was first home to a cathedral in the 10th century. For those who enjoy historical buildings, this is the ideal place to visit and of course capture a great image.
Shobrooke Park
A beautiful green expanse, Shobrooke Park offers a beautiful setting for those who wish to walk or simply relax. For visitors, there is permissive access in the southern part of the park and the surroundings are stunning. We're sure that you'll find a magical scene to photograph and share with your friends and family on your Instagram account, we particularly love the gorgeous lake which is the perfect centrepiece for a snapshot.
Coleford
Coleford is a small hamlet that can be found to the west of Crediton, approximately a ten minute drive away from the town. The quaint settlement is ever so charming, with its thatched cottages and pleasant surrounding scenery. If traditional, English countryside villages are your thing, we're certain you'll be able to take an extremely appealing photo of this picturesque hamlet.
Countryside
We couldn't write about the most Insta-worthy spots in Crediton without mention of the glorious countryside that surrounds the town. Now it may be a little vague, but the undulating hills and breathtaking views can be found pretty much all around the town so be sure to look out for that magnificent vista to photograph as you drive to and from this Mid Devon town or as you explore the many footpaths which surround the area.
Baobab Café
For all you food-photo lovers, Baobab Café needs to be on your hit list! A child-friendly cafe with a Middle Eastern twist, this sublime eatery in the heart of Crediton is consistently receiving rave reviews for its delicious food and relaxed atmosphere. We can assure you too that you'll definitely want to snap a few pics of your food before you eat it; the vibrant and colourful dishes are something you'll want to share with your followers!
Cadbury
Cadbury is a small village about 6 miles north east of the town of Crediton. Within the village you'll find an attractive 15th century church but Cadbury's most stunning features are Cadbury Castle, an Iron Age hillfort with spectacular views and the staggering rolling countryside around the village which will afford you a delightful Instagram-worthy image.
The Three Little Pigs
If you fancy tying in capturing a great post for your social media with a pint, The Three Little Pigs in Crediton town centre is the place to go. There are photo opportunities from the moment you spot this cracking pub. From the outside, pretty flowers and vines decorate the exterior of what seems a traditional cosy pub, but step inside and you'll be greeted with a quirky and eclectic range of curiosities!
Raddon Hill
Raddon Hill is located to the north east of Crediton and can be found between the village of Stockleigh Pomeroy and the hamlet of West Raddon. The impressive climb of this hill is what draws us to it as an opportunity for a photograph. Whether you take a picture from the foot of the hill near Stockleigh Pomeroy or make your way to Raddon Top to get a snapshot of the incredible views, we're certain this is a spot that'll impress.
Paschoe House
A five star restaurant with rooms, Paschoe House is situated to the west of Crediton. The elegant Grade II listed property is a stunning place to visit for a spot of lunch or afternoon tea, or perhaps if you really want to treat yourself, you could stay there for a night or two. Whether it's a short visit or a longer stay, you're sure to take a picture or two that will look extremely appealing on your Instagram feed, which is why we had to add it to our list of the most instagrammable places in and around Crediton.
Newton Saint Cyres
Newton Saint Cyres is a small village that is less than a ten minute drive south east from Crediton heading towards Exeter. Similarly to the previously mentioned village of Coleford, this chocolate box village will present you with thatched roofs and winding lanes which we all know look simply adorable with the right filter on Instagram!
Fancy seeing regular epic photos of the whole South Devon region? Make sure to check out our Instagram account here and give us a follow! And don't forget to tag us in your photos of South Devon by using #southdevon, #visitsouthdevon or @visitsouthdevon, we love seeing you images and we might even feature yours on our feed!
Other Posts You Might Like
Related
0 Comments