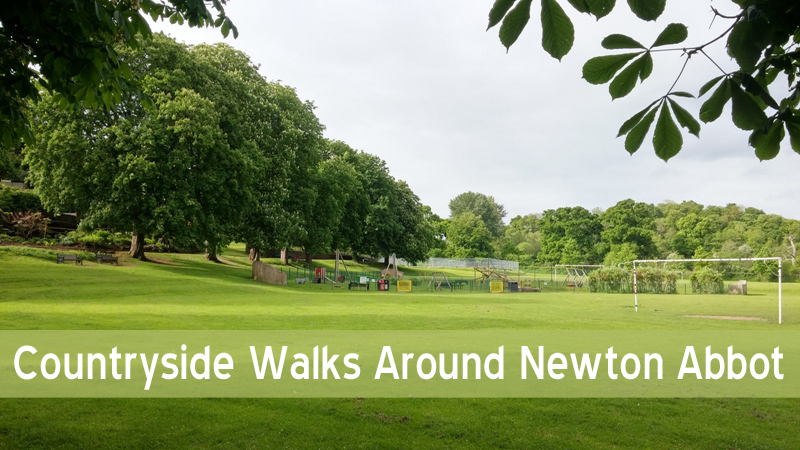 From its location surrounded by lush countryside, rolling hills and river banks, along with the country parks and nature reserves found throughout the town and close by; it's easy to see how Newton Abbot is a great place to visit for a countryside walk.
To help you find wonderful places to take a leisurely stroll or a brisk hike, we've listed some of the great walking destinations in and around Newton Abbot below.
On the northern edge of Newton Abbot, next to Highweek Church, you'll find Churchills Nature Reserve. Comprising of three small fields a walk around the reserve offers spectacular views over the town, the Teign Estuary in the distance and up towards Dartmoor. Two of the fields are steep and the grass is left long during the summer which helps the great diversity of wildflowers and butterflies which call the reserve home.
Decoy Country Park is located to the south of Newton Abbot and combines nature walks with playing fields and a large children's play area. On the site of an old clay quarry, there are a number of woodland paths which will allow you to explore the area which is now rich in wildlife. The main habitats are ponds, streams, fen, wet woodland and heath woodland, with the lake at its heart. The site is great for walking, wildlife watching, duck feeding and watersports and there is a range of different length paths leading through the park and woodland.
To the north of Newton Abbot and a short distance from the town centre is the small wetland nature reserve of Jetty Marsh. The reed beds, grasslands and tidal channels of the nature reserve are home to a number of summer migrant birds. The main footpath through the reserve is a section of the Templer Way, which links Haytor to Teignmouth, providing access to a longer route for those looking for a more challenging walk.
The nature reserve, which can be reached from Newton Abbot Town Quay as well as from the roundabout on Jetty Marsh Road, is part of the River Teign floodplain and is an intimate mixture of reedbeds, grassland, scrub and tidal waters fringed by mudflats.
A short drive out of Newton Abbot, located off Greenhill Way in Kingsteignton, you'll find Hackney Marshes Local Nature Reserve. Located at the head of the Teign Estuary the nature reserve is home to 5 main habitats, these are flood meadows, ponds, streams, hedgerows and woodland.
Throughout the reserve is a network of level paths allowing you to walk between marshy meadows, swaying grassland, rustling reedbeds and tranquil ponds which are home to a host of plants and animals. It is also possible to walk from Hackney Marshes to Newton Abbot Town Quay and link up with Aller Brook Local Nature Reserve or Jetty Marsh via the Templer Way.
On the outskirts of Newton Abbot about half a mile west of Ipplepen, on the road to Torbryan, is Orley Common. The common is a flower-rich grassland hilltop surrounded by extensive woodlands and hilltop paths. The areas Limestone grassland attracts a wide range of butterflies and other wildlife making the area an important nature site. From the common you can enjoy some excellent views of Denbury Down and Dartmoor. The area is accessible by public transport and there is small car park which has a 2 metre height restriction.
On the eastern fringes of Newton Abbot, running alongside St Marychurch Road you'll find Milber and Ben Stedhams Wood. These adjacent plantations are full of beech, pine and oak trees with footpaths running throughout giving a great opportunity to enjoy the varied woodland plants and wildlife. You'll find the entrance to the woods at the top of Aller Brake Road.
Another great country walking spot to the east of town is the Aller Brook Nature Reserve. The site is made up of a patchwork of flowery grasslands, scrub, reedbeds and the river and as you can imagine with such a range of habitats there is an abundance of wildlife and plant life to see. You can stroll along both banks of the brook making the route into the circular walk, the path also links up to the Templer Way if you wanted to walk down the River Teign. There is no parking at the reserve but it can be reach by foot from Newton Town Quay, over Buckland footbridge or from Penn Inn.
Bakers Park is a large open space to the south west of Newton Abbot; it is a great place for an array of recreational activities. The park, which is home to football pitches, a tennis court and a children's play area, links up to Bradley Woods where you can enjoy a walk alongside the River Lemon as it makes it way towards the town centre. Bradley Woods consists of a number of meadows, wooded areas and steams linked by foot paths which is popular with dog walkers and recreational walkers.
Make sure to give us a like on Facebook here where we'll keep you updated with all our latest blog posts and plenty of South Devon inspiration!
Other Posts you Might Like
Related
0 Comments