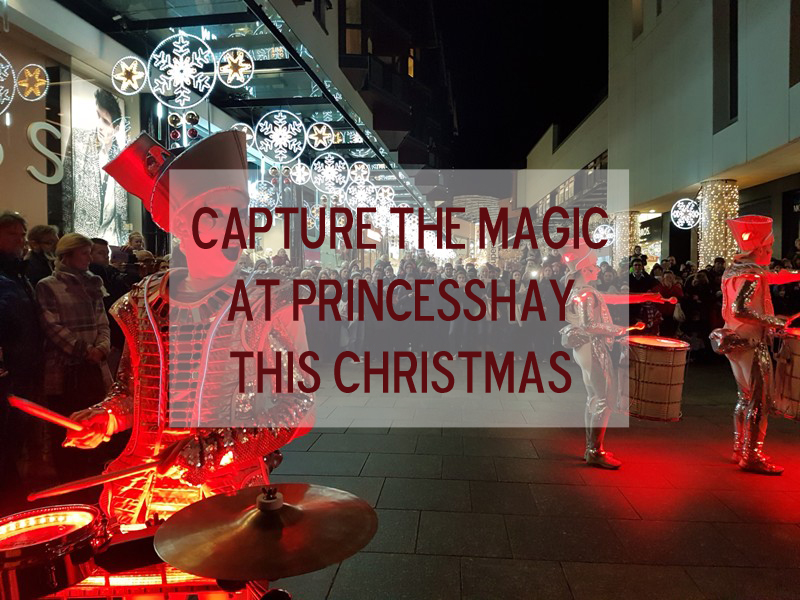 Guest Blog Post - Princesshay
With just over a month to go until the big day, the countdown to Christmas has officially begun at Princesshay. From late night shopping, to dazzling lights and spectacular free family entertainment and even a visit from the big man himself, you and your family are guaranteed to capture the magic at Princesshay this Christmas.
From Saturday 16 November be transported to a magical place when the centre unveils its brand-new Christmas lights installation. Visitors will discover a sparkling stag, gigantic diamonds suspended in the air, mesmerising projections and a large present that you can step into for the ultimate festive photo. Don't miss the illuminated throne either, perfect for the Christmas king or queen in your life to sit back on when a break from all that Christmas shopping is needed. Plus, what's Christmas without a tree? Princesshay's giant tree is back and this year is decorated with more than 340 individual decorations. It stands alongside the centre's annual Charity Christmas Tree Festival where Roman Walk will become home to 35 Christmas trees, each decorated by a local charity.
Whether you're hunting for a stocking filler, the main gift, a bite to eat or just a Christmas experience for you and your loved ones amongst Princesshay's 70 shops and restaurants, the centre will be alive with festive celebrations.
Princesshay has also revealed a series of late-night shopping experiences and festive guests over the magical period for the whole family.
Each late-night Thursday Princesshay has fabulous, free family entertainment lined up including:
Thursday 28 November – Winter Statues and a walking Snow Globe will visit Princesshay Square meeting and greeting shoppers along their way between 5pm - 8pm.
Thursday 5 December – Spark! The incredible light up drummers are back for a third year and will be performing throughout the centre at 5pm, 6pm and 7pm.
Thursday 12 December – A singing Snow King and Queen will keep crowds entertained with 15-minute sets of opera at 5pm, 6pm and 7pm. Visitors can even borrow the Snow Queens tiara for a picture!
Thursday 19 December – Two crystal ball jugglers will be performing their magical tricks at 5pm, 6pm and 7pm and giant bauble inspired characters, The Glitter Belles, will be gliding through the centre spreading festive cheer between 5pm – 8pm.
Father Christmas will also be cycling around Princesshay on the 7th, 8th, 14th, 15th and 22nd December handing out festive bells as he goes along.
For more information about Christmas in Princesshay visit www.princesshay.co.uk/christmas.
Other Posts You Might Like
Related
0 Comments