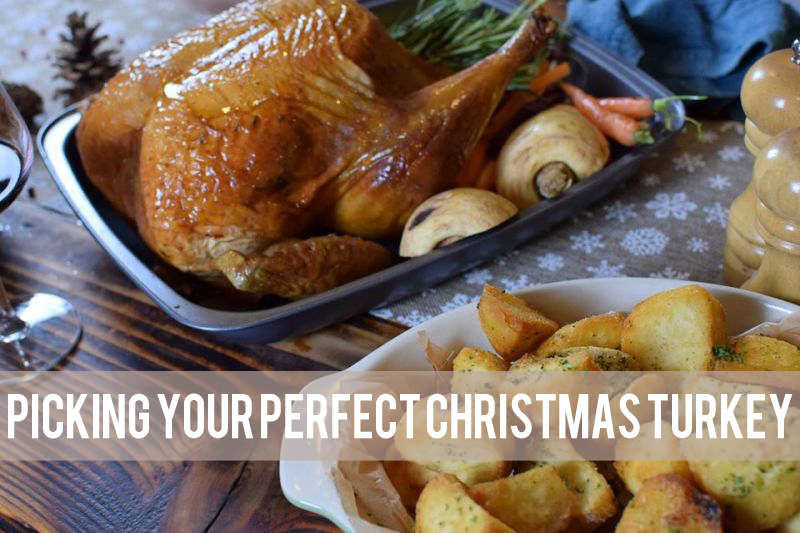 Guest Blog Post - Ben's Farm Shop
So, you've decided to go traditional this Christmas and opt for a delicious turkey dinner. Brilliant news. But how do you go about making sure that your bird of choice is practically perfect in every way? There are the obvious factors, naturally – how big should it be, how long should you cook it for, does anyone really like turkey curry? Those are all fairly subjective. However, perhaps the most pertinent question of all is how do you go about choosing the ideal turkey in the first place?
2019 has seen a fairly seismic shift in attitudes towards food production and consumption and most of us are much more aware of the impact of our food choices on mind, body and planet. At Ben's Farm Shop, we believe that choosing locally reared, high welfare meat is the sensible way forward for mindful eaters. In short (and as we have always championed) provenance is key.
What's the story?
Choosing birds that are locally reared seems like a good starting point. There are less food miles, the meat is fresher because it isn't transported across the country and supporting small, independent businesses is a great boost to the local economy. Above all though, sourcing directly from farmers means that the supply chain is reduced dramatically and as a result, we are able to tell our customers exactly how and where our birds are raised, slaughtered and brought to our butchery. 'Short supply chain' and' local' are terms that often go hand in hand and we are very fortunate that Devon boasts an abundance of farmers that share our vision of transparent, high welfare animal rearing. In most cases, our suppliers have been farming across several generations so they not only know how to best farm for the land, they genuinely care about their animals. That truly is good food from good farming.
Organic vs free range – what's the difference?
Having established that your turkey is coming from an ethical, local, sustainable producer, the next big question is organic or free range? The benefits of organic poultry have been widely expounded for several years, with organic standards covering not just the birds' living conditions but how they are treated, what they are fed and even how they are slaughtered. By definition all organic meat is also free range, however the term 'free range' is a relatively loose description. Non-organic free range birds could include those that are reared in conditions that you and I find unacceptable. The reality is, turkey carrying the free range label isn't automatically cruelty free. Current standards allow a maximum of 2,500 birds per hectare in outdoor space compared to 800 birds per hectare in organic standards. Smaller flocks with space to roam aren't purely the realm of organic birds but that is why it's vital to know how your meat is reared. It's that all important 'P' word again – provenance.
Feed is also paramount. Did you know that GM feed is banned from the diet of an organic turkey but not necessarily from that of free range birds? In addition, somewhat worryingly fluroquinolones – a type of antibiotic – can legally be given to free range poultry.
Don't misunderstand, we most definitely aren't saying that free range is bad, it's simply a question of doing your homework – or letting us do it for you. In fact, at the risk of sounding like a broken record, the secret to buying ethical, healthy, high welfare free range turkey is to know the journey it has taken.
The good news is, our turkeys come from Frenchbeer Farm in Chagford, a family run farm on the edge of Dartmoor. So not only are they local in the geographical sense but we know the Malseed family, who have owned the farm for several decades and we know they farm in way that complements our ethos. Their bronze turkeys are slow grown and they have complete control over the entire process from hatching in the early summer to handing over to us. For the first six weeks of their lives, the poults are brooded in granite barns and fed a traditional, cereal based diet. After this time, they are given access to the nearby meadows and fields, where they are free to roam, forage and feast on Dartmoor's nutrient rich grasses, herbs and seasonal berries. Once they reach maturity at 24 weeks, the birds are dry plucked on site and hung for 10 days, which is said to enhance flavour and improve texture. Then, they are delivered to our butchery, prepped and ready to take centre stage at your festive feast.
There you have it – the full journey of your Christmas turkey from Ben's Farm Shop. Food stories are important and as we head into a new decade, the best advice we can proffer is to question, research and truly understand the provenance of your produce – because that really is the best thing for us and our environment.
Find out more about Ben's Farm Shop here.
Find out more about Frenchbeer Farm here.
Other Posts You Might Like
Related
0 Comments