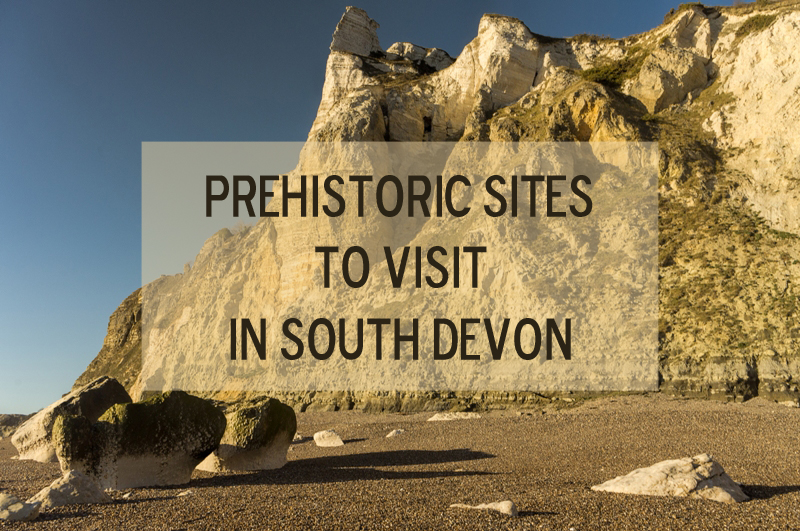 South Devon's history is not only rich and varied but long as well. I'm sure we're all familiar with buildings such as Exeter Cathedral, Dartmouth Castle and the region's wonderful National Trust properties, as well as other well known builds which we've recently highlighted in our blog post on the most Instagrammable historical buildings in South Devon, but did you know that the area's history dates back even further than many of those fantastic buildings and locations?
South Devon has a diverse history with many sites that date back as far as prehistoric times, and it's some of these ancient sites that we're going to look at below.
You can't get much further back in time than the dinosaurs and thats where we're going to start. Just under half of the South Devon coast is a designated UNESCO World Heritage Site which charts over 185 million years of history, a truly prehistoric site in South Devon.
The Jurassic Coast stretches from Exmouth all the way to Seaton and on in to Dorset where it ends at Studland Bay. The rocks along this beautiful coastline record the fascinating Triassic, Jurassic and Cretaceous periods. The many wonderful towns along the coast make for a perfect day trip and the beaches are ideal for a spot of fossil hunting.
Kents Cavern
Deep under Torquay is an outstanding cave system which is a geological Site of Special Scientific Interest. The caves at Kents Cavern are one of the most important Stone Age sites in Europe and were once home to ancient humans where they took shelter and made fires and tools.
The caves are open to the public where you can enjoy a tour around the 400 million year old rocks.
Dartmoor has many wonderful prehistoric sites scattered across the landscape, most notably its enchanting stone circles and stone rows.
Just north of Postbridge in open moorland stands a pair of Bronze Age stone circles, Grey Wethers Stone Circles, it's the only example of a double stone circle on Dartmoor and close by are several other prehistoric monuments including round cairns, ring cairns and an oval enclosure.
If you're looking to visit some stone rows then head to Merrivale Prehistoric Site on western Dartmoor. There are several other monuments here including two stone rows (including one double), solitary standing stones and the remains of a Bronze Age settlement.
To the east of the county, crossing the Devon, Dorset border is the Blackdown Hills Area of Outstanding Natural Beauty (AONB). This spectacular landscape of rolling hills, woodlands and secluded valleys is home to many historical sites showcasing the area's history, from the second world war all the way back to prehistoric times.
There are 10 Bronze Age barrows and barrow cemeteries found within the AONB including ones found at Brown Down and Dunkeswell. And although not prehistoric, there are remains of a Roman villa and Romanised farms for anyone looking to explore Roman history.
There are many Iron Age hill forts to be found across the region which are worth a visit if you're looking for Prehistoric sites to visit in South Devon. One great example is Blackbury Camp Hill Fort near Colyton within the East Devon AONB. Surrounded by a pretty copse of trees and bluebells in the spring, the site which dates back to the 4th century BC is a great place to visit.
Another of the region's hill forts can be found overlooking the Exe Valley, where you'll find the remains of an Iron Age defence which makes up Cadbury Castle Hill Fort. The views from the hill fort over the surrounding landscape and towards Dartmoor and Exmoor are stunning. Over the years archaeologists have found at least 2 phases of settlement, plus an external earth work defence from the Civil War.
Keep up to date with all things South Devon by signing up to our e-newsletter here. We'll let you know about the latest competitions, blog posts, offers and more!
Other Posts You Might Like
Related
0 Comments