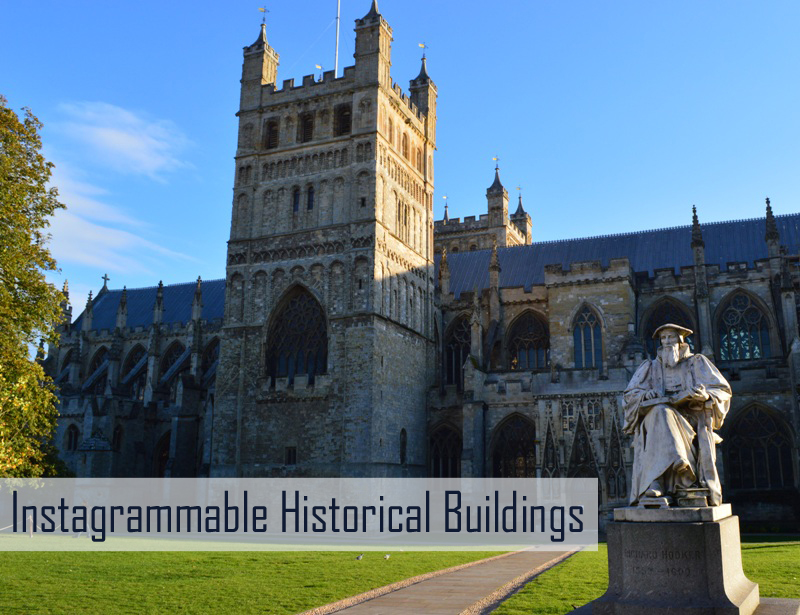 Devon is home to a vast array of amazing historical buildings many of which make for the ideal Instagram opportunity. From stately homes to churches and cathedrals, there's an extremely diverse selection of important buildings throughout the county for visitors to discover. Explore our most Insta-worthy historical buildings in South Devon below.
Fursdon House, Exeter
Fursdon House is located in Cadbury, a small village not too far from the bustling city of Exeter. It has been home to the Fursdon family for over 750 years and is a beautiful country estate surrounded by magical countryside. The house is open to visitors for guided tours on Bank Holiday Mondays as well as selected afternoons in June, July and August whilst the tea room and garden are open on selected afternoons from Easter Monday through to September as well as Bank Holiday Mondays - further details can be found on their website. Both the house and gardens are perfect for snapping a pretty shot for your Insta feed.
An abbey has resided at Buckfast near Buckfastleigh since 1018 and Buckfast Abbey makes up part of an active Benedictine monastery. The abbey itself is probably best known for its caffeinated, fortified wine, Buckfast Tonic Wine, which has been produced at Buckfast Abbey since the 1890s. You can visit the abbey throughout the year and we've included it on our list of the most instagrammable historical buildings in South Devon due to its beautiful structure which is perfect for photographing!
Third on our list is Torre Abbey, an Ancient Scheduled Monument which now houses a museum in Torquay. Torquay rests on the English Riviera also known as Torbay, and has plenty of fascinating places to visit, with Torre Abbey being no different. The abbey was founded in 1196 and is the best preserved medieval monastery in Devon and Cornwall. Alongside the two main Grade I listed buildings, there's also award-winning gardens to explore meaning you'll not be short of gorgeous surroundings to capture. Discover more about Torre Abbey here.
Buckland Abbey, Yelverton
A 700 year old Grade I listed building, formerly a Cistercian Abbey and then later home to Sir Francis Drake, Buckland Abbey is a wealth of history just waiting to be unearthed. It is now owned by the National Trust and is part museum and part house. Visitors can delight in the varied collections and marvellous grounds. Tracing different periods of history throughout the building, we can assure you that you'll find plenty of interesting shots that will make a fantastic addition to any social media feed.
Similarly to Buckland Abbey, Coleton Fishacre is now owned by the National Trust. It's an Arts and Crafts style house and gardens which was built as a country home between 1923 and 1926. Located close to Kingswear, a charming village opposite the town of Dartmouth on the River Dart, it's extensive gardens which are Grade II* listed and captivating house provide plenty for visitors to explore. We've chosen it as one of our top historical buildings to photograph in South Devon because of its appealing exterior and diverse grounds.
Merchant's House, Plymouth
Hidden amongst Plymouth's thriving city streets, you'll find Merchant's House, between the city centre and Sutton Harbour. It sits on one of the city's oldest streets and is Plymouth's best surviving example of a 16th and 17th century home. Nowadays, Merchant's House serves as a museum although sadly, at the moment it is not open to the general public. However, this is no reason not to stop by when you're exploring Plymouth, the façade is still enough to enjoy and simply begging to be photographed!
Crediton Parish Church, Crediton
Crediton Parish Church, also known as The Collegiate Church of the Holy Cross and the Mother of Him who Hung Thereon, is arguable the most recognisable building in the Mid Devon town of Crediton. Built on the site of a former cathedral, the chancel and nave of the current structure date back to the 15th century. The striking red church is a must see when you enjoy a trip to Crediton and if you're a lover of photographing religious buildings, it certainly won't go amiss on your Instagram account.
Exeter Cathedral, Exeter
Sticking with religious structures, next up on our list of the most instagrammable historical buildings in South Devon, is the incredible Exeter Cathedral. Set in the heart of the beautiful city of Exeter, Exeter Cathedral was completed by around 1400 and possesses the longest, uninterrupted vaulted ceiling in the whole of England. As well as its magnificent vaulted ceiling, the cathedral boasts intricate stained glass windows, a grand organ and plenty more impressive features, perfect for capturing in an image for your Insta feed.
A La Ronde is situated near Lympstone, just a short distance from the waterside town of Exmouth. It is an 18th century, 16 sided, three story house which was built for two spinster cousins and is now in the ownership of the National Trust. Overlooking the Exe Estuary, it's a unique and quirky building which houses many treasures, most notably the Shell Gallery. Unfortunately this delicate exhibit closed to the public 20 years ago, but visitors can still get to see the fragile gallery up close with a 360 virtual tour. The fascinating collection of artifacts and unusual structure are what makes it into our top 10 instagrammable historical buildings.
Located close to the market town of Tiverton, Knightshayes is a Grade I listed Victorian country house and gardens owned by the National Trust. The gardens are also Grade II* listed and the property was completed by 1874. The grandiose façade is probably our favourite Instagram-worthy shot although there's plenty more photo opportunities to be had throughout the house and around the extensive grounds.
Do you want to see amazing photos of South Devon regularly? Make sure to follow us on Instagram here where we share our favourite photos of the region. And don't forget to tag us in your images of South Devon by using @visitsouthdevon, #visitsouthdevon or #southdevon.
Other Posts You Might Like
Related
0 Comments