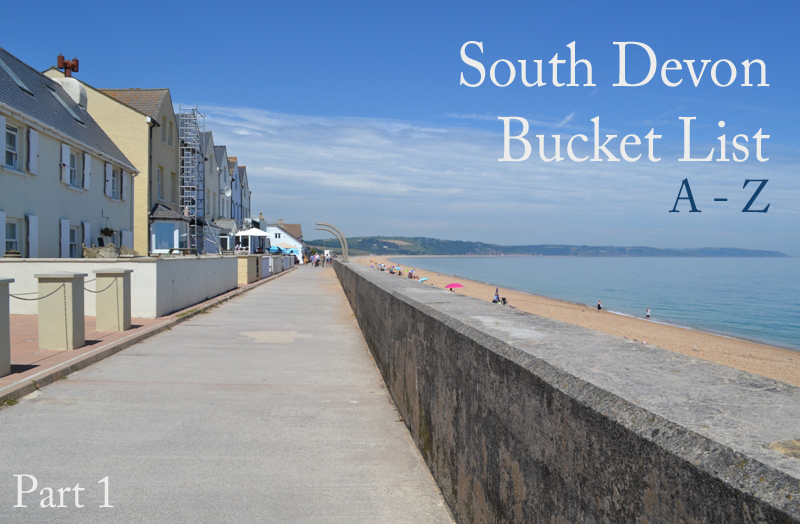 Like with most places, you'll find when visiting South Devon for the first time, or even if you're coming back for your 2nd, 3rd or 100th visit to the region, there are just so many great things to be tried whilst you're in the area.
So to help you out and give you a starting place of what to do, we've put together our A – Z bucket list of the must do, visit or things to see when visiting South Devon. See how many you can tick off the list in your next visit, or with so much to see and do, keep coming back again and again to finish the list!
Below you'll find A - M of our list, N – Z can be found here.
A - Above the World
Fly above the South Devon countryside and coastline with a champagne hot air balloon flight with Aerosaurus Balloons. Enjoy 360 degree views of the hills, forests, valleys, rivers and coast and experience the world from a new perspective.
Sat just off the coast, part way between Plymouth and Salcombe, opposite Bigbury on Sea Beach is Burgh Island. Connected to the mainland by a strip of sand at low tide and a sea tractor at high tide, it's a truly unique location along the South Devon coast. Upon Burgh Island you'll find the remains of a chapel, charming 14th century pub and a glamorous art-deco inspired hotel.
Running the entire length of the South Devon coast, walking a section of the South West Coast Path is a must do for any visit to the region. The entire path runs for 630 miles along the whole South West coast from Minehead in Somerset to Poole Harbour in Dorset. So whether you choose to walk a secluded section along the rugged cliffs between Hope Cove and Salcombe or between pretty towns and villages like Beer and Seaton, you'll find stunning views and impressive scenery.
It's not just our coast that is worth visiting in South Devon. As well as three Areas of Outstanding Natural Beauty (AONBs) South Devon is home to the spectacular, rugged, magical and fabulous Dartmoor National Park. Stretching over 368 square miles the landscape is filled with dramatic granite tors, ancient woodlands, attractive towns and villages, river valleys and reservoirs creating one massive playground for walkers, horse riders, kayakers and cyclists.
E - English Wines and Beer
Vineyards and wineries might not be the first thing that comes to mind when you think of England, but they're not just reserved for France and Spain. South Devon is home to some of the best English wine producers as well as wonderful breweries who hand craft artisan beers. If you're looking to try or purchase great English wine head to Lyme Bay Winery, near Axminster in the Axe Valley or Sharpham Vineyard and Cheese Dairy overlooking the River Dart near Totnes. But if beer is more your thing, Salcombe Brewery Co. welcomes visitors for tours and brew days.
F - Fish & Chips
You can't think of food and South Devon without fish and chips springing to mind. It's a quintessential holiday food, whether it's enjoyed on a harbour wall with sea views in front of you or in a quiet corner of a park as you watch the world go by, eating fish and chips while on holiday in South Devon is a must. Whether you go for cheesy chips, a battered sausage or fish cake, there are so many great places to enjoy this treat, for our top locations to enjoy this delicacy, check out our blog post on the Top 10 Fish and Chip Spots in South Devon for some inspiration.
G - Go Wildlife Watching
With rolling hills, estuary mouths and so many protected landscapes, it'll be no surprise that there are some top places to go wildlife watching in South Devon. If you would like to spot migrating winter birds, hunt out rare insects or walk among uncommon plants, we've listed our Top 10 Places to Go Wildlife Watching in South Devon in a blog post here.
Parts of South Devon can trace its history as far back as the dinosaurs, so it's a great place to plan a historical day out. Not only can you go fossil hunting on the Jurassic Coast, but you can climb an Iron Age hill fort in the East Devon AONB or explore a Norman motte and bailey castle in Totnes. Step back in time to the end of the Victorian era at Bygones in Torquay or visit a monument to the fallen war dead at Torcross. The area is also home to many great museums which chart the history of the region, Teign Heritage, Teignmouth and Shaldon Museum and Torre Abbey Museum are just two of South Devon's fun and informative family friendly days out. With so many historical places to visit you'll be spoilt for choice, you can find details on all the historical places you can visit here.
I - Indulge at a Food Festival
With so many fabulous local producers and wonderful rich farmland, the food and drink found throughout South Devon is some of the best in the country. And one of the best places to find local cheeses, meats, cakes, veg and seafood is at a food festival. Held mostly in the spring and autumn months, these celebrations of Devonshire cuisine are packed with dishes to eat there and then or to take away to enjoy later. So if you get the chance to visit a festival during your next visit we're sure you won't go home hungry. You can find details to all of South Devon's 2020 food festivals here.
J - Jam on Top
Another of Devon's culinary delights is a traditional cream tea, and there's only one way to eat it and that's jam on top! Tuck in to a freshly baked scone, a thick layer of clotted cream and lashings of jam on top, all served with a pot of steaming tea. Whether you're enjoying it as part of an afternoon tea, with cakes and sandwiches, or just the scone and tea it's a must do activity for any trip to South Devon. In our blog post, Top 10 Instagrammable Afternoon Teas in South Devon, you can find some of the most photogenic places to enjoy a cream tea in the region.
K - Kayaking and Canoeing
South Devon is home to several dramatic river valleys, estuary mouths and of course our impressive coastline, all these wonderful waterways are perfect for a spot of kayaking or canoeing. You could hire a kayak from Saddles and Paddles in Exeter or SeaSports Southwest in Teignmouth and explore for yourself or join a guided kayak trip with Sea Kayak Devon in Dartmouth. If you would rather take to the water in a canoe, Winding River Canoe and Canoe Adventures both lead guided tours on the River Dart. Kayaks and canoes aren't the only way to take to the water in South Devon; information on all our watersports providers can be found here.
As well as being an important part of Britain's maritime history, lighthouses are a great place to visit to get some of the region's most astonishing views. If you want to feel like you're stood on the end of the earth, take a trip to Start Point Lighthouse which stands on one of the county's most southerly points where vistas of Start Bay towards Dartmouth can be savoured. Other lighthouses in South Devon can be found in Plymouth, Brixham and Teignmouth. Details and the history of these fascinating buildings can be found in our blog post, Lighthouses in South Devon here.
2020 marks the 400 year anniversary of the sailing of the Mayflower to America in 1620. The Mayflower and its companion, the Speedwell, stopped at Dartmouth and Plymouth, for repairs to the Speedwell which had started taking on water, before the Mayflower was forced to complete the journey on its own. To mark the anniversary, along with a yearlong calendar of events in both Dartmouth and Plymouth, the coastal town of Dartmouth have created a Mayflower Trail which leads people around the town following a self guided tour app as you find out more about the town in the 17th century.
We hope the above has given you some inspiration, but we always love to hear what you would consider your must do, see and try as well as things to do in South Devon.
Connect with us on Twitter here and Facebook here to let us know some of your bucket list ideas in South Devon.
Other Posts You Might Like
Related
0 Comments