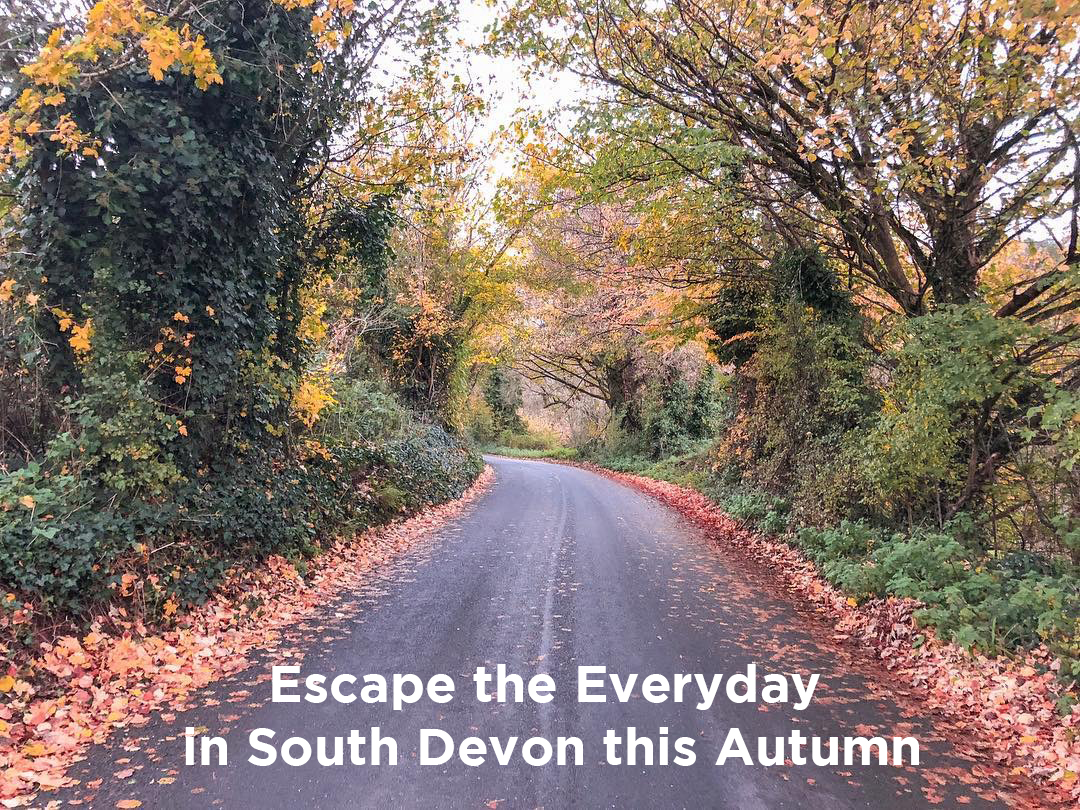 Whilst everything still feels a little uncertain, why not escape to South Devon during autumn this year? We've got plenty to see and do which will take your mind off the everyday grind and although things aren't quite back to how they used to be, it doesn't mean you can't enjoy a wonderful trip to our stunning coast or enchanting countryside. Take a look below at some of our suggestions of things to do in South Devon to help you escape the everyday this autumn.
Explore a magical forest
South Devon is home to lots of different forests and woodland areas for you to enjoy. If you're looking for a great dog walk or roam with the kids, Haldon Forest near Exeter has many different trails. For somewhere a little different why not check out Wistman's Wood on Dartmoor where you'll be greeted with gnarled moss covered oak trees.
Take a brisk coastal walk
From Plymouth to Seaton you'll find miles of incredible coastline to explore and the best way in our opinion to enjoy this part of South Devon is by walking sections of the South West Coast Path. For magnificent cliff top views try out the route between Branscombe and Beer or if you like to explore out of the way beaches and coves, head for Ayrmer Cove. You can park at the car park and walk to the beach and then continue on to Wyscombe Beach on the South West Coast Path.
Discover exciting exhibitions at a gallery
Scattered across the region you can find a plethora of galleries and arts and crafts venues. And although visiting may be slightly different to what we're all used to at the moment, it doesn't mean you can't still look forward to a great day out. If you're staying in East Devon or Mid Devon, check out Thelma Hulbert Gallery who welcome different exhibitions throughout the year or for those wishing to explore the Teignbridge area, The Teign Heritage Centre is home to the Teignmouth and Shaldon Museum where you can uncover more about the areas rich history.
Enjoy a meal out
Regardless of the current climate, many South Devon restaurants, pubs and cafés are open and ready to welcome you in for a delicious meal. We couldn't possibly single out just a couple of these amazing eateries so be sure to check out the food and drink section on the site here for some inspiration!
Escape into the great outdoors in South Devon this autumn and try your hand at Geocaching. Geocaches can be found across the UK, and the rest of the world too, with lots to unearth here in South Devon. Use the app to find these hidden containers and sign the logbook, just remember to bring your hand sanitiser with you and use it regularly whilst your touching things, or as the weather gets colder keep your gloves on. You can also just use the app to help you discover new places. For more information about Geocaching, head to our page about it here.
Climb a mighty tor
Fancy challenging yourself this autumn? Or just want a ramble that ends in an epic view? Dartmoor National Park is the place to go in South Devon for this. Hike up to the top of one of the many towering tors and admire the breathtaking views from the top. A couple of our favourites are the ever-popular Haytor and Sheeps Tor which overlooks Burrator Reservoir.
Watch a colourful sunset
Watching a sunset wherever you are in the world is always a magical experience and South Devon isn't short of amazing places to enjoy one. Whether you want a romantic, deserted spot somewhere on the moors or a chilled evening on the beach, we've got a location for you. Check out our selection of the best places to watch a sunset in South Devon here.
Grab a drink at a cosy pub or café
Whether it's sipping on a hot chocolate overlooking the sea or curling up next to an open fire with your favourite tipple, we've got plenty of warm and friendly locations for you to enjoy a drink this autumn. Just have a browse through the pubs and inns on offer in South Devon here or if you're looking for a café, click here.
One brilliant way to discover our varied coastline is to go rockpooling. You'll be amazed at just how many different coastal creatures and plantlife you can unearth. Many South Devon beaches are great for this popular pastime, you can have a read through our recommendations in our blog post on the top beaches to go rockpooling in South Devon here. We've also got a great article about marine life in Dawlish and Teignmouth here.
Visit one of our unique attractions
Whilst the recent period has been a bit of a struggle for a lot of our diverse and buzzing attractions, many are now back open and looking forward to greeting you. Things have changed slightly but with new regulations in place we can all once again enjoy the attractions in South Devon that we know and love. For South Devon attractions, please click here.
To keep up to date with all things South Devon, be sure to sign up to our e-newsletter here where we'll let you know about the latest news, our competitions, blog posts and more!
Related
0 Comments