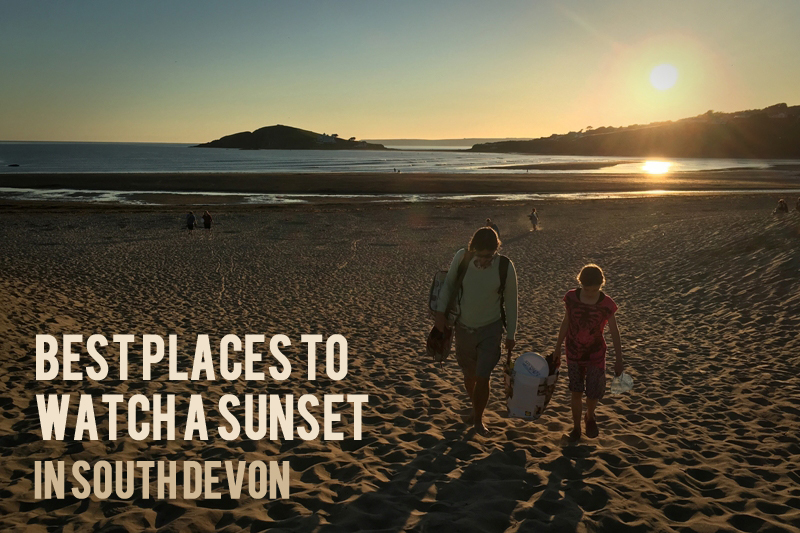 Much like the whole of the South West, South Devon has ample gorgeous spots to watch a sunset. Whether you're looking for somewhere off the beaten track on the South West Coast Path (although please do be sensible! We don't want any accidents in the dark!), a viewing point with countryside views or some place that's easy to get to but doesn't compromise on a magical setting, we've got you covered here in South Devon. Check out our favourite places to watch a sunset in Devon below.
Situated on the South Hams coastline within the South Devon Area of Outstanding Natural Beauty (AONB), it's no surprise that this secluded cove is one of our favourite places to watch the sun go down in South Devon. Soar Mill Cove can be reached via the South West Coast Path, although it is an inlet that can be hard to reach so watching the sunset from the nearby Soar Mill Cove Hotel may be a more practical option if you don't fancy a difficult descent or ascent. Explore more about Soar Mill Cove here.
Recognised as one of South Devon's top beaches for watersports, Exmouth Beach in East Devon is not just a hotspot for windsurfing and kitesurfing, it's also a stunning destination to watch a sunset in the region. Enjoy a romantic stroll along the two mile stretch of sand or indulge in a spot of fish and chips on the front as you watch the sun disappear behind the horizon. Further details about Exmouth Beach are available here.
Windy Post Cross
Windy Post Cross is situated on the western side of Dartmoor National Park between Princetown and Tavistock. This magical setting on the moors is a tranquil spot ideal for walking or simply relaxing whilst enjoy magnificent views. We think it's a beautiful place to visit at any time of the day, any time of year, but dusk manages to make this serene spot even more incredible. Find out more about Dartmoor National Park by clicking here.
With fabulous views of Burgh Island, Bigbury on Sea Beach is located within the South Devon AONB on the opposite side of the River Avon to Bantham Beach. A popular beach for families, Bigbury on Sea Beach is the ideal place to go for a full beach day out and if you can, it's definitely worth extending your day into the evening to watch a special sunset. Additional information about Bigbury on Sea Beach can be found here.
Teignmouth River Beach, also known as Back Beach locally, is another beautiful setting to watch a sunset in South Devon. Pickled with colourful fishing boats and views up the River Teign towards Dartmoor means it is a very picturesque spot. There are also a few bars and eateries nearby meaning you can enjoy an alfresco drink whilst you soak up the last few rays of sunshine. Discover more about Teignmouth River Beach here.
Located on the breathtaking South Hams coastline, Prawle Point is the southernmost point of Devon and is not too far from the gorgeous East Portlemouth. Some incredible walks can be enjoyed around this headland along the South West Coast Path and there's even a lookout station as well as a National Coastwatch Institution station. Please click here if you would like further details about Prawle Point.
Sheeps Tor
On the western side of Dartmoor just a stone's throw from the village Sheepstor, you'll find the magnificent Sheeps Tor. It's not far from Yelverton and this high point on Dartmoor National Park is definitely one of our favourite places to watch a sunset in the region due to its sublime views overlooking Burrator Reservoir. We've got more information about the whole of Dartmoor on our page here.
East Hill Strips
East Hill Strips is a park and in our opinion one of the most magical viewing points in East Devon. It can be found just a short car ride away from Ottery St Mary and close to the seaside resort of Sidmouth. Gaze out over the undulating countryside of the East Devon Area of Outstanding Natural Beauty (AONB) as you watch the sun slowly dip behind the horizon. If a countryside sunset is what you're after, this is one of the best in Devon.
Hope Cove is a small, old fishing village in the South Hams district of South Devon with two glorious beaches. Its rustic setting provides an ideal place to explore the small collection of pubs and eateries as well as the staggering coastline that surrounds it. The sheltered beaches also make for a fantastic location to watch the sun go down in South Devon. To learn more about Hope Cove, please click here.
Plymouth Hoe
Ending our list of the best places to watch a sunset in Devon is an iconic spot in one of the region's cities. If you're close to the bustling city of Plymouth whilst you're in Devon then be sure to take a trip to Plymouth Hoe and enjoy a sunset. With the striped Smeaton's Tower dominating this area of public open space and reaching views of Plymouth Sound, it's definitely an easy to reach and magical setting to relax as the sun sets on another day. Explore more about the city of Plymouth by clicking here.
Discover stunning photos of South Devon regularly by following us on Instagram here. We mainly share images taken by you so be sure to tag us in your pictures of the region by using @visitsouthdevon, #visitsouthdevon or #southdevon.
Other Posts You Might Like
Related
0 Comments