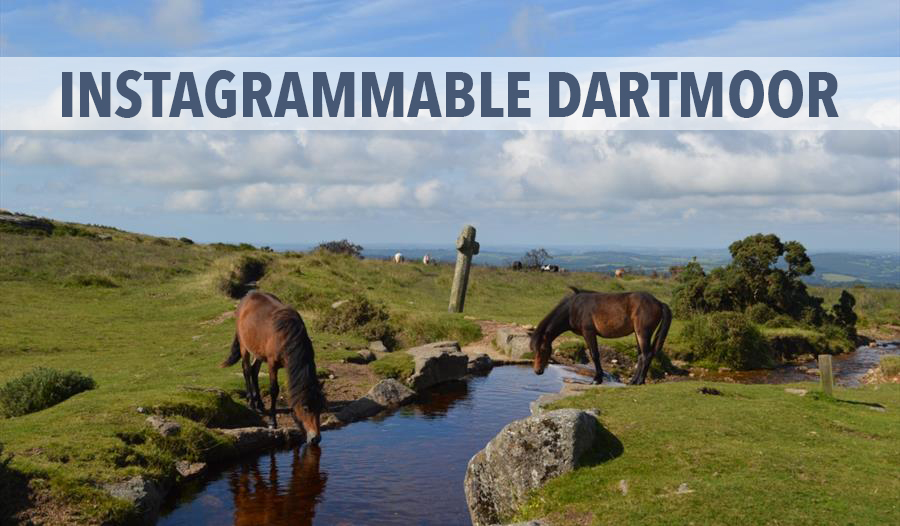 Dartmoor National Park is known for its wild and magical landscapes so it's no surprise really that there's a ton of sensational destinations to take photos. From rocky tors with unbeatable views to valleys and rivers which could be compared to a fantasy film set. Regardless of your taste in locations, Dartmoor has something for everyone. Discover our top instagrammable spots on Dartmoor below.
Foggintor Quarry
First up on our most instagrammable places on Dartmoor is Foggintor Quarry which is located close to Princetown and less than 20 minutes by car from Tavistock. Previously one of three major granite quarries on the moors, today the pit at the site has transformed into a deep lake with the towering rock faces surrounding it. This spot is truly magnificent and allows for some incredible scenic photographs.
Bellever Forest
Bellever Forest is not far from Postbridge and is a popular picnic place on Dartmoor. With good facilities, stunning woodland, beautiful riverside walks and even a tor nearby for those looking for a more exhilarating trek, this area combines all the aspects of the moors that we know and love. And with that in mind, it's no surprise this magical setting is perfect for some shots for your social media feed!
Sheeps Tor
Sheeps Tor is just half a mile from the village which it's named after. The rocky outcrop overlooks Burrator Reservoir and it's for this reason that we've included it in our list. The breathtaking views out across the moorland and reservoir mean that there are some beautiful photos to be had at this Dartmoor favourite.
Wistman's Wood
Wismans Wood lies in the heart of Dartmoor National Park and can be reached by a man-made track from Two Bridges Hotel. It is one of three high altitude oakwoods on the moors and is even believed to be haunted! The twisted and gnarled moss covered trees are simply magical, it's no wonder legends of druids are in abundance here and of course this enchanting scenery means it's a popular spot for some atmospheric photos.
Sherberton
Next up on our list of our favourite places to photograph on Dartmoor is Sherberton, and in particular Sherberton Stepping Stones. They can be found where the River Swincombe meets the West Dart River and they're arguably the most impressive set of stepping stones on Dartmoor. Not only is this spot popular with photographers, but also with wild swimmers too.
Dewerstone Wood
Close to the village of Shaugh Prior, Dewerstone Wood is popular among walkers and is a Site of Special Scientific Interest. Visitors can park at the Shaugh Prior National Trust Car Park and enjoy a beautiful walk alongside the River Meavy. It's the river through the woods which really is the star of the show and the tumbling waters over moss covered rocks make for a wonderful photo.
Tavy Cleave
Tavy Cleave is a hidden valley on the moors which offers some striking scenery and potentially might look more at home in Scotland than Devon! With surrounding towering tors, this area of Dartmoor National Park lends itself brilliantly to photography due to its varied landscape and majestic feel.
Hound Tor
Resting on the eastern side of Dartmoor, Hound Tor is a popular spot for picnics and hikers. There's also remains of a medieval settlement just south east of the tor perfect for exploring. The real gem of Hound Tor though is probably the far reaching views from the top of the rocky outcrop which is perfect for an Insta shot to share with your followers.
Windy Post
Granite crosses can be found speckled across the Dartmoor landscape but probably one of the most famous and most photographed is the one at Windy Post which is also known as Beckamoor Cross. It's located just over a five minute drive from Tavistock and around a ten minute drive from Princetown.
Haytor
Probably one of the most well known tors on the moors, Haytor rests on the eastern edge of Dartmoor just three miles from the market town of Bovey Tracey. Nearby this impressive tor you can also find Haytor Quarry, another charming place to photograph. However, we've added Haytor as the last spot on our list because of its beautiful panoramic views.
For your regular dose of South Devon, make sure to head over to our Instagram account here. We share wonderful photos mainly taken by you! So if you fancy being featured on our feed, just tag us in your images of the region using @visitsouthdevon or #visitsouthdevon.
Related
0 Comments