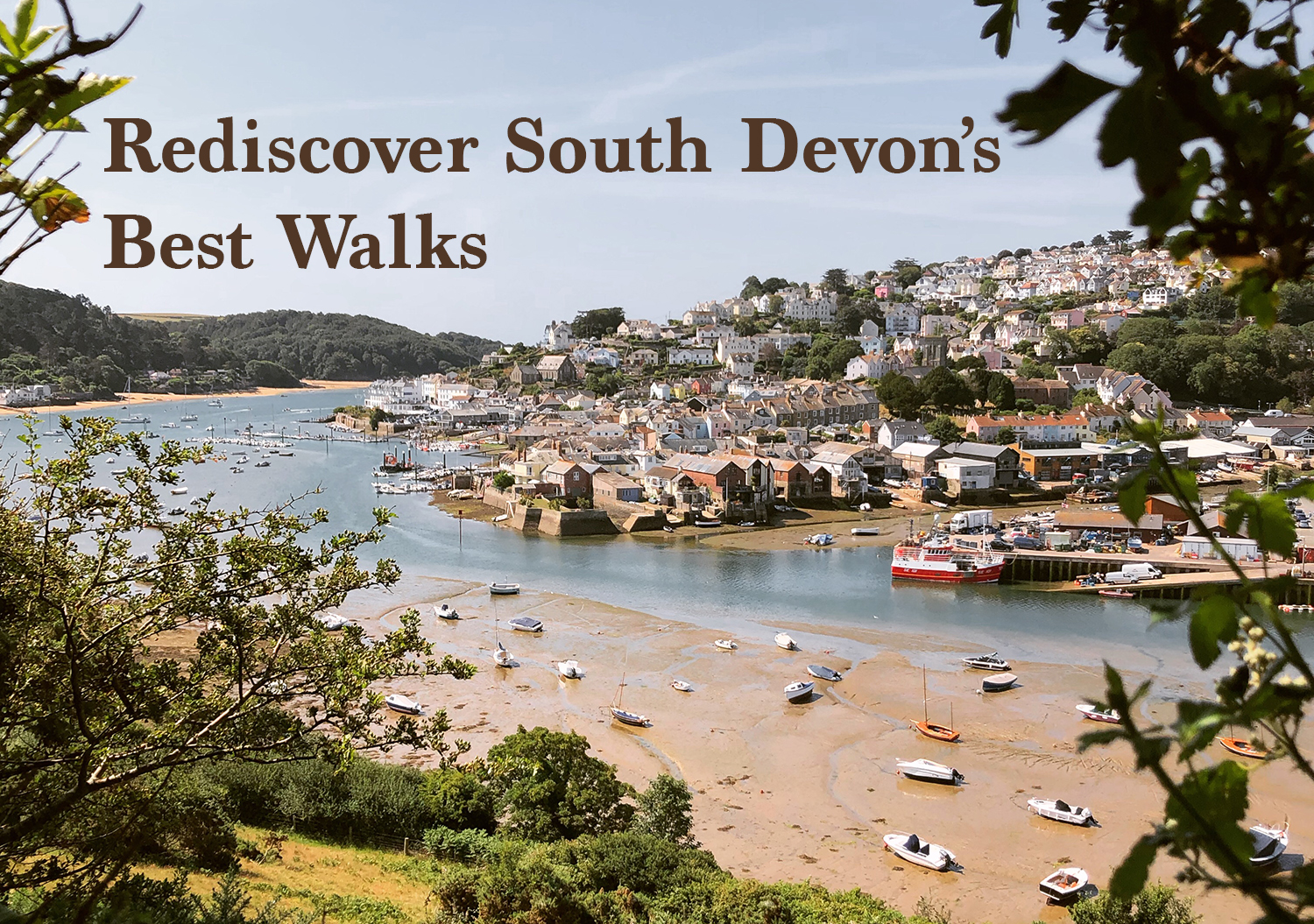 South Devon has such a varied and impressive landscape, with an abundance of rugged coastline, magical forests, wide open countryside and so much more, meaning there are some truly wonderful walks to be enjoyed in the region. Below we're going to take a look at some of the best and help you to discover and of course rediscover what makes this area so special. Whether you're just looking to take your dog out for a short stroll, take on a thrilling hike or simply wander with little ones, we've got plenty of walks that won't leave you disappointed. Read on to rediscover South Devon's best walks.
Snapes Point
To head to Snapes Point, near Salcombe you can park at Snapes Point National Trust Car Park and follow the track to the headland. This charming walk offers peeks of the Salcombe/Kingsbridge Estuary as well as Salcombe itself through the trees as you wander along. As you approach the viewpoint the views really open up and you can appreciate just how magical this area is. At Snapes Point you can enjoy panoramic views of the estuary, Batson Creek and Southpool Creek and even out to sea.
The Daymark
The Daymark is located on headland on the Kingswear side of the River Dart. It's an 80 foot octagonal structure that was built in 1864 to guide ships to the mouth of the Dart and Dartmouth Harbour. There are a few options of walks in the area which can include The Daymark, including short or more rigorous. You can start at Brownstone National Trust Car Park and walk to it from there or for those looking for more of a hike, starting in Kingswear is a great option. If you do choose to extend you walk by including some of the South West Coast Path, please be aware that there is some extremely rugged terrain and steep areas so it won't be suitable for everyone.
One of our favourite walking areas in East Devon is between Beer and Branscombe and is simply breathtaking regardless of which of the two places you start at. This walk lies on the UNESCO World Heritage Site of the Jurassic Coast and takes you along the top of a cliff known as Beer Head. If you're starting at Beer you can begin from the village centre or Beer Head Car Park. Once you've reached the car park, follow the track which takes you up to the top of the cliffs and you'll eventually see Branscombe in view. Please note that this walk has steep sections so is not suitable for those with mobility issues.
Haldon Forest situated near Exeter has an amazing selection of walks to explore. Whether you've got little ones with you or you're looking for somewhere different to take the pooch, this forest will have a walk perfect for you. Altitudinous trees line trails and there's quite a few clearings too where you can to soak up incredible views of the surrounding countryside.
Foggintor Quarry
Foggintor Quarry on Dartmoor National Park is one of the three main granite quarries on Dartmoor which provided stone for many famous landmarks. For many years the quarry has remained untouched and the landscape claimed once again by the moorland. Today it's a deep lake with a handful of ruins surrounding it. You can reach the quarry from a couple of nearby car parks, for a shorter route there is a small parking area near to Yellowmeade Farm or you could park at Four Winds Car Park for a slightly longer walk.
Start Point runs almost a mile into the sea and is the most southerly point in Devon. The views back across Start Bay and beyond from the walk along this peninsula are absolutely stunning and there's a charming lighthouse perched on the end too. It's a short, easy walk from Start Point Car Park down to Start Point and the Lighthouse along the South West Coast Path.
This walk begins in the quirky town of Totnes and takes you along part of the Dart Valley Trail. It's a moderate walk with beautiful views of the River Dart and surrounding South Devon countryside. Some of the best views can be seen as you amble across the fields looking down over the meandering river. And as if that wasn't enough, at Sharpham there's a very popular vineyard, Sharpham Vineyard & Cheese Dairy offering more vineyard walks but most importantly, cheese and wine!
Hembury
Hembury is an Iron Age Hill Fort found within the Blackdown Hills Area of Outstanding Natural Beauty. Access to the fort can be reached via a public footpath off the A373. The hill fort is home to impressive ramparts and surrounded by enchanting beech trees. Hembury Fort sits on a ridge and although a bit of a climb, it's definitely worth it to see the vast views of the Blackdown Hills AONB.
There are some incredible coastal walks to be discovered around Prawle Point with one in particular that is our favourite. It's a circular walk that begins at Prawle Point Car Park and takes you along the coast to the look out station. From there you can follow the South West Coast Path all the way around to Maceley Cove and enjoy staggering views of the sandy inlets below. Cut back inland from here to complete the circuit or continue on for a longer route. This is quite a narrow and sometimes tricky walk though so it's not suitable for those with limited mobility.
Ladram Bay
This walk is around four and a half miles and starts in the East Devon resort of Budleigh Salterton. From here you can take the South West Coast Path to Ladram Bay where you can take in the red Triassic era sandstone cliffs along this part of the Jurassic Coast. You'll also be able to admire the impressive sea stacks at Ladram Bay which are often the centrepiece for local coastal photographers.
If you're looking for more inspiration of things you can get up to in South Devon, head to the main page of our blog here. And don't forget to sign up to our e-newsletter here where we'll keep you posted with the latest news from the region, our newest blog posts, competitions and plenty more!
Related
0 Comments