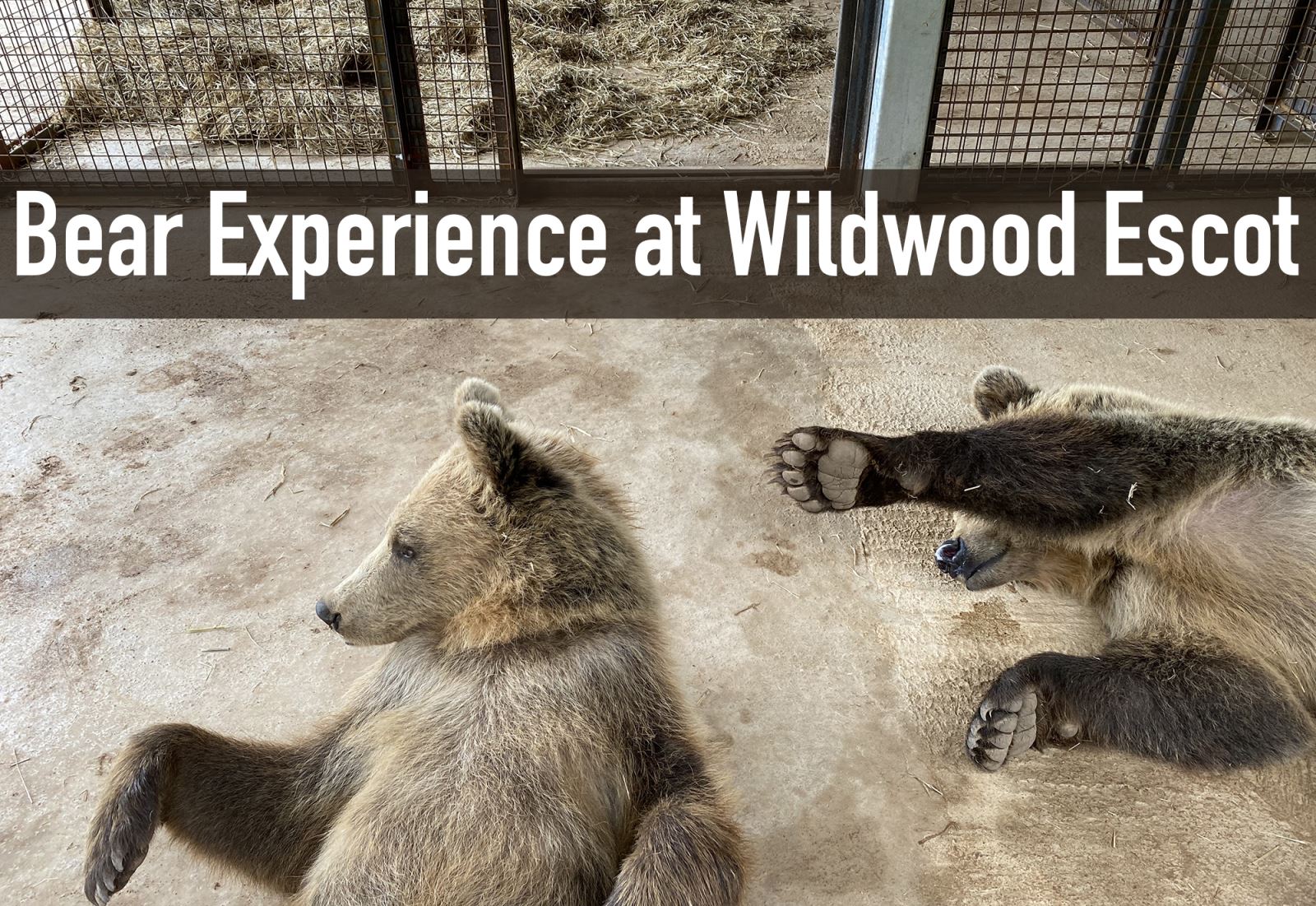 Wildwood Escot have launched an amazing new 'Bear Experience', giving people the once in a lifetime opportunity to hand feed 2 beautiful bear cubs and see close up these incredible animals.
A couple of months ago, we were lucky enough to be invited to experience the cubs, Mish and Lucy first hand, and find out about their exciting new bear experience.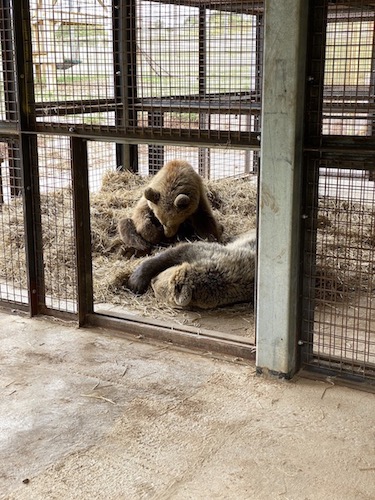 The brother and sister cubs are the only European Brown Bears south of Bristol. Upon arrival we were greeted by Tan, who led us through the park to the temporary enclosure where the cubs are currently living. Once there, we were introduced to Ben who continued to tell us more about Mish and Lucy as well as this new experience Wildwood Escot are offering.
Ben explained that Mish and Lucy were rescued from a snow drift in Albania when they were very young. Sadly after multiple attempts to reintroduce them to the wild, it was clear that the mum was nowhere to be found. It's thought she may have been caught in an avalanche or fled from illegal loggers. So the tough decision was made that the brother and sister duo were going to be better off spending the rest of their lives in being cared for somewhere safe. We were informed that male bears often eat the young of other bears, hence why it was so dangerous to have Mish and Lucy go back out into the wild without their mother.
From Albania they were moved to Germany for a short period before the hunt for a new home began. Wildwood in Kent is already home to a couple of bears so there were facilities and trained staff to house Mish and Lucy until their permanent placement at Wildwood Escot was ready for them. The park here in Devon, a short drive from Ottery Saint Mary, has the space needed to home the cute cubs and provide a safe and enriching life for them. At the moment they are in a generous enclosure but definitely not big enough for them as they grow up. At 2 1/2 years old both are still very young and behave as you would expect children or toddlers to, they are extremely playful and enjoy messing around with one another. From their behaviour it was apparent that they share a close bond.
Part of the new bear experience is to scatter food around the cage whilst Mish and Lucy wait in their holding den, then they can come out and have their breakfast. After that, you have the opportunity to hand feed them peanuts and gravy bones, the dog biscuits! Both were super gentle and as you feed them through the fence their bottom lip extends out so they can suck the food right from your hands.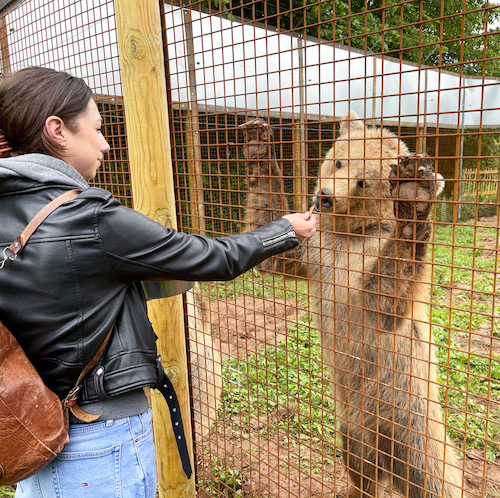 Tan and Ben were extremely knowledgeable and very engaging telling us all about the duo and what their life will be like at Wildwood Escot. Many places that have bears don't necessarily let them go into hibernation as it means they can't be seen by the public, however Mish and Lucy will have this opportunity but it's not exactly hibernation as we know it. They will go into a state which is known as torpor, it's similar to hibernation however they don't stay asleep completely for the whole duration. Essentially, their metabolism slows right down as does their activity but they'll still wake up every now and again for a drink and then just go back to sleep again. Wildwood Escot is first and foremost a conservation charity so the aim is to create an environment that is as close as possible to what they would've experience if they were living in the wild.
After we'd had had the chance to feed Mish and Lucy and had an opportunity to chat to Ben and Tan about what their lives will be like, we were invited by Ben to go and take a look at the new enclosure that is being built for them and learn about when this will be open to visitors. Their new home will cover 1 1/2 acres, spread throughout wooded area. At the moment, a pool has been built to emulate a beach style setting and give them water to play in, and the hope is to create a grassed area which would be similar to the grassland that they would've experienced if living in the wild. The plan is to try and create all the different environments that are brown bear in Europe would have access to, throughout the year in the wild they would move to different areas depending on the seasons due to the availability of food. A huge stilted walkway is being built to allow visitors to watch the bears from above and they're even building a platform so that Mish and Lucy can go up and play and be at eye level with visitors. We were informed that they're hoping the new enclosure will be able to open up next year sometime.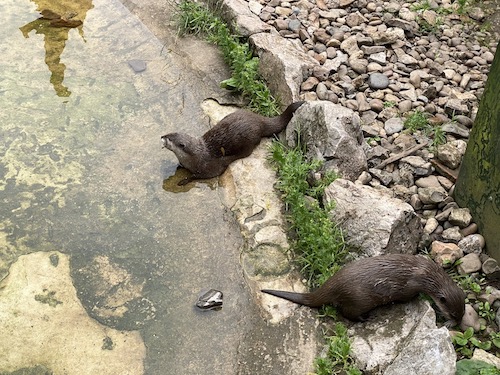 After wandering around where the new enclosure will be, we went back to take one last look at Mish and Lucy Before heading to explore the rest of the park. We had a look at the other animals that call Wildwood Escot home including an Arctic fox, red squirrels, Asian short clawed otters, wolves and boars. There is some great play areas for younger ones to enjoy including climbing frames and a maze as well as a rope swing overlooking the beautiful countryside. After a lovely morning we headed back home feeling full of excitement at just being able to get so close to these beautiful bear cubs.
The bear experience is now available to book and costs £125 per person or £195 per couple, it's truly a once-in-a-lifetime encounter that you don't want to miss. Thank you so much to Wildwood Escot for having us and allowing us to experience a little bit of magic.
To book, please visit https://wildwoodtrust.org/product-category/devon-experiences/
Related
0 Comments