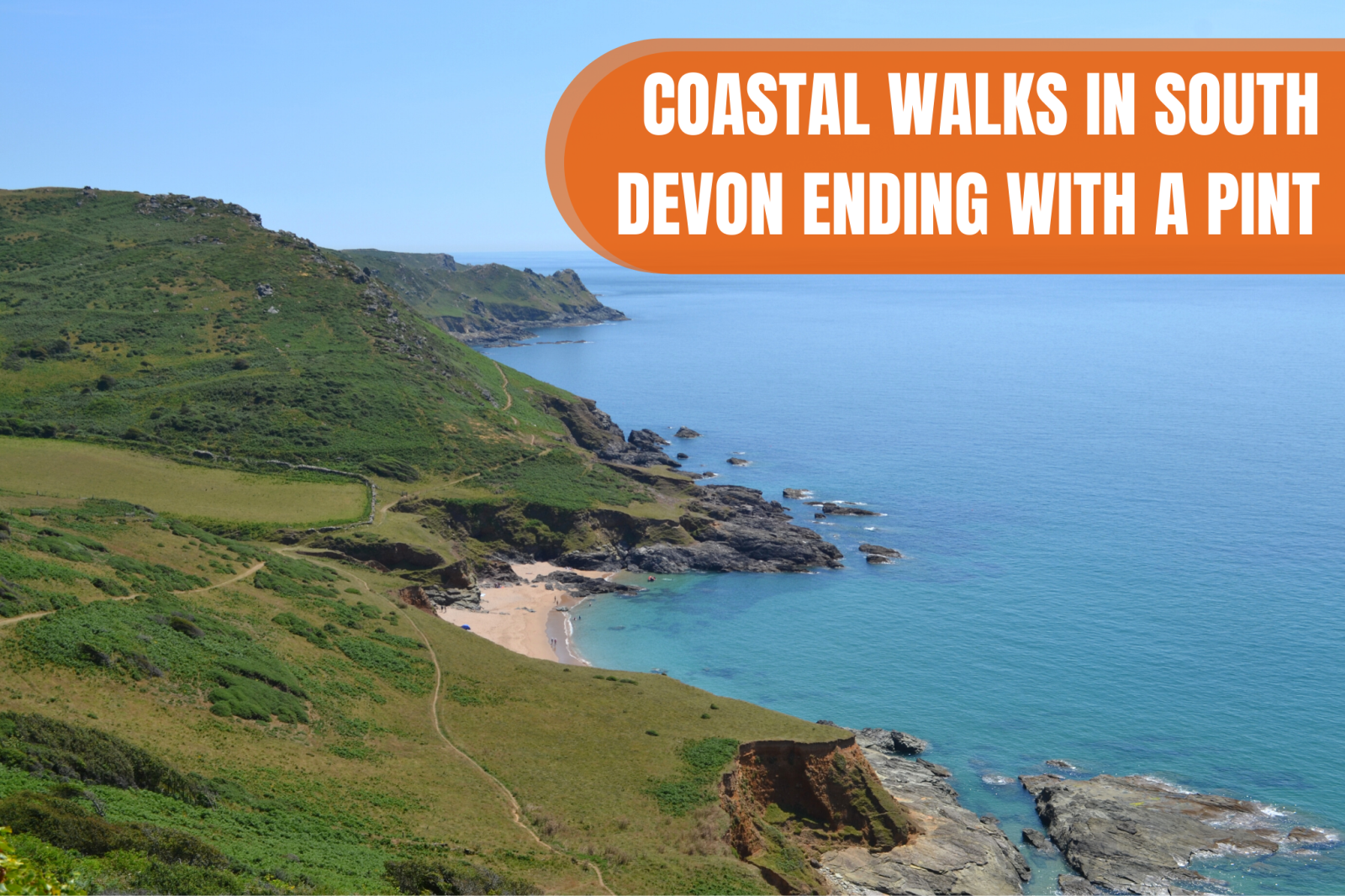 Now that Spring is drawing ever closer, we can't wait to take long walks in the sun and stop for a refreshing cold pint or a bite to eat in a pub, bar or restaurant; there's really nothing better! Here's our top picks for walks around South Devon which can end (or start!) with a thirst-quenching pint.
Situated on the South West Coast Path, the walk from Hallsands to Beesands is a beautiful one, and moderately easy. Hallsands is the 'village that fell into the sea', a dramatic reminder of the power of the sea and Beesands is a mile-long shingle beach backed by fields and a freshwater lake. Along this walk you'll see the dramatic coastline which reaches Start Point Lighthouse and a variety of fascinating wildlife. Overlooking the sea, you'll find The Cricket Inn, a hidden gem serving local ales, fine wine and food made with fresh produce; they're also dog-friendly so you can bring your pooch along for the walk! The cosy interior is everything you'd expect from a seaside inn or if you prefer al-fresco dining, their outdoor seating area is lovely during the warmer months.
Babbacombe, a picture-perfect seaside resort, is an area of Torquay, in the heart of the English Riviera. A short, but fairly strenuous walk down the hill will take you to Oddicombe Beach, an area rich in wildlife and home to many rare species of flora and fauna. Take a moment to bask in the picturesque scenery and admire the deep blue sea before heading back up to the centre, either by walking or catching the Clifftop railway. Just round from Oddicombe Beach, overlooking the bay is The Cary Arms Inn and Restaurant, a lovely inn serving coastal gastro-pub food, including Devon beef and Lyme Bay lobster, farmed and caught in the local area. If you're just looking for somewhere to get an afternoon tipple, this is also a great place to visit as they serve many local ales and beers.
Opposite the seaside town of Teignmouth is Shaldon, an idyllic village with a thriving community. The Shaldon Village Trail is a short walk that will take you through the Botanical Gardens and along the spectacular coastline to Ness Cove Beach and Smugglers Tunnel. You could also extend this walk by taking the trail to Stokeinteignhead along the South West Coast Path and cutting inland. If you do want to stop for some lunch or try a local beer, ODE Café at Ness Cove is a great place to go. They offer a delightful menu, filled with local and fresh produce, and if the weather is a little bit chilly outside, why not warm up with a boozy hot chocolate!
If you're looking for a longer, more strenuous activity in East Devon, you could give the Sidmouth to Beer South West Coast Path walk a try. This walk is approximately 10 miles long, but you will see impressive views of the Jurassic Coastline throughout, including the red cliffs of Sidmouth and the chalky white Hooken Cliffs between Branscombe and Beer. Once you've completed this round-trip, I think you've earned yourself a pint or two! Stop off at Dukes, a lovely Inn serving local delicacies with glorious seaside views. This eatery is especially good for veggie or plant-based walkers as their vegan options are plentiful and delicious!
Dawlish Warren Nature Reserve is an excellent place to visit if you're an avid bird watcher or nature lover. During the springtime, submerged in the grassland, mudflats and sand dunes, the winter birds are joined by spring migrants, meaning there is an abundance of wildlife to be seen. Dawlish Warren is your typical picture-postcard seaside beach with colourful beach huts and sandy shores, it's immensely popular with families, locals, and tourists alike. Just a short walk away from the beach and along the wooded footpath is Langstone Cliff Hotel, a friendly family-ran hotel with beautiful views of the sea. They have tasty bar snacks, and a selection of fine wines with the option to sit outside and admire the scenery, or if you fancy treating yourselves, their restaurant carvery dinners are excellent!
Located at the southern end of the Kingsbridge Estuary and opposite Salcombe is the small village of East Portlemouth, set in the South Devon Area of Outstanding Natural Beauty. It's a quieter spot, making it ideal for families or couples who want to escape the stresses of everyday life. Walking the South West Coast Path along the cliffs, you'll reach Gara Rock Beach and Gara Rock Hotel, offering three different dining experiences. You can grab a light bite at their Garavan, a refreshing pint at their lounge bar or their restaurant serves only the best locally sourced and freshly foraged food; so, you know it's going to be tasty!
If you'd like to keep up to date with the latest news and events in South Devon, follow us on Twitter and Instagram, or like us on Facebook.
Related
0 Comments