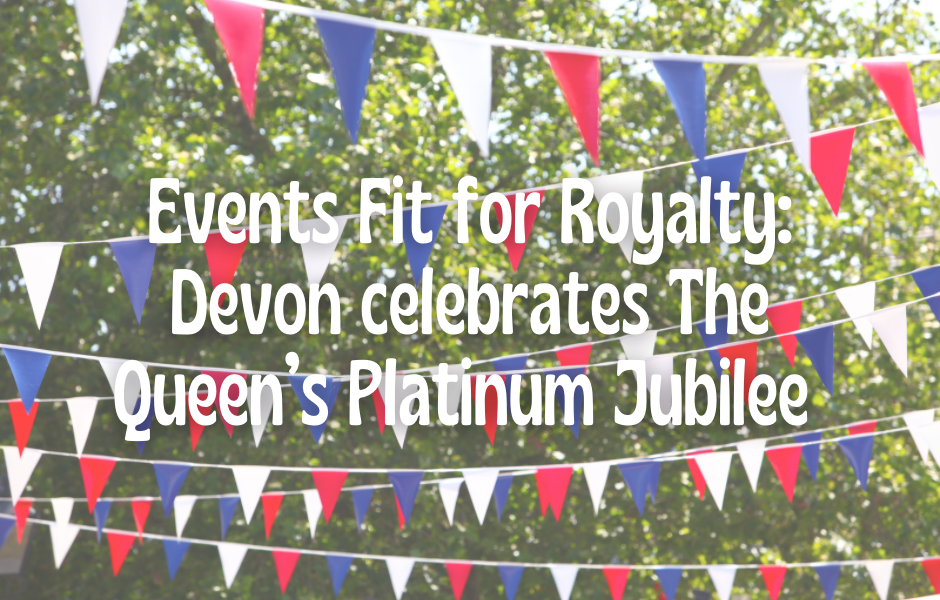 Over the Jubilee Bank holiday weekend South Devon will be thoroughly involved with celebrating the Queen's Platinum Jubilee. From Thursday 2nd – Sunday 5th June a fabulous array of festivities and events will be popping up all over the region. Many cities, towns and villages in South Devon will be taking part in the national Jubilee events, such as the Lighting of the Jubilee Beacon, and the Jubilee Big Picnic Lunch! Whether you attend any of these events or decide to throw your own street party or celebration, we'll sure you'll enjoy the Jubilee weekend in South Devon.
'Happy Days' is a patriotic, uplifting, sing-along show for the whole family to enjoy, taking you on a journey through the last seven decades of music, with a rock'n'roll spectacular. You can expect classics from various musical icons such as Vera Lynn, Connie Francis, Doris Day, Matt Monro, Frank Sinatra, and Glen Miller, just to name a few! The show will be taking place at two venues in South Devon, including at The Princess Theatre in Paignton on Wednesday 18th May, and at The Beehive Theatre in Honiton on Thursday 2nd June.
Set in the stunning seaside resort of Babbacombe, Babbacombe Model Village are celebrating the Queen's Platinum Jubilee in their own miniature fashion with a special Jubilee Beefeater Hunt! Try and find all the miniature Beefeaters placed and hidden around the gardens and you could win a special prize to take home! As well as this, they'll have lots of tiny Jubilee scenes around the grounds for you to explore.
Located between Exeter and Cullompton, Bear Town is an interactive, immersive play experience that supports the early years foundation stage in children from walking age to 7 years old. From 28th May – 8th June you can celebrate the Queen's Platinum Jubilee at Bear Town by joining their mission to locate the missing jewels to receive a royal flag which they can use to celebrate the Queen's Jubilee when they go on their royal march around the town! If you do want to attend this special event, please make sure to book in advance.
Celebrate HM The Queen's Jubilee in royal style at Bovey Castle with their fabulous Platinum Jubilee Weekend Afternoon Tea. Enjoy a luxurious afternoon treat with friends and family set in the beautiful grounds of the hotel. You'll be served sweet cakes such as their special Union Jack Battenburg, or 'Queen of Puddings' tartlet, delicious, fresh sandwiches filled with coronation chicken or smoked salmon and splendid savouries such as warm sausage rolls or a tornegus cheese and broccoli quiche. Raise and toast and treat yourself to a lovely glass of Venue Clicquot Champagne too! Please call Bovey Castle or book online to secure your place to avoid disappointment.
From 11am – 3pm on 2nd June join in with Exeter's Jubilee celebrations with the Jubilee Street Party. The town will be setting up tables and benches along the entire High Street where you can enjoy a picnic, or if you fancy supporting some of the local businesses, you can click and collect food and drinks from the nearby restaurants, but please note that consuming alcohol is not permitted on the High Street and Cathedral Green. Listen to the music stylings of the Liberty Sisters and Chris Pope, who will be performing on the High Street, or head over to the Cathedral Green to explore the Military and Community Village. There will be plenty of exciting family activities to partake in too. Exeter Jazz Orchestra will be performing in Princesshay throughout the day, and Exeter Railway Band will be hosting a good old sing-along at the Guildhall, where tasty street food will be available to buy from stalls. In the evening, the National Beacon Lighting will take place on the Quayside too.
Turn the Tide, Dawlish (2nd June)
Turn the Tide is a free, family-friendly event for all ages held on Dawlish Lawn on 2nd June. The aim of the event is to celebrate the important things our oceans and waterways do, and highlight the need to look after and protect them. As well as hosting a diverse range of craft workshops, such as an exciting blacksmith workshop where you can learn how to forge, Turn the Ride will feature lots of environmental, local, sustainable and ethical charities, organisations and businesses with stalls. Plus there will be other entertainment such as mermaids, sea shanties, key speakers, films, and more! This event is organised by Dawlish Wildlife Wardens, and Dawlish Against Plastic in conjunction with Dawlish Town Council.
The Flavel Arts Centre will be hosting a truly fabulous Jubilee Arts Fair through the day on Thursday 2nd – Friday 3rd as part of their Royal Celebratory Weekend. There will be a wide variety of work on display and to purchase, such as sculptures, paintings, ceramics, jewellery, and plenty more! The Art Fair will be open from 10am – 4pm both days and will be free to attend.
Kick off the long weekend with a lovely walk of Dartmouth's stunning Diamond Jubilee Way, led by Dartmouth Walk and Talk group, a fun and friendly walking group who organise weekly walks around Dartmouth and the surrounding area. Starting at Dartmouth Castle Tea Rooms at 10:15am, the group will lead you around town before pausing at Jawbones Hill to enjoy lunch so bring along a picnic and admire the view!
Jubilee Gala Day, Tavistock (2nd June)
On Thursday 2nd June Tavistock will be celebrating the Jubilee like royality with a magnificent Jubilee Gala event! They've pulled out all the stops to mark this tremendous achievement with an exciting and nostalgic day for all the family to enjoy. Across the whole town and amongst the programme of events and gift markets, you'll also find street food stalls, and of course, a bar too. Or if you prefer to indulge in a more traditional way, delightful cream teas will also be on offer. Or if you fancy having a boogie, Bank Square will be host a DJ and old-stye decs who will be waiting to play your very own favourite vinyl, so make sure to grab your LPs from home and get your groove on!
On Thursday 2nd June from 12:30pm local uniformed groups will gather at Coronation Park in Dartmouth to mark the start of the town's Jubilee celebration. A Jubilee Procession will run along the Embankment before arriving at Royal Avenue Gardens for the Jubilee Opening Ceremony. Dartmouth Town Crier Les Ellis will site the National Proclamation, accompanied by Peter the Piper playing Diu Regnare as a royal tribute to The Queen on the bandstand in the gardens and there will be street party-style seating and a local charity who will be serving food and drinks from the tea hut.
After the reading in Royal Avenue Garden's Town Crier, Les Ellis, will be hopping over to Kingswear to read the National Proclamation on Kingswear Village Hall steps at 2:30pm to mark the start of Kingswear's Platinum Jubilee celebrations.
Leaving the Britannia Royal Naval College, the Jubilee Torchlit Procession will proceed around Dartmouth town centre and return to Coronation Park for the lighting of the Jubilee Beacon at 9:45 as part of the National Lighting of the Beacons around the UK. Refreshments will be available at the park.
Kingswear will also be joining in on the lighting of the Jubilee Beacon at Fountain Violet Farm. At 9:35pm Peter the Piper will play the Diu Regnare as a Tribute to HM The Queen, followed by the lighting of the Jubilee Beacon at 9:45pm. Food and drink will be available during this event too.
Jubilee Beacon Lighting, Exmouth (2nd June)
As part of the official programme announced by Buckingham Palace for the Jubilee Weekend, Exmouth's Beacon will be lit at Orcombe Point, and it will be one of over 2,002 lit by charities, communities and faith groups all over the UK. Those wanting to watch and celebrate the lighting of the beacon are recommended to arrive at the beach below Orcombe Point at 9:15pm, before the official lighting at 9:45pm.
Set high on the hills of Dartmouth and overlooking the whole town, the Britannia Royal Naval College will be lit up after dart to celebrate the Jubilee. The BRNC is where the Queen had her first publicised meeting with her future Prince Phillip in 1939. This will occur from Thursday 2nd June, and every night after dark until Sunday 5th June.
Organised by Sidmouth Chamber of Commerce, Sidmouth will be celebrating this historic moment throughout the town with an extraordinary Street Party! Tickets are required for this event, and you can book a table, big enough for 6 people for £36, but please note that guests are required to bring their own chairs. Enjoy the sounds of Sidmouth Town Band with Val Howels, plus Data Disco with DJ Pete Newton who will also be there to provide music throughout the day. Tickets are currently on sale from Sidsoft on Church Street. Feel free to bring along your own food and drink or support the local community by purchasing food from one of the many wonderful eateries in the town. If you fancy going the extra mile to celebrate, 1950s dress is very much encouraged!
All day on Friday 3rd, Saturday 4th and Sunday 5th the Royal Avenue Gardens will be filled people (locals and tourists alike!) enjoying the wonderful music and entertainment put on by the Dartmouth Town Council as part of the town's Jubilee celebrations. Food and drinks will be available to purchase from the charity tea hut within the gardens. On Friday at 3pm there will be a choir service lead by St Saviour's Church and supported by BRNC Chaplaincy on the bandstand in the gardens.
Set sail on the Kingswear Castle Paddle Steamer on Friday 3rd June! Dating back to 1924, this coal-fired river paddle steamer will be setting sail along the stunning River Dart to mark and celebrate the Platinum Jubilee. Pick up will be from Kingswear Castle at 5:45pm and Dartmouth Town Jetty at 6:00pm. The night will consist of music from Missin' Tackle and an on-board bar, andwith guests are invited and encouraged to bring their own food. Tickets to this event are £20 with proceeds going towards the Jubilee Bell Fund at St Thomas of Canterbury Church in Kingswear.
Newton Abbot will be starting the Jubilee Bank Holiday Weekend at 2pm on Thursday 2nd June with the Town Crier's proclamation at St Leonard's Clock Tower in the heart of the town centre. Newton Abbot's Lighting of the Beacon will take place at Highweek, Buckland and Wolborough at 9:45pm along with the rest of the UK, and there will be an eclectic range of live music performed by local bands and musicians throughout the town centre on Saturday 4th June. Join in with the town's 'Party in the Park' festivities on Sunday 5th June from 12pm – 4pm and enjoy a royal-themed band concert with Spectrum Music. There will be lots of children's activities and entertainment such as balloon making and face painting, whilst the adults can enjoy a cocktail or two from the drinks bar! Food will be available to buy here too, but to keep the cost down, attendees are more than welcome to bring their own.
On Friday 3rd and Saturday 4th June, Dartmouth's Jubilee Market will take place in the Old Market Square, selling a variety of gifts, food, jewellery, and plenty more! On Saturday there will be an exciting Thai food event in the Market Square from 7pm onwards with live music and plenty of tasty food! Tickets for this event can be bought from Jenny Koo in the Market Square.
On Saturday 4th June, from 7pm, The Britannia Royal Naval Collage in Dartmouth are hosting an extravagant night of music and fireworks in celebration of HM The Queen's Platinum Jubilee. The evening will consist of live music, a BBQ, cash bar before finishing the evening off with a spectacular display of fireworks! Of course, the Floodlighting of the BRNC will also be occurring on this evening too. Tickets to this fabulous event are just £10 per adult and £5 per children, but please note that priority will be given to those who live in Dartmouth and Kingswear with proof of address required to complete the purchase.
Dartmouth will be hosting their 'Big Picnic in the Park' event at Coronation Park, within the town centre. This is a free family event which will include music, a bouncy castle (chargeable), plus children's entertainment by Elfic and Professor Bumble, and The Dartington Morris Men will be there to give you a truly royal show! You can also expect a range of activities suitable for the whole family such as walking rugby and a sizzling BBQ which will also be available for those who attend.
English Riviera Air Show, Paignton (4th – 5th June)
The English Riviera Air show, held in Paignton, is an incredibly popular event that will take place on 4th-5th June this year as part of The English Riviera's Jubilee celebrations. The weekend event features spectacular air displays over the stunning South Devon Bay. There will be an action-packed flying programme over the weekend, with a selection of beautiful vintage aircrafts and iconic RAF planes taking to the skies such as The Red Arrows, The Blades, The Boeing CH-47 Chinook, The Yakovlevs, and the Tigers and The Battle of Britain Memorial Flight, consisting of the Lancaster, Hurricane and Spitfire. For the full programme and timings, visit the air show website or purchase a souvenir programme. Paignton Green will feature air display team stands where visitors can meet the pilots, as well as local and national traders serving up some tasty grub with plenty of places to grab an afternoon tipple, plus vendors selling everything from artwork, toys, and furniture. As well as this, there will be plenty of exciting family activities and a fair ground with a whole range of rides and bouncy castles for the little ones to enjoy!
We're certain that you'll enjoy a truly royal bank holiday weekend in South Devon no matter where you visit or what you do! If you do visit our lovely region, make sure to tag us in any photos or videos you post using @VisitSouthDevon on Instagram, Twitter, and Facebook for a chance to be reposted on our page.
Related
0 Comments