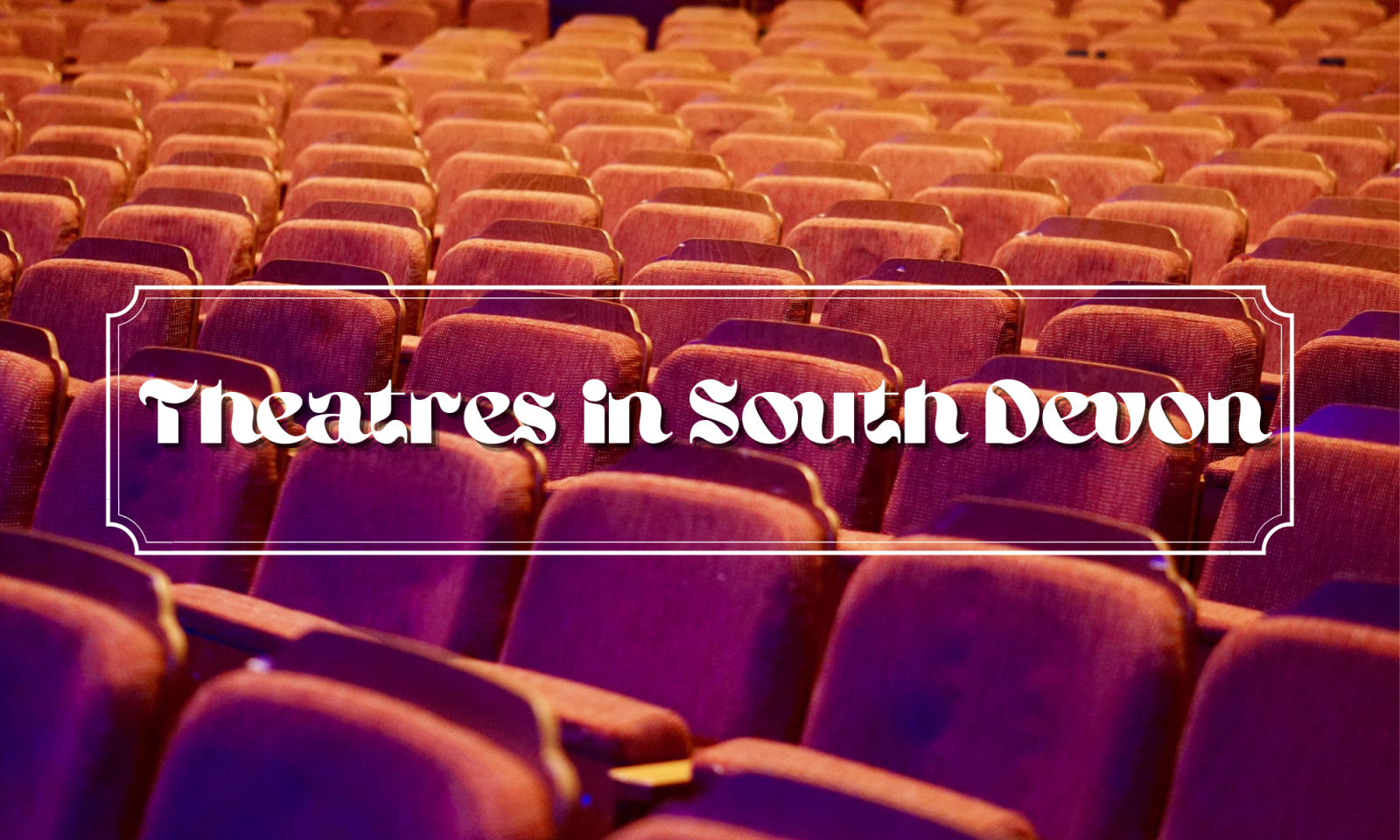 Theatres have played an important part of British culture and have provided vibrant entertainment ever since the Roman era. There are plenty of reasons we visit the theatre, we love the escapism and immersion of seeing a live performance, others love to learn about new stories. Here in South Devon, we boast a huge number of theatres and art spaces. Most towns and cities in the region have venues which showcase live stage shows and musicals to entertain the community. Here's a list of the theatres in South Devon.
Established in 1890, The Palace Theatre in Paignton is the oldest working theatre in Torbay. It has a seating capacity of 360 and showcases an eclectic range of performances including pantomimes, live music and comedy shows. In 1941 the theatre was renamed as The Garrison Theatre when the Paignton Pantomime company presented Aladdin in that December. The group, now known as Paignton Pantomime Productions, still perform shows at the Palace Theatre in December and January every year. The theatre is located in the town centre, just a few minutes up the road from Paignton Railway Station and the sea front.
Princess Theatre, Torquay
Located on the beautiful waterfront in Torquay, the Princess Theatre has seen some famous performers since opening in 1961 such as Tommy Cooper, Cilla Black and even The Beatles in 1963! The theatre is a touring house which means that the shows that are performed here are put on by independent production companies.
Theatre Royal, Plymouth is perhaps one of the most well-known theatres in South Devon. Established in 1758, TRP has an interesting history, moving around Plymouth before finding a permanent home on Royal Parade in 1977. It contains several auditoriums and is known to host iconic musicals such as Wicked and Chicago as well as modern plays like The Play That Goes Wrong.
The South Devon Players Theatre and Film Company, Brixham
The South Devon Players Theatre and Film Company is a progressive theatre ran by Laura Jury, a proudly autistic woman of colour, where inclusivity is at the forefront. It's located in the fishing town of Brixham and exists to showcase the talents of Southwest performers regardless of past experience or demographic identities.
Babbacombe Theatre, Torquay
Situated in the stunning seaside resort of Babbacombe, a district of Torquay, Babbacombe Theatre opened in 1939 and sat on the site of an old bandstand where musicians would perform in the summer. It now has a seating capacity of 600 and showcases various musical tribute and comedy acts.
The Pavilions in Teignmouth is an arts and community venue who are committed to providing a diverse programme of live and cinematic events. They have a regular comedy club who put on performances, as well as tribute bands and showcase the latest blockbuster films.
Axminster Guildhall, Axminster
Axminster Guildhall is a theatre venue that host many events and clubs such as the Axminster Drama Club and the Axminster Operatic Society. Alongside this, they host a range of shows to suit every taste including live music, musical stage shows, comedy performances and drag shows.
Crediton Arts Centre, Crediton
The Victorian building which currently houses the Crediton Arts Centre used to be Hayward's school before being transformed by Devon County Council to be a theatre workshop space in the 60s and in 2004 it was acknowledged as Crediton Arts Centre. It hosts live music and theatrical performances whilst still maintaining its community workshops.
Shaftesbury Theatre, Dawlish
The Shaftesbury Theatre in Dawlish opened in 1959 and is the home of the Dawlish Repertory Company, an amateur society formed in 1949. The theatre is known to host musicals and comedies from a range of independent theatre companies and often put on pantomimes in the winter.
Tiverton Community Arts Theatre, Tiverton
Set in the thriving market town of Tiverton, Tiverton Community Arts Theatre is a 300-seat capacity venue who offer a dynamic, year-round programme of drama, music, comedy, and community shows featuring much loved Shakespeare classics, pantomimes and regular comedy nights. It's located at Tiverton High School and is a short walk from the town centre.
The Gateway Theatre, Seaton
In the heart of Seaton is The Gateway Theatre who provide arts and entertainment to the people of Seaton and across East Devon through live gigs, youth theatre performances and even live streams of shows from The National Theatre, Royal Shakespeare Company and Bolshoi Ballet.
Exmouth Pavilion, Exmouth
Exmouth Pavilion has been a prominent part of Exmouth's Esplanade for many years. With a diary jam-packed with events, it hosts a range of productions, primarily focusing on live and touring music or comedy shows.
Barnfield Theatre, Exeter
Exeter boasts not one, but four theatres in the city centre. The Barnfield Theatre is located in Southernhay, originally built as the Barnfield Hall in the late 19th century by Exeter Literary Society before being converted into a theatre in 1972. Today it operates as a charity and is used as a venue for both amateur and professional theatrical companies.
Brixham Theatre, Brixham
Housed in a late Victorian, Grade II listed building, Brixham Theatre is an independent, heritage theatre situated in the heart of the English Riviera, and it's also part of the Town Hall complex. They offer a great year-round programme of events to cater for all tastes, including live music performances, stage plays, musicals, and even iconic film screenings.
Exeter Northcott Theatre, Exeter
Located on the University of Exeter campus, the Exeter Northcott Theatre is another Exeter-based charity theatre and it's known as the Exeter Flagship Theatre. It opened its doors in 1967 and was the first arts centre in the UK to have been built on university land. They showcase an eclectic range of performances with a focus on diversity and community.
Blackmore Theatre, Exmouth
Nestled away in Exmouth's historic Bicton Street, the Blackmore Theatre has been providing entertainment to the community of Exmouth for over many decades. From dramatic whodunnits to comedic pantomimes, a vast variety of shows have been performed here. The Exmouth Players have been performing here since 1979.
The Little Theatre, Torquay
The Little Theatre in Torquay is a unique theatre housed in a converted church in the Meadfoot district. It provides intimate shows, plays, musicals and concerts. The Little Theatre is home to TOADS Theatre Company, an amateur theatre group who pride themselves in making drama accessible to everyone, regardless of age or cultural background.
Inspired by Dartmoor's ecology, history and folklore, Med Theatre is a rural community theatre based in the small town of Moretonhampstead, which is located in the heart of Dartmoor National Park. Their ethos is to create multigenerational, original work using local material which highlights the relationship between theatre and its surroundings.
Exeter Phoenix, Exeter
Exeter Phoenix is a vibrant, multi-arts venue situated on Exeter's iconic Gandy Street and was established in the late 1990s. They host a huge and diverse range of events including live music, theatre performances, cinema screenings, specialist talks, creative courses and so much more! They nurture a thriving arts scene, supporting artists, musicians, theatre companies and other creatives.
The Beehive is an award-winning community venue based in Honiton, East Devon. They have a wide programme of events including theatre performances, live music, films as well as being a space for community activities. It opened in 2014 and is a charity-run venue, welcoming over 80 community organisations and special interest groups.
Manor Pavilion Theatre, Sidmouth
Situated in the heart of Sidmouth, the Manor Pavilion Theatre is a 277-seat theatre open year-round and covers all aspects of entertainment such as plays, musicals, comedies, concerts, dance shows and ballet. It also contains an all-important bar so you can grab a pint or a glass of vino to sip on whilst you enjoy a show!
Exeter Corn Exchange, Exeter
Another arts space in Exeter is the Exeter Corn Exchange, who are a theatre, business and entertainment venue in the heart of Exeter City Centre. They host a variety of performances but are most well-known for their comedy and musical shows and have been known to showcase established and popular performers such as Jimmy Carr and Kate Nash.
Located between the River Tavy and Tavistock Canal, Tavistock Wharf is another infamous arts centre in Devon. It was built in the 18th century as an industrial centre before being converted to its present form in 1995. It offers live music, cinema screenings and theatre shows as well as providing an Art Gallery with a coffee shop and licensed bar with a waterside terrace.
The Soapbox Children's Theatre, Plymouth
The Soapbox Children's Theatre is a specialist theatre, home to Stiltskin Arts and Theatre company who develop projects specifically for children and their families. They perform well-known stories such as Red Riding Hood, as well as developing new work and also write, design, and perform all their own material.
Barbican Theatre, Plymouth
Established in 1980 as a professional outreach theatre-in-education organisation, the Barbican Theatre in Plymouth is a charity theatre who seek to challenge the traditional notions of theatre and chance to liberate the imagination of young people and create fresh, exciting work which comes from voices which are often unheard.
Theatre Alibi, Exeter
Located in Emmanuel Hall in the St Thomas area of Exeter, west of the River Exe, Alibi Theatre are a venue and theatre group who tell contemporary stories and create work for people of all ages. They integrate a wide variety of art forms and recent productions have featured animation, film, puppetry, photography and music.
The Flavel Arts Centre opened in 2005 in Dartmouth and quickly became a huge and vital part of the town. They provide entertainment 7 days a week from stage shows, live music, comedy and boast a great cinema. They're also home to Dartmouth Library.
Didn't we tell you that South Devon is home to a LOT of theatres! We hope you enjoyed reading this blog post, make sure to subscribe to our newsletter here for updates about the latest Visit South Devon blog posts, competitions and more! You can also follow us on Facebook, Twitter, and Instagram to stay up to date!
Related
0 Comments