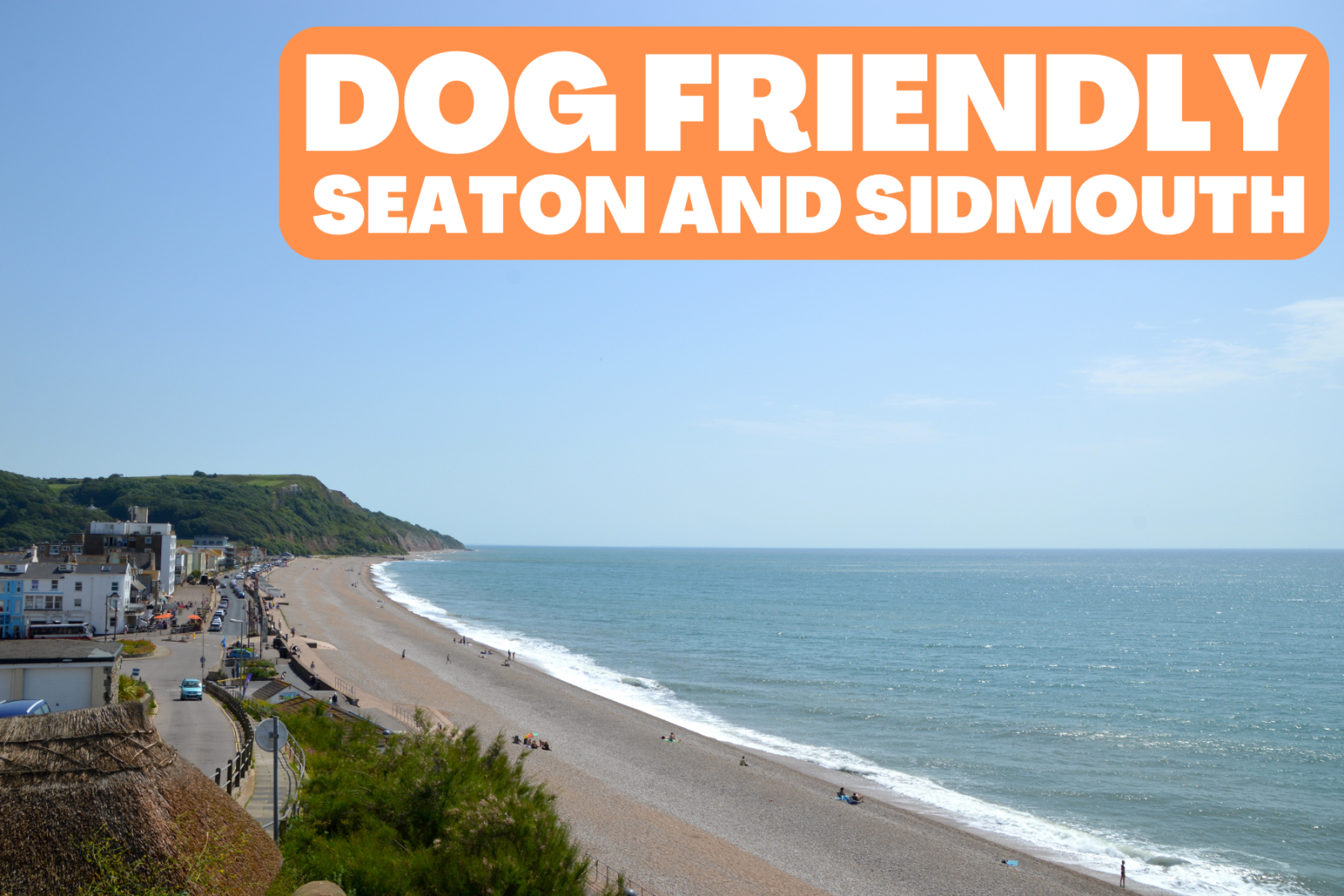 Located in East Devon, Seaton and Sidmouth are two beautiful coastal towns sitting on the iconic UNSECO World Heritage Jurassic Coastline. Sidmouth's Regency-style buildings make this town incredibly unique, and its beaches are surrounded by beautiful rich, red sandstone which date back to the Triassic period. A few miles east of the town is Seaton, a haven for those who love outdoor adventure with an astonishing wealth of opportunities and terrain to explore. Both towns are a fantastic destination for those of us with furry friends as there are plenty of beaches, walks, accommodation, and eateries who welcome dogs.
Walks
Fire Beacon Hill Nature Reserve, Sidmouth
Fire Beacon Hill is an area of lowland heath, offering panoramic views across the Sidmouth countryside and Lyme Bay coastline – on a clear day you can see Berry Head in Brixham, and Portland in Dorset. The walk up here is fairly steep, but the effort is well rewarded. This is a very popular walk with dog owners with plenty of places for your pup to explore, you will certainly come across some other four-legged friends for your dog to greet, including Exmoor ponies and Belted Galloway cattle which graze in a fenced area of the site.
Located just a few miles north of Seaton, Colyton is a rural town surrounded by rich, green countryside with a river running through the town centre. The Colyton Circular Walk is a route that takes you through 5-miles of beautiful valleys, woodland and along the River Coly. The terrain is fairly even and steady, with only a couple of steep inclines. Colyton has a particularly interesting history and was one of the first settlements established in Devon by the Saxons, which can be seen in the complex street pattern. It was also documented as one of the most rebellious towns in Devon in 1685. You and your pooch will certainly love exploring the history of the area through this walk!
Salcombe Hill to Sidmouth
For the best viewpoints of Sidmouth, take the National Trust circular walk to Salcombe Hill. This route showcases the Regency town, starting with stunning views of the Sid Valley and the Jurassic Coastline, taking you through the woods and fields of Salcombe Hill and finishing at the Byes, a tranquil riverside park. This route is particularly dog-friendly and is extremely popular with dog walkers, but care should be taken when walking along the cliffs and dogs should be kept on-lead where cattle grazing signs are displayed. The path is mostly even, suitable for pushchairs and wheelchairs, but the path up Soldier's Hill has steep steps and is naturally uneven.
There is some especially beautiful scenery along the East Devon Area of Outstanding Natural Beauty from Sidmouth to Beer. This 8-mile walk follows the Jurassic Coast from Sidmouth town centre to the quaint fishing village of Beer and offers beautiful cliff-top views of the surrounding coast and countryside landscapes. There are plenty of resting places along this section of the South West Coast Path where you can admire these views and the long stretches of path and green spaces will be an absolute haven for your furry friend! Please be cautious of cliff edges along this walk as there will be steep ledges. You can make this walk longer by following the footpath to Seaton, which is an additional 2 miles.
Beaches
Overlooking Lyme Bay, Seaton Beach is a large pebble beach situated on the UNESCO World Heritage Jurassic Coastline and South West Coast Path. The beautiful beach is backed by steep cliffs, and the esplanade, which runs adjacent to the beach, features several eateries and gift shops. Dogs are welcome all year round at the two ends of the beach but are only allowed on the main section from Oct – April; waste bins are also provided here.
Sidmouth Town Beach is a large sand and shingle beach which is clean, accessible, and surrounded by the area's iconic red cliffs. The many Regency buildings of Sidmouth's esplanade line the full length of the beach, adding a certain elegance alongside the towering, majestic cliffs. Dogs are welcomed all year round on Sidmouth Town Beach towards the east end of the beach and are allowed on the main beach from October – April.
On the western end of Sidmouth Town Beach, Jacob's Ladder Beach is a sandy beach with plenty of rock pools at low tide. The beach is named as such after the historic wooden steps which lead to the beach from Connaught Gardens. It's lined with colourful beach huts and surrounded by tall red cliffs which provide shelter from the wind so it's perfect for families wanting to spend the day at the beach. Like the above beaches, dogs are permitted year-round on part of the beach and from October – April on the main section.
Attractions
All aboard the Seaton Tram! The three-mile route runs through East Devon's Axe Valley between Seaton, Colyford and Colyton and offers a wonderful day out for the entire family, including our beloved four-legged friends! The tram travels through beautiful countryside where wildlife is in abundance and they often have a series of special events such as their fairy special, dinosaur tram adventure or space tram! Dogs can board at any station along the tram route but must travel downstairs and are not permitted on the top decks. Please also note that Seaton Wetlands is a dog-free nature reserve, but your pooches are welcomed elsewhere on the stops.
Nestled between the East Devon countryside and the Jurassic Coastline, The Donkey Sanctuary is a free-to-visit, award-winning attraction, home to hundreds of rescued donkeys, that the whole family will love! There are lots of great activities, trails, tours and talks on offer and your pooches are certainly welcomed too (on-lead, of course!). They also have an on-site café and gift shop with all profits going towards helping millions of donkeys and mules around the world, so not only will you experience a great day out, you'll also be helping animals in need – what better feeling is there?
Accommodation
Hotels
The Royal Glen Hotel is a Regency, 3-star hotel is Sidmouth with private, secluded gardens and the option to have your own private patio for an extra touch of relaxation. This family-run hotel has a wealth of history and can help you to organise a variety of activities that your pooch will absolutely love! The hotel has a wide range of facilities you can enjoy if you'd prefer to stay on the hotel premises, such as a gym, an indoor heated pool and a number of lounges to unwind. This dog-friendly hotel permits our canine friends in the bedrooms, study and garden, you can request to have your breakfast in the study so you can dine with your dog too!
Enjoy panoramic views of the Lyme Bay whilst vacating in the lavish Sidmouth Harbour Hotel. Complete with a spa, bar, restaurant, outdoor pool, a gym and a terrace, you can really kick back and relax here. Sidmouth Harbour Hotel is set on 2 acres of grounds with spectacular views and is close to Connaught Gardens, Jacob's Ladder Beach and Sidmouth Town Beach. It's also a short walk to the town and a stone's throw away from the South West Coast Path if you want to give your four-legged friend a long walk. The hotel has dog-friendly bedrooms and dogs are also permitted on the Green & the Terrace but not in any other public areas of the hotel.
Located on the beautiful Sidmouth Esplanade, The Kingswood Hotel is a luxurious hotel in close proximity to the town centre. From the outside, you can see the beautiful Regency-style architecture, but inside its modern furnishings ooze elegance and style. They have a gorgeous flower-filled patio, a lounge and a restaurant which overlooks the sea and provides stunning views of Lyme Bay. Whilst The Kingswood Hotel is a dog-friendly hotel, we must note that dogs are not permitted in the restaurant or bar area.
Positioned at the centre of the Esplanade in Sidmouth and overlooking Lyme Bay is the Riviera Hotel. Glorious sea views can be enjoyed from many of the traditionally-styled bedrooms, the restaurant, and their outside dining area. Right on its doorstep is Sidmouth Town Beach and the National Trust owned area of Salcombe Hill is a short walk away, so there are plenty of great walks for you to take with your furry friend! Small dogs are accepted at the discretion of the management at a charge of £17.50, which also includes a meal for your pup, however, they are not allowed in public areas of the hotel such as the restaurant.
The Royal York & Faulkner Hotel is another luxurious and beautifully furnished, dog friendly hotel situated on the doorstep of the Jurassic Coastline. Dating back to 1810, this magnificent Regency building is in a prime position on Sidmouth's esplanade, overlooking the sea and adjacent to the town centre. The hotel offers many bedrooms with sea views, a silver service restaurant serving an eclectic mix of classic and modern cuisine and three beautifully appointment lounges to relax in. As per the other hotels, dogs are welcomed, but are not permitted in inside, public areas of the hotel.
B&B's
Tucked away in beautiful East Devon countryside and just over 2 miles from Sidmouth town centre, The Barn and Pinn Cottage is a stunning, idyllic Bed and Breakfast sitting on 2 acres of award-winning gardens. Close to many great walks, serene woodlands and local attractions, including the Donkey Sanctuary, this guest house is perfect for a pooch-friendly holiday. Whilst they do not permit dogs within the cottage, they have a number of dog-friendly bedrooms and plenty of grounds for them to run around on. Please note that they have strict anti-fouling rules, and when your pooch needs the loo, they must do so outside of the B&B grounds.
Camping & Caravan Parks
If a camping holiday in the outdoors is more your style, Oakdown Touring & Holiday Caravan Park may be the place for you! Located just outside of Sidmouth, Oakdown are an AA 5 Pennant Platinum Park and have won several awards. If your idea of heaven is escaping to a rural location close to the coast and countryside, but with lots of great walks and attractions nearby, look no further. Dogs are thoroughly welcomed here and have plenty of facilities to make sure your pooch feels included on your holiday – they even have a doggy spa and a café which serve dog-friendly ice cream!
Places to Eat & Drink
Serving up award-winning and locally sourced food, Dukes is a great bar, restaurant and hotel located on Sidmouth seafront. From pub classics, fresh seafood, fresh meat, and mouth-watering plant-based options on offer, there's something for everyone to enjoy here. Whether you prefer a glass of vino, a local real ale, a refreshing G&T or cocktail, Dukes have got it all. They have an outside dining area where dogs are allowed and welcomed, they may even receive a dog biscuit if they're lucky!
Located at the Donkey Sanctuary, The Kitchen offers farm-fresh food whilst you soak up the views of the sanctuary, the rolling hills and the Jurassic Coastline. They pride themselves on serving fresh, local, seasonal produce, all made on-site by expert chefs who hand-pick the finest ingredients for you to munch on! As they are an animal welfare organisation, all their meat is responsibly sourced and have a fantastic range of vegetarian and vegan options. As mentioned above, the Donkey Sanctuary is a pup-friendly place, but please keep them on a lead in the grounds and at the cafe.
We love seeing your pooch pics, so if you share any photos of your pup in Seaton or Sidmouth feel free to tag us on Instagram, Twitter, or Facebook for a chance to be reposted on our page!
Related
0 Comments