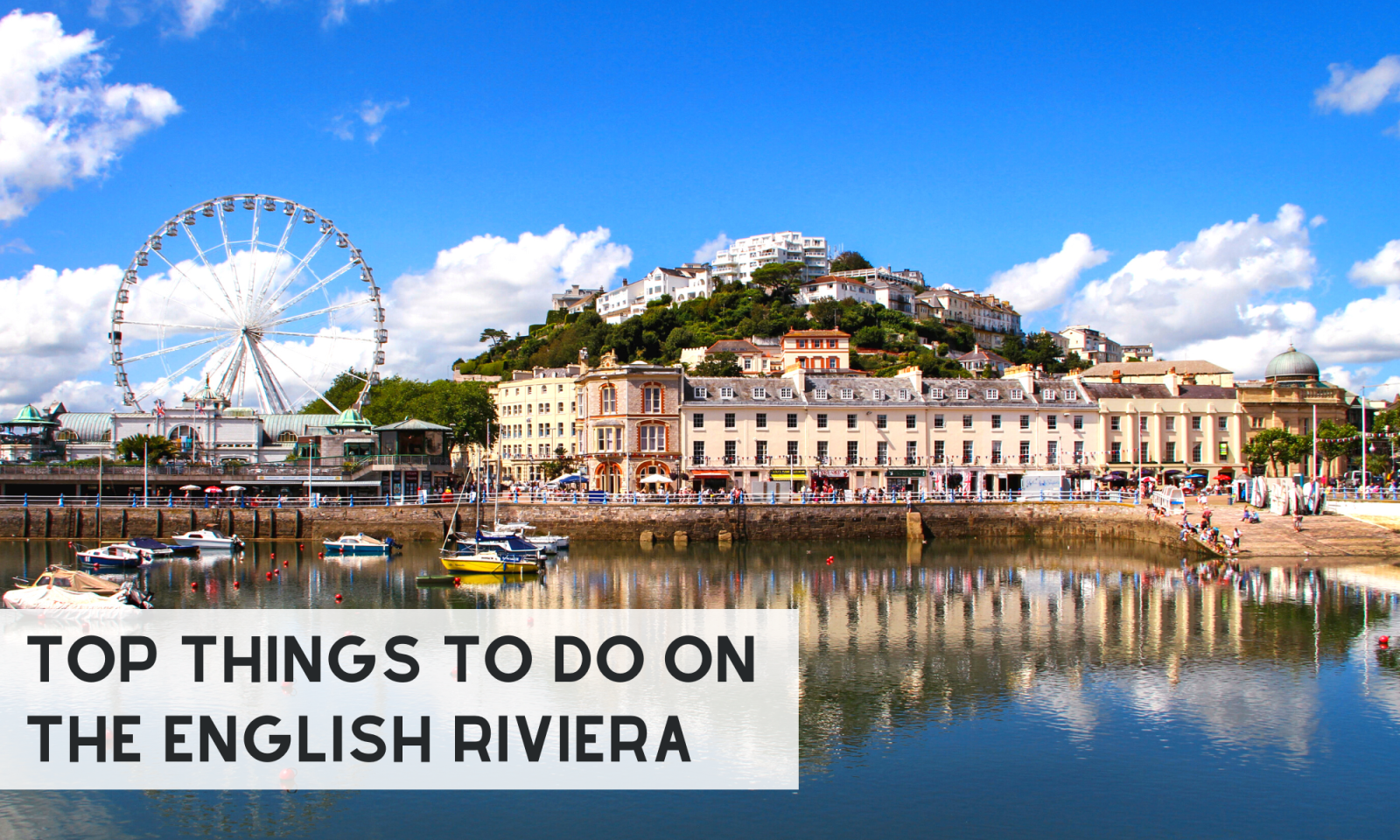 Nestled along the stunning coastline of South Devon, the English Riviera, also knowns as Torbay, is a true gem that embodies the classic charm, beauty and elegance of the English seaside.
Comprising the picturesque towns of Torquay, Paignton and Brixham, the English Riviera is a destination that offers a plethora of activities for travellers seeking a perfect blend of natural beauty, history, and contemporary fun.
The English Riviera is so named because of its mild and temperate climate, which is reminiscent of the French Riviera. The 19th century marked a significant period in the English Riviera's history, with the expansion of seaside resorts like Torquay and Paignton. These towns saw rapid development and became fashionable destinations for the British elite. Ever since people have been flocking to this stunning area of the UK for romantic coastal retreats and fun family getaways.
With such a vast area to explore you might be wondering what the best things to do in Torbay are. Well, don't worry, we've got you covered. Read on to discover our top things to do on the English Riviera.
The English Riviera boasts some of the most beautiful beaches in the West Country. Babbacombe Beach in Torquay, Broadsands Beach in Paignton, and Fishcombe Cove in Brixham are just a few examples.
These family-friendly shores are ideal for swimming, water sports, and sunbathing. The Riviera's mild climate creates an inviting atmosphere, making it perfect for relaxing seaside strolls and building sandcastles. The beaches also serve as gateways to exploring charming towns, local cafes, and captivating coastal paths, providing an idyllic blend of natural beauty and cultural experiences along this exquisite stretch of the British coastline.
Whether you're looking for a quiet spot to relax or a place for water sports and family fun, you'll find it here.
Discover more beaches in the English Riviera here.
A day at Paignton Zoo is a great family-friendly activity. Situated in Paignton, it's a world-class zoological park that promises an unforgettable wildlife experience.
With over 2,500 animals from across the globe, it offers a diverse and educational adventure for visitors of all ages. The zoo's dedication to conservation and animal welfare is evident in its thoughtfully designed enclosures and interactive exhibits.
Home to rare and endangered species, including orangutans, rhinos and majestic big cats, Paignton Zoo not only provides an opportunity to observe these creatures up close but also supports vital breeding and conservation programs. It's a place where entertainment meets education, making it an exceptional destination for families and nature enthusiasts alike.
Find out more about Paignton Zoo here.
Discover Agatha Christie's Legacy
The legendary author Agatha Christie spent much of her life in Torquay and her influence is felt throughout the region. Visit the Agatha Christie Mile, which features plaques, statues, and landmarks associated with her life and work.
You can also tour her former residence, Greenway, which is set in beautiful gardens overlooking the River Dart in Galmpton, which is now owned by the National Trust.
Don't miss the opportunity to visit the enchanting Babbacombe Model Village, a miniature world that offers a unique and comedic perspective on British culture.
This meticulously crafted model village features beautifully detailed miniature scenes, capturing the essence of the country's architecture and landscapes. It's a delightful experience for visitors of all ages, and the attention to detail is truly impressive.
Click here to find out more about this exceptional attraction.
Splashdown Quaywest is a thrilling and family-friendly waterpark that promises a day of wet and wild adventures. With a wide array of water slides, flumes and pools, it's a place where visitors of all ages can cool off and have a fantastic time.
From the heart-pounding near-vertical drop of the Devil's Drop slide to the relaxing currents of the Lazy River, Splashdown Quaywest offers something for everyone. The park's tropical-themed surroundings, sun loungers, and the stunning views of Goodrington Sands make it an ideal destination for a day of aquatic fun and relaxation in this beautiful coastal region.
A cultural gem of the English Riviera, The Palace Theatre is a historic theatre, with elegant Edwardian architecture.
They host a diverse range of performances, from captivating dramas and musicals to side-splitting comedy shows and live music concerts. With its intimate setting and superb acoustics, the Palace Theatre provides an immersive and unforgettable experience for both locals and tourists.
Bygones is a captivating journey through time, offering visitors a delightful glimpse into the past.
This unique attraction is a treasure trove of nostalgia, where Victorian and Edwardian streets, complete with authentic shops, homes, and businesses, transport you to a bygone era.
As you wander through its immersive exhibits, you can explore everything from vintage toys and household items to antique cars and historic railway memorabilia. Bygones allows visitors to step back in time and experience the sights and sounds of yesteryears, making it an educational and entertaining destination for families and history enthusiasts.
Discover more about Bygones here.
For panoramic views and a taste of history, hike up to Berry Head National Nature Reserve in Brixham.
The limestone headland offers unbeatable and breath-taking views of the coastline and English Channel. Berry Head is also home to a Napoleonic-era fort, and it's a huge wildlife hub, including the fascinating Guillemot colony.
You can find out more about this awe-inspiring nature reserve here.
Watersports on the English Riviera
The English Riviera is blessed with a temperate climate, making it an excellent destination for water-based activities. Whether you're into sailing, kayaking, or simply taking a boat tour, you can enjoy the beauty of the Riviera from the sea. Brixham, in particular, is a great place to set sail and perhaps even try your hand at fishing.
Taste the Local Cuisine
Indulge in the culinary delights of the region. Fresh seafood is a specialty here, and the English Riviera offers a wide array of seafood restaurants and traditional fish and chips shops.
Brixham Fish Market, one of the largest in the country, ensures a steady supply of the freshest catches, which you can savour at renowned seafood restaurants like Rockfish with restaurants in Torquay and Brixham.
For a taste of sustainability and locally-sourced ingredients, the Venus Cafe is a top choice, serving farm-to-table dishes with exceptional views of Broadsands Beach.
From fish markets to beach-side cafés, the English Riviera's culinary scene is a treat for the senses. Explore more food and drink in the English Riviera here.
Explore Cockington Village
Cockington is a picturesque village near Torquay that feels like a step back in time. Its thatched cottages, craft studios, and beautiful country park are a delight to explore. Take a leisurely stroll through the village, enjoy tea in one of the local tearooms, and admire the charming gardens.
The English Riviera is a destination that caters to a wide range of interests. Whether you're a history buff, a nature lover, a foodie, or simply seeking a relaxing beach getaway, this enchanting region has something for everyone. Have we tempted you into booking a retreat to this stunning coastal resort? Why not check out accommodation in the English Riviera and start planning your perfect seaside getaway today.
Be sure to share your Torbay vacation with us on Facebook, Instagram, TikTok and X (Twitter), we'd love to see your holiday snaps!
Related
0 Comments