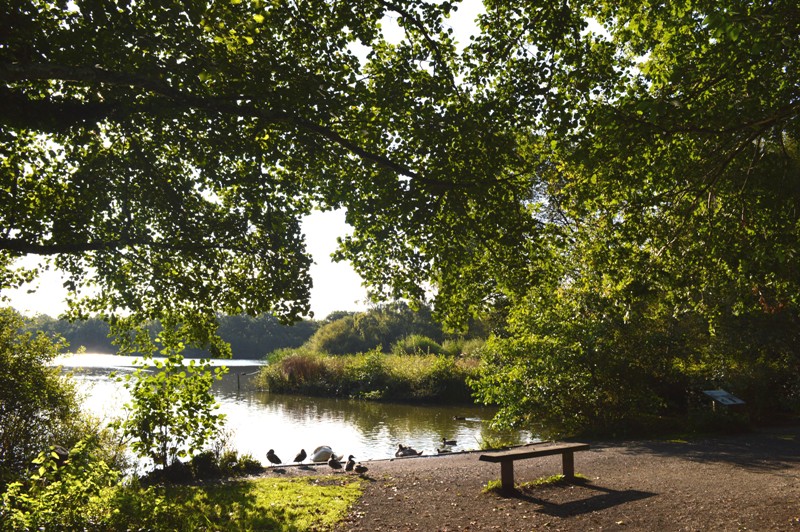 In most towns throughout South Devon you'll find a well kept park or green space which comes complete with benches, pretty planted flower beds or possibly a play park. The region is also home to some country parks, which on top of playing fields or forest walks have a lake at their heart.
As well as being a wide open space ideal for letting the dog or your kids stretch their legs, these green spaces can be havens of peace where you can enjoy a quiet picnic lunch or sit and watch the world go by.
Throughout the towns of Newton Abbot, Teignmouth and Dawlish you can find a number of these hidden gems. So whether you're looking for a quick break from exploring these buzzing towns or are heading out for a day of park games and inexpensive fun, the parks below are sure to give you some ideas of where to head.
On the south eastern edge of Newton Abbot, Decoy Country Park combines a number of football pitches, play park with a range of zones for different ages including a splash zone and a large lake. There are a number of forest walks around the lake, which is home to ducks, swans and geese, watersports can also be enjoyed on the lake during the summer months.
To the south west of town you'll find Bakers Park. The wide open space is perfect for ball games and dog walking with a play park and tennis courts located to one side. To the west of the park there is a large meadow area, river and woods which surround the National Trust property of Bradley Manor.
A short drive from Newton Abbot centre is the 114 acre woodland, heathland and lake of Stover Country Park. The main feature of the park is the lake which is surrounded by walks and woods to explore. The park is home to a wide range of water fowl and wildlife including insects, dragonflies and damselflies as well as small mammals.
Courtenay Park can be found opposite Newton Abbot Train Station just a short walk from the centre of town. The large grass area is dotted with trees, benches and a number of flat level paths which lead towards a bandstand. The park also features a pond and fountain, sensory garden and play park as well as a bowling green.
At the heart of Dawlish, surrounded by shops and with the beach adjacent is The Lawn. The well maintained grass, which is perfect for park games, is bordered with wonderful flower beds and the gentle stream known as The Brook, which is home to the famous black swans. Public toilets can be found at the edge of The Lawn next to the Tourist Information Centre and at the far end you'll find a bowling green and bandstand.
Located on the outskirts of Dawlish is the 65 acre public open space of Dawlish Countryside Park. The park offers wild countryside which is home to native plant and wildlife species including wildflower grassland, scrub, woodland and cirl buntings. The park has various walking routes which allow for amazing sea views and wildlife spotting.
To the north of Teignmouth town centre perched above Teignmouth's red cliffs is Eastcliff Park. Split into three distinct parts, Eastcliff Park is made up of the Rowdens; a lawn area with large rhododendrons and Mules Park, open grassland as well as The Dell; a sub-tropical garden hidden within open grasslands.
At the heart of this seaside town located opposite the seafront with Teignmouth town centre a short a walk away is the large flat grassed area of The Den. At one end of The Den you'll find a bowling green whilst at the other you'll find a large children's play area with wet play feature and a range of climbing frames, crazy golf, a multi-use games area and skate park.
Overlooking the pretty coastal village of Shaldon on the steep hillside is Homeyards Botanical Gardens. The terraced gardens offer splendid views of the River Teign and across to Teignmouth and among the grounds you'll find pretty Italian rockeries, a pond and rill garden, as well as a charming Castle.
These are just some of the parks which can be found throughout South Devon, to view all the parks and nature reserves in the region click here.
Related
0 Comments