Guest Blog Post - Toad Hall Cottages
Six of South Devon's best kept sandy secrets...
With its craggy coves, sweeping bays and sugar-soft sands, the sparkling shores near Salcombe are one of South Devon's main attractions.
From romantic strolls along the tideline to beach days the whole family can enjoy, this magnificent stretch of coastline continues to provide a beautiful backdrop for many holiday moments.
Here at Toad Hall Cottages, the region's leading holiday cottage letting agency, we've put together a selection of our favourite secret beaches all waiting to be discovered along this stretch of South Devon coast…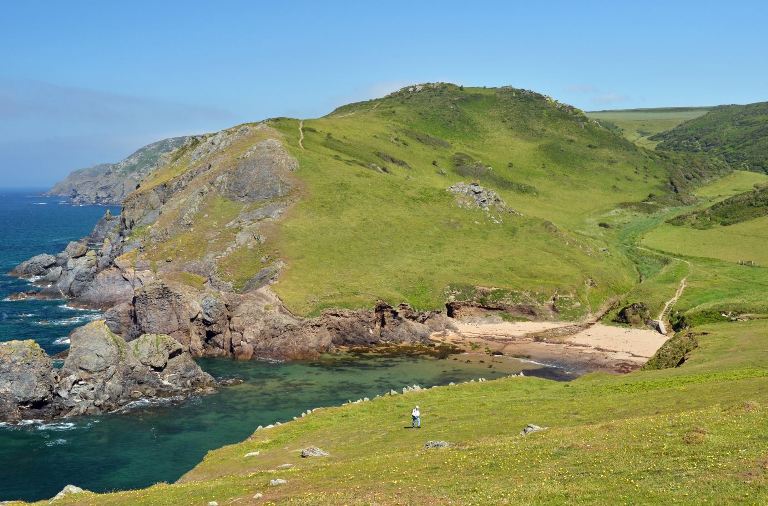 Soar Mill Cove, near Salcombe
Sheltered by the rugged cliffs of Bolt Head and backed by rolling farmer's fields, the immaculate golden sands of Soar Mill Cove remain one of the South Hams' hidden gems. Accessed either by a scenic stroll along the South West Coast Path from Bolberry Down, or a gentle walk from West Soar; it's hard to believe this tranquil spot was once a favourite for wreckers. These days this stunning cove is a haven for flora and fauna including rare butterflies, seabirds and seals. Dogs welcome all year.
Sunny Cove, East Portlemouth
Sunny Cove is a small but perfectly formed beach on the Salcombe Estuary, and probably the quietest of East Portlemouth's much loved beaches due to the short walk to reach it along the path from Mill Bay car park. Alternatively if you're staying in Salcombe you can hop across the harbour on the passenger ferry or paddle across on a kayak or SUP for a day relaxing on the sand, or taking a dip in the calm waters of the estuary. No dogs Easter to October.
Take your pick of holiday cottages found in and around the idyllic coastal parishes of Salcombe and East Portlemouth…
Maceley Cove, East Prawle
They don't come more secret and remote than the honeycomb sands of Maceley Cove near the rural village of East Prawle. Sheltered by the rugged Gammon Head outcrop and the magnificent high cliffs of Prawle Point - Devon's southernmost point - this lesser-known cove lies on a particularly glorious stretch of the South West Coast Path. Rarely busy this beach is about a 20 minute walk from Prawle Point car park but your efforts will be rewarded by a day spent lazing on the soft sand or swimming and snorkelling in the crystal clear waters. Dogs welcome all year.
Your perfect East Prawle holiday cottage is just a couple of clicks away…
Lannacombe Beach, near Start Point
Travel further along this dramatic stretch of the South Devon coastline to the turquoise waters of Lannacombe Bay. Here, in stark contrast to the craggy cliffs that encompass it, lie the gently sloping sands of Lannacombe Beach. Adored by wild swimmers, this secret inlet is also a haunt for surfers who enjoy the clean breaks, unhurried lineups and endless sunsets. A perfect spot for families, children can spend the day playing on the sand, scrambling over rocks and wading through rockpools while their parents relax. There is a small car park at the beach but get there early in summer as it can fill up. Dogs welcome all year.
We have a choice of cottages just a stone's throw from Lannacombe.
Ayrmer Cove, near Bigbury
Found down old smuggler's lanes and flanked by grassy cliffs, the quiet shores of Ayrmer Cove provide an idyllic setting for all those in search of some seaside peace and quiet and stunning scenery. All ages will enjoy the soft sand, interesting rock pools teeming with tiny life and wonderful views across Bigbury Bay. Accessed by footpath only but there is a car park at nearby Ringmore, about a 15 minute walk away. Dogs welcome all year.
Have a look at our impressive selection of holiday cottages found tucked away on Bigbury Bay…
Sugary Cove, Dartmouth
A stone's throw from the historic ramparts of Dartmouth Castle, flanked by rocky clefts and backed by ancient woodland, the tiny sandy inlet known as Sugary Cove is our next secret setting. This secluded beach, on the mouth of the River Dart, can be found at the foot of seventy stone steps and a leafy pathway branching off from the South West Coast Path as it winds its way towards the historic maritime town of Dartmouth. This beautiful spot is popular with picnickers, and also wild swimmers, who often descend upon the cove for an early morning dip, however, it must be noted that at high water the beach remains completely cut off. Parking is available at Dartmouth Castle car park and on Castle Road, you'll also find refreshment at the nearby castle tea rooms. Dogs welcome all year.
Discover the historic port town of Dartmouth, 'jewel of the South Hams', on a self catering cottage holiday.
A West Country specialist, we offer more than 400 self-catering holiday cottages across South Devon. Whether you are looking for a luxury cottage break, a romantic getaway for two, a dog friendly self-catering cottage or a family holiday, Toad Hall Cottages offer an unrivalled range of sought after properties. To talk to our friendly booking team call 01548 202020, or visit www.toadhallcottages.co.uk.
Other Posts You Might Like
Related
0 Comments