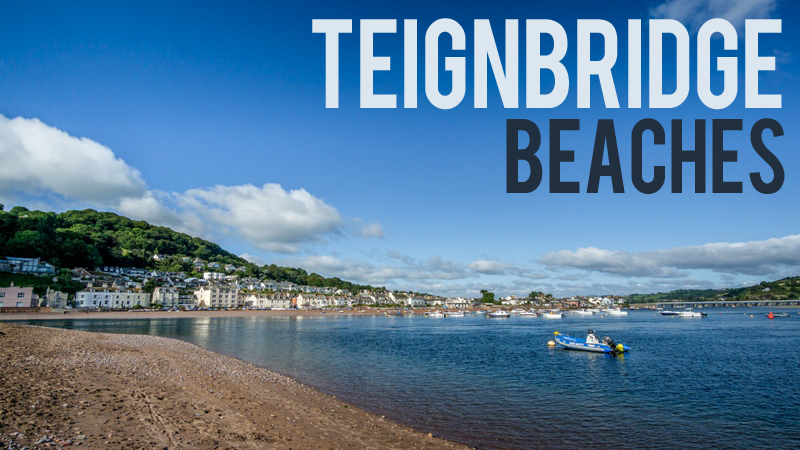 The district of Teignbridge in South Devon is home to an array of fabulous beaches, two which are Blue Flag beaches, and several that hold Seaside Awards, meaning everyone can look forward to a safe, clean and enjoyable environment. Whether you're looking for a dog friendly beach to enjoy with your furry pal, a sandy paradise for an action-packed family day out or a remote cove to dive into a book or simply relax, the beaches in Teignbridge can provide the perfect setting. Read on to discover what beautiful beaches Teignbridge has to offer.
Ness Cove Beach is located in Shaldon, a pretty village on the opposite side of the River Teign to Teignmouth. Visitors access the cove via an original smugglers tunnel – very exciting for little ones! Once you've reached the shingle and sand beach you'll be greeted by a secluded environment with rockpools to enjoy, perfect to keep the kids occupied as they search for marine creatures. Dogs are welcome on Ness Cove Beach so it's a great spot to bring the pooch for a walk or swim. At the top of the intriguing tunnel are toilets and there's a place for refreshments nearby, the tranquil cove also holds a Seaside Award. To find out more about Ness Cove Beach, please click here.
Another beach situated in the popular village of Shaldon is Shaldon Beach. A beautiful sandy beach with gorgeous views over the Teign Estuary mouth, it's close to the village centre and nearby cafés and bars. There are also toilets nearby and it's a wonderful place to watch the fishermen and boats. Dogs are not allowed from the 1st of April until the 30th of September between the Clipper Quay and the steps to the picturesque beach, around 410 metres south east of the Clipper Quay. From Shaldon Beach you can also take the historic passenger ferry over to Teignmouth. If it's swimming you're looking to do, then this beach might not be suitable as it's not recommended here due to strong tidal currents. Further details about Shaldon Beach can be found here.
Teignmouth River Beach, also known locally as Back Beach is perched on the estuary side of Teignmouth with staggering views up the River Teign Estuary towards Dartmoor National Park. A quaint beach to enjoy watching the local fishermen, there are refreshment kiosks and good facilities nearby. This is a dog friendly beach too so you can bring your four legged friend along all year round and there's a couple of pubs nearby for a refreshing pint! The passenger ferry can also be taken to Shaldon from Teignmouth River Beach. Discover more about Teignmouth River Beach by clicking here.
Resting along the seashore in front of the beautiful resort of Teignmouth, you'll find Teignmouth Town Beach, which has recently been awarded a Blue Flag and retained its Seaside Award. The long sandy stretch runs from the mouth of the Teign Estuary and down towards Holcombe Beach. A popular beach for families, the ample amusements, Victorian Pier, skate park and lots more mean that the children (and the adults!) will never get bored. Deckchairs are available for hire and there is an RNLI lifeguard service which is in operation from Whitsun to the first week of September. Dogs are not welcome on this beach between the slipway at Eastcliff and the lighthouse at the point between the dates of April 1st and September 30th. Please click here for additional information about Teignmouth Town Beach.
Holcombe Beach can be found between the two coastal towns of Teignmouth and Dawlish, just a short walk from the village of Holcombe. A secluded cove, primarily used by local residents, it allows dogs throughout the year and is a peaceful place to relax. Access to the beach is via some steep steps and at low tide you can walk along the beach to Teignmouth. Swimmers should be aware of rocks and cliffs and also that the water quality is affected by a storm overflow. More details about Holcombe Beach can be found by clicking here.
Backed by the striking red sandstone cliffs of Dawlish, Coryton Cove is a quiet, sheltered beach with great rockpools, a serene setting and just a short walk from the centre of gorgeous Dawlish. Visitors can enjoy fishing off the breakwater and there's a refreshment kiosk and beach huts for hire as well. Toilets and baby facilities can be found nearby and dogs are not allowed on Coryton Cove between the 1st of April and the 30th of September and the beach also holds a Seaside Award. Please click here if you wish to learn more about Coryton Cove.
Close to the town centre of Dawlish, Dawlish Town Beach is adjacent to the mainline train station making it easily accessible by whichever mode of transport you choose during your holiday. The vast beach, which holds a Seaside Award, runs all the way up to Red Rock at Dawlish Warren meaning there's plenty of space to enjoy. Nearby amusements, toilets, a refreshment kiosk and deck chair hire make this a great beach for a family day out and dogs are permitted left of the breakwater on Dawlish Town Beach up to 100m from Red Rock Beach. Additional information about Dawlish Town Beach is available here.
Dawlish Warren Beach is an award-winning vast expanse of sand perfect for families and has held a Blue Flag award for 21 consecutive years. With stunning sand dunes, beach hut and deck chair hire, shops, bars, cafés and great facilities, it really is a beach with everything you might need and more. An RNLI lifeguard service runs on weekends between Whitsun and the end of June as well as daily in July and August. Dawlish Warren Nature & Wildlife Reserve is also worth a visit during your trip and is a particularly special environment. Due to being such an important area of conservation, there are a few rules in place to protect the environment; you can find the Dawlish Warren Code here. To discover more about Dawlish Warren Beach, please click here.
If you would like to explore all of the beautiful beaches on offer in South Devon, please visit our beaches page here.
All information is correct to the best of our knowledge at time of publishing and we always recommend checking local signage before use of the beaches to check rules and regulations.
To keep up-to-date with all things South Devon, make sure you like our Facebook page here and follow us on Twitter here. We'll let you know about upcoming events, our latest blog posts, competitions and more!
Other Posts You Might Like
Related
0 Comments