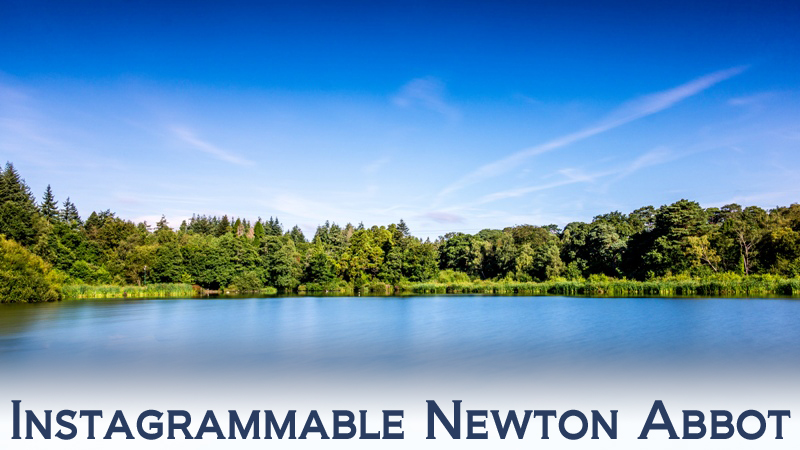 An ancient market town with exceptional rail links, Newton Abbot is more than just a transport hub for South Devon. With plenty of green space scattered throughout the town, country parks and historical buildings it's not hard to find places to photograph in Newton Abbot. Whether you prefer woodland walks or cosy pubs with spectacular views, you're sure to have a great day out and of course find an Insta-worthy scene to share with your friends and family. Read on to find out our top ten instagrammable places in Newton Abbot.
Resting on the outskirts of Newton Abbot, Stover Country Park comprises of 114 acres of woodland, grassland, lake and more. Perfect for a quiet stroll or to wildlife watch, the park is a haven for locals and visitors whatever the season. The ever-changing scenery provides ample photo opportunities, in autumn the lake mirrors the fabulous autumnal colours from the trees and foggy days can present eerie atmospheric shots.
Old Forde House is a grand structure that lies within grounds that can be accessed by the public. The main part of the house was built in the 1600s and it has been stayed in by numerous famous names over the years including King Charles I and Oliver Cromwell. Although the house itself is only open to the public occasionally for tours or to be hired for weddings, a walk around the building and park out front will still offer lovely sights and of course a chance to snap a great photo for your Instagram!
Situated on the banks of the serene River Teign, the Passage House Inn in Kingsteignton, Newton Abbot, is a fine example of a wonderful Devon country pub. Scrummy food, refreshing beers, tantalizing wines, a spacious bar and a riverside terrace supply a fabulous setting to relax and unwind. The views of the estuary are a tranquil backdrop and the jetty that juts out to the river is a great spot to pose for a photograph.
Opposite the well served train station in Newton Abbot, Courtenay Park is a wide open green space ideal for picnics and games. Throughout the year, concerts and events take place in and around the picturesque bandstand and a fenced in children's play area provides a safe environment for little ones to play and explore. A pond and fountain towards the top of the park is a great place to contemplate and also take photos.
The Town Quay
Newton Abbot Town Quay is where the River Teign meets the River Lemon. You will come across the quay if walking the Templer Way, an 18 mile walking route from Dartmoor tracing the historic path that granite once took down to the docks at Teignmouth, or for easier access, it can be reached from the end of Brunel Industrial Estate. From here visitors can enjoy walks around the area including a pathway through Hackney Marshes Local Nature Reserve and the juxtaposition between the natural landscape and the industrial bridges create excellent imagery for your social media.
We couldn't write a list about the top Insta-worthy spots in Newton Abbot without including Decoy Country Park. A popular destination with families and visitors in the town, the park is fantastic for dog walking, watching wildlife, BMX racing and watersports which are provided by an on-site centre. Not only that, but the woodland and lake are wonderful for snapping a beautiful picture perfect for your Instagram feed.
Passmore Edwards Centre
The Passmore Edwards Centre in Newton Abbot is home to a library and adult learning centre and can be found in the centre of town. It often holds events throughout the year and is a Grade II listed building. The structure was built in 1904 and if historical buildings are something you like to photograph or feature on your Insta feed, then you will not be disappointed with this one.
Bradley Woods
Bradley Woods can be found by on the edge of Newton Abbot and is part of the National Trust owned Bradley which is also home to Bradley Manor. Accessed through Bakers Park, the walks around the area are pretty with meadows and a river to discover. Woodland often provides a great setting for interesting photographs and Bradley Woods is no different as well as being a magical place to explore.
St Leonard's Tower
Arguably one of the most well-known buildings in Newton Abbot, St Leonard's Tower also known as the Clock Tower, is what is left of a 14th century Chapel. The rest of the construction was demolished in 1836 but the tower still remains in the heart of the town centre. St Leonard's Tower is open to the public on selected days from May through to September but if it's a picture you're after then any time of year will do.
Coombe Cellars
Just a short drive from the market town of Newton Abbot and lying on the banks of the River Teign is Coombe Cellars in Combeinteignhead. Blissful views of the Teign Estuary combined with excellent food and drinks make it a popular spot, especially during the warmer months when visitors can take advantage of the outside waterfront area. The charming arched windows make for a beautifully framed photo to add to your Instagram feed too!
Don't forget to follow us on Instagram here and make sure to tag us in your photos of South Devon using #southdevon or @visitsouthdevon. We absolutely love seeing your images of the area and we might event feature your picture on our feed!
Other Posts You Might Like

Related
0 Comments