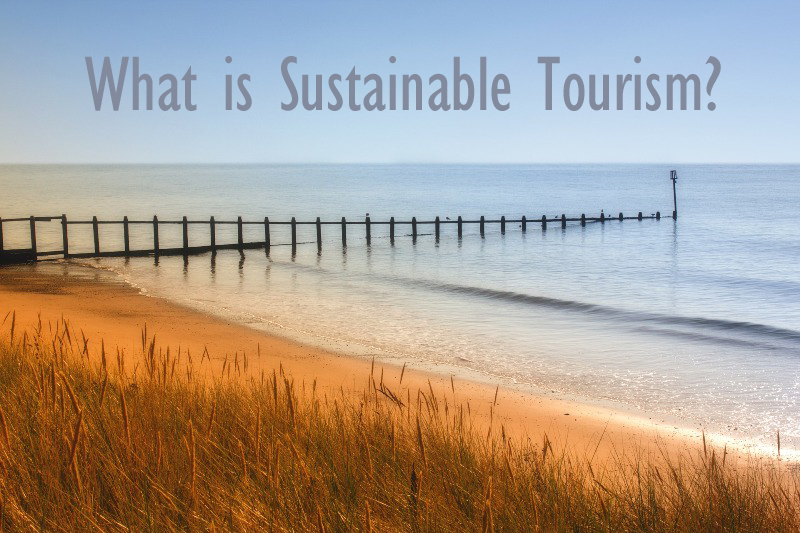 Sustainable tourism and travelling in a sustainable way is becoming more important to many travellers and destinations. But if you're not sure how you can travel sustainably or the idea seems a bit daunting, don't worry it's not as scary as it seems and you don't need to give up all your home comforts to have a sustainable holiday.
The concept of sustainable tourism is simple; it's all about visiting somewhere as a tourist and trying to ensure your visit has the lowest impact on the environment as possible. This could include thinking about how you travel to and around your destination, considering what you eat, drink and use during your stay, or thinking about who you buy from.
There are many simple changes and choices you can make, during and when planning your trip, that will lessen your negative impact on the environment and benefit the social and economic welfare of local people and the area.
Travel Sustainably
There are many different ways to get to your holiday accommodation and to travel around once you've arrived. Some of these will have a bigger effect on the environment than others, but a few simple changes to your travel plans will help to reduce the impact and carbon footprint of your break.
A staycation in the UK is certainly better for the environment than catching a plane and travelling abroad, but there is so much more that can be done to make your holiday more sustainable than just not flying.
When planning your trip choose your destination and accommodation carefully. Can you get there by train or coach? Are you able to walk to the beach, town or attraction? Are there other options available than taking your car? Are there local buses or ferries which can be used for a day trip out? For many children, and those young at heart, catching the bus, ferry or the train can be an exciting part of a day out, as well as a great way to reduce your carbon emissions.
If you are planning on driving and your car is a bit thirsty on petrol, maybe think about hiring a greener alternative for the duration of your break. Or if you're planning on hiring a car at your destination make sure you get a hybrid or electric one, this will not only save you money on fuel but will be better for the environment.
For tips on enjoying car free travel around South Devon, check out our blog post here.
Think Local
As well as your carbon footprint, the things you use, eat, drink and buy whilst on holiday all have their own carbon footprint. When visiting an area always try to buy and use local, to keep this at a minimum, after all there's no point avoiding flying to be sustainable if you're going to buy food and gifts that have been flown thousands of miles.
As well as the positive environmental impact consuming local food and drink can have, local seasonal food is some of the best tasting and most enjoyable food you can eat. With veg grown within miles of the restaurant, fish caught that day off the local coast and yummy sweet treats baked in local bakeries, you'll be treated to food at its very best and most flavoursome. Meat is also one of the biggest causes of CO2 emissions and has a huge impact on the environment, try enjoying one or two meat free days a week, substituting it for fresh, local, seasonal veg or salad, to help cut your carbon footprint even more.
As well as the environmental impact of the things you buy and the services you use, the choices you make can have a big social and economical impact on your holiday destination. By purchasing from local and independent shops, cafés, pubs and outlets, or choosing to stay in locally owned and run accommodation; your holiday money will be supporting the local economy. With profits put back in to the region and jobs created and maintained for local people, you'll be supporting and helping the area to thrive.
Pick Souvenirs Carefully
When choosing that holiday keepsake think about how far the product travelled before being put on the shelves. Locally produced gifts and souvenirs are not only better for the local economy, but you're saving on road and air miles. Have a think about what you're going to do with your souvenir, will it be cherished and admired every day or soon be forgotten and thrown away before it really gets used. Also have a think about how long it will last, cheap low quality products are more likely to break and end up in the bin, adding to landfill waste.
Reuse, Recycle and Reduce
One of the simplest ways to travel sustainably is to reuse, recycle and reduce. If everyone made just a few small changes to their normal holiday habits and carried these through to when they're at home, we'll start to make a massive contribution to reducing waste and our carbon footprint.
Here are 10 top tips for ways you can reuse, recycle and reduce whilst on holiday:
- Bring a drinks bottle with you to save buying bottled water; you can refill this in the morning, at drinking fountains or in cafés, pubs and restaurants.
- Hang your bathroom towels back up, the cleaners won't change them and you'll save on washing.
- Use your Do Not Disturb sign, your room won't get cleaned and you'll stop extra cleaning products being used.
- Bring a cloth bag with you, you're sure to go to at least one shop whilst on holiday, and this will save you having to purchase plastic bags.
- Return maps and leaflets after your visit so other guests can use them.
- Take left over shampoo and soap home, half used ones often get thrown away. You can reuse the little bottles next time you travel by filling them up at home.
- Think about what you throw away, if you empty the bottle of shower gel you brought with you or get a rip in your top and you can't find somewhere to recycle it, take it home where you know it can be recycled.
- Bring some things with you, if you're self catering bring some tea bags, coffee or snacks with you in re-usable containers. You don't need to buy smaller packs whilst on holiday which creates more waste.
- You can then use the empty containers for pack lunches or to keep leftovers later in your trip.
- Try to avoid using the washing machine, washing just a few items whilst you're away will use lots of water, if you need to wash any items of clothing try hand washing and take the majority of your dirty cloths home to washing in bulk.
Hopefully you've learnt some tips on how to travel sustainably and will be able to implement these on your next trip, be it to South Devon or somewhere else!
To keep up to date with our latest blog posts, like our Facebook page here.
Other Posts You Might Like
Related
0 Comments