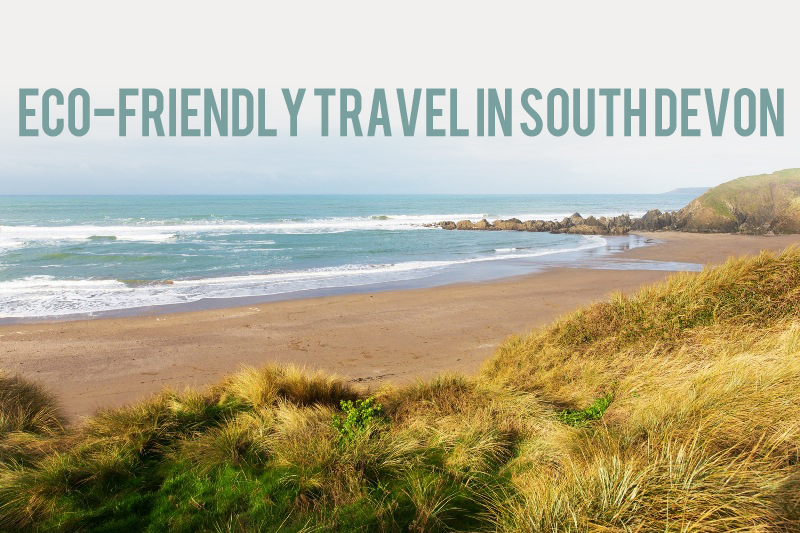 Guest Blog Post* - Overland Site
South Devon is renowned for its beauty. If you want to experience what this part of England has to offer, then you should definitely plan a trip there. The best part is that you can do that in an eco-friendly manner. Eco-tourism is growing by the day, as more and more people are concerned about the harmful effects of pollution, and the way in which it impacts the quality of our lives. The best part is that South Devon is one of the places that promote environmentalism.
Since it has two beautiful national parks and an outstanding coastline, it makes sense to bring your contribution and do your part in preserving what South Devon has to offer. Hence, let's have a look at some key tips that will make your visit eco-friendlier.
Get Eco-Friendly Accommodation
Is there such a thing as eco-friendly accommodation in South Devon? There actually is. Usually, the main difference between a regular hotel and an environmentally friendly hotel is that the latter aims at diminishing the carbon imprint. With that in mind, such a facility uses green living practices that are safe for both humans and pets. Also, such facilities aim at diminishing the amount of water wasted, while embracing a responsible approach regarding the use of electricity, cooling, and heating.
The range of eco-friendly accommodation in Devon is far-reaching, in the sense that you can find cozy cottages, which evoke the essence of Southern England, and even luxury hotels or country clubs. There are plenty of options to choose from. You might even consider planning a holiday at a local farm, to enjoy fresh produce from the land – such as fresh veggies from the premises, fresh eggs, so on and so forth.
Some hotels and cottages serve local, sustainable food, whereas others have substituted single-use plastic in order to preserve the environment.
Leave the Car at Home
Did you know that you can reach South Devon by public transport as well? That is to say, you don't have to arrive there by car – which, let's be frank, isn't very eco-friendly. With that in mind, whether you are traveling to the South of England by plane or by train, or you want to get there by bus, there are options to choose from. It's up to you to pick what seems to suit your situation best.
The truth is that, when you're driving, you are easily distracted from the road and the scenery, as you need to focus on the drive. Meanwhile, if you travel by bus, ferry, or train, you enjoy an optimal level of comfort while having the chance to glance at the surroundings. Most importantly, in this way, you can save some money and take a step towards preserving the environment.
It's worth noting that rail travel is considered the eco-friendliest means of traveling – aside from cycling and walking of course. The best part is that traveling by train through South Devon means you'll get the chance to enjoy some of the most picturesque images of the English landscape. So, it's a win-win.
Enjoy Some Quality Local Produce
When you choose to support local producers as opposed to global manufacturers, you are doing something good for the environment. Devon provides the perfect medium for producing quality meats and fresh fish – not to mention that farmers grow local goodies in abundance. There are several farmers markets you can visit, depending on when you plan to go to South Devon.
For instance, Kingsbridge Farmers Market is organized on the first and third Saturday of each month, and it lasts from 9 am to 1 pm. You'll get the chance to choose from a variety of local goods ranging from vegetables, herbs, spices, homemade baked goods, and so on. Dartmouth Old Market has a tradition that goes back to 1828, and it features delicious organic produce.
Visit the Main Attractions in South Devon
Did you know that South Devon has a range of attractions that are concerned with preserving the environment? Eco-friendly travel isn't all about bamboo or paper straws or hotels that try to diminish the carbon imprint. It is also about the attractions you visit, isn't it?
With that in mind, some of the most popular attractions in Devon are actually committed to increasing awareness. An example would be the National Marine Aquarium. Basically, it informs people about marine life. But, at the same time, it functions as a conservation charity, committed to helping people comprehend more about the ocean.
Don't Leave any Trace
Regardless of your traveling destination, the best thing you could do for Mother Nature is to leave the place you're visiting not the way in which you found it, but even better. What does this mean? Eco-travelers have started the trend of picking up pieces of trash whenever they see any – whether it is in the forest, on the beach, or on the streets. Although this may seem like something insignificant, if more people did it, the difference would be more noteworthy.
Pack Lightly
This is another tip that matters most when it comes to air travel – but not necessarily. The thing is that packing actually has a detrimental effect on the environment. That's because the more suitcases you have, the more fuel the plane, car or bus will use up. These are only some small changes you can implement and, over the course of time, perhaps they can really make a difference in the wellbeing of the planet.
The Bottom Line
Eco-friendly travel might seem a bit overwhelming if you're doing it for the first time. But the truth is that it doesn't have to be like this. With a little bit of careful planning and anticipation, you can seriously try to implement healthy traveling habits that will contribute to preserving the environment. Although some people might discourage you, saying that these changes don't matter in the long run, this is not true. Small changes are always better than no changes at all – bear this in mind!
*Sponsored
Other Posts You Might Like
Related
0 Comments