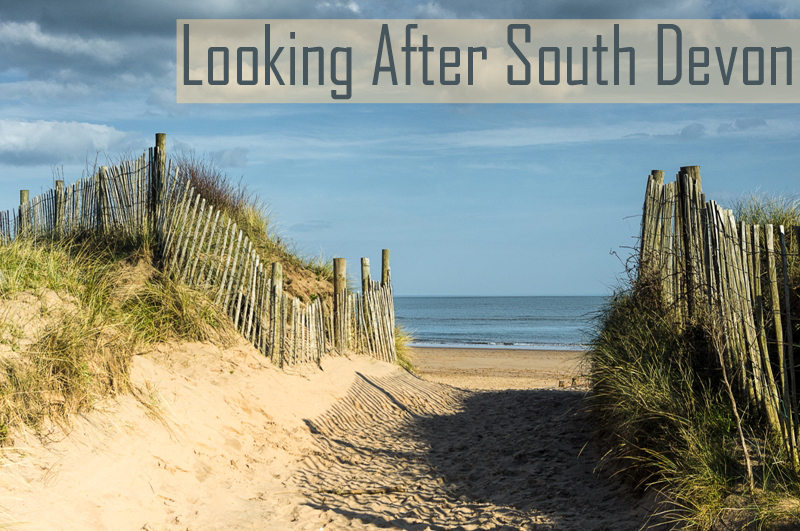 In recent years we've all become more aware of our need to look after the natural world and the environment we live in. But this need isn't just important at home, it's something we should also be considering when visiting different areas or taking holidays.
Like every region of the UK we want you to enjoy yourselves whilst visiting and make sure your holidays are filled with memories that will last a lifetime. But as you can imagine during the summer months we welcome hundreds of thousands of extra people to the region.
As much as we love having you all here, visitors and locals have an effect on the natural landscape and the available resources. To help mitigate this, there are small adjustments which everyone can make, no matter where you're visiting, to help protect the environment that won't affect your enjoyment of this beautiful area, but will make sure it's just as enjoyable to future generations.
Besides the obvious of making sure to clean up after your visit to the beach or park for a picnic, there are plenty of other small things you can do to help keep Devon beautiful. If you're not sure where to start or the thought of getting everyone ready and not forgetting the sun cream is dominating your to do list; have a read of this blog, where we've listed a few really simple tips and quick tricks on how to help look after South Devon.
Reduce, Reuse & Recycle
One massive way to look after the local area is to reduce the amount of waste created and disposed of. Here are a few simple ways you can reuse, recycle and reduce whilst on holiday in South Devon;
- Hang your towels back up and use your Do Not Disturb sign if you're staying at a hotel in South Devon, you'll help save on washing by not getting clean towels every day and you'll stop extra cleaning products being used in your room.
- Bring a cloth bag with you for shopping or a reusable water bottle, you'll help cut down on single use plastic bags and bottles.
- Think about what you throw away whilst you're in the region, take left over shampoo and soap home, you can reuse the little bottles next time you travel by filling them up. Or if you empty the bottle of shower gel you brought with you and you can't find somewhere to recycle it, take it home where you know it can be recycled.
- If you're self catering and driving, bring some tea bags, coffee or snacks with you in re-usable containers. This will not only save on driving to the shops, but you can then use the empty containers for pack lunches or to keep leftovers in later in your trip.
- Return maps and leaflets after your visit to South Devon so other guests can use them, or access apps and downloadable maps on your phone or tablet to cut down on paper waste.
- Think how you travel around the region; try walking, cycling or taking the bus or train once you're here, we've got plenty of great car-free options available, check out our blog post about it here. Reducing how much you drive you'll not only be cutting down on CO2, but by not having to concentrate on the road you can admire our stunning countryside and coastline as you travel.
- Try to avoid using the washing machine or dish washer for small loads, washing just a few items uses lots of water, try hand washing and take the majority of your dirty clothes home to wash in bulk.
Think Local
Looking after South Devon doesn't just mean caring for the environment, it can also mean thinking about the economical impact of your travel and holiday choices. Here are a few economical things to consider when booking a break or enjoying your time here.
- Shop and eat local; by shopping and purchasing from local and independent businesses you'll not only be reducing the food miles and carbon footprint of your purchases, but by supporting local businesses, suppliers and providers you'll be investing in the local community; not only creating and providing jobs within the shops, pubs and guest houses in South Devon, but much further up the supply chain as local businesses often buy from other local businesses.
- Think small; independent shops and businesses are the heart of our communities. Not only do many sell and use local produce, but they employ and support local people. Not just in customer facing roles but back office staff too, as our local businesses will employ local accounts, ordering staff and marketing professionals.
Enjoy a Rewarding Activity
If you're looking to give something back to South Devon, there are many wonderful activities and events which you can take part in which will have an environmental benefit.
- Litter Picks and Beach Cleans; whether it's a new way to see the area or you want to help keep the area clean for the rest of your visit, join in with a litter pick during your stay and help rid the environment of rubbish and plastic. South Devon often have beach cleans running throughout the year, just keep an eye on our What's On page here to find out when the next one is or head to the South Devon AONB website here, they hold regular events.
- Eco Events; as well as litter picks there are many other educational and eco events taking places throughout the region. Whether its wildlife spotting to inspire you of the animals in need of our protection, a craft workshop turning rubbish in to useful items or a cooking demonstration to make your own supplies instead of purchasing from the shop. You can learn useful tips and tricks for both your holiday here and your life back home.
- Take Part in a Charity Event; another way to help the local economy is to get involved in a local charity event in South Devon. From village fairs and charity entertainment evenings, to fundraising half marathons and festivals set up to help out our local charities, supporting a local good course when you're on holiday here will not only give you a feeling of good will, but it means the local communities will benefit from your visit too.
If you want to find out more about sustainable travel and how you can look after whatever holiday destination you're visiting, have a read of our sustainable tourism blog post here.
Other Posts You Might Like
Related
0 Comments