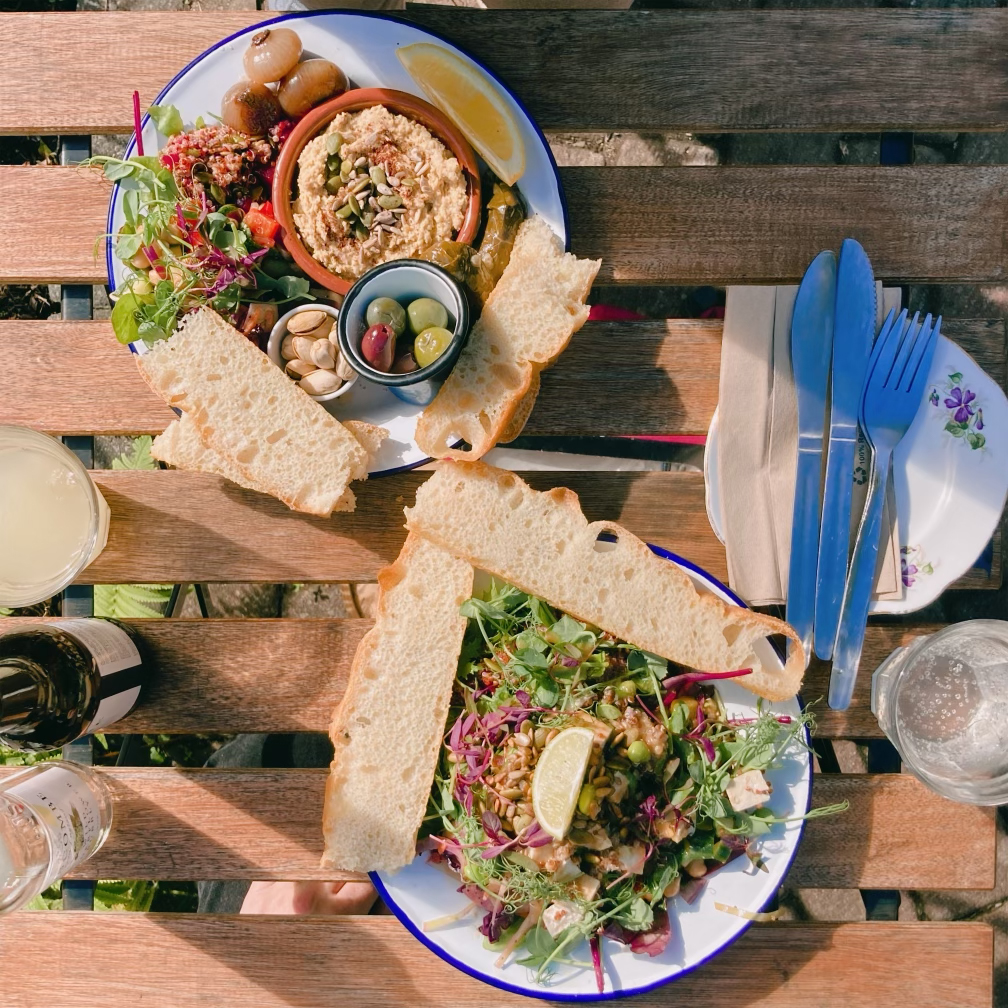 Devon is one of the best places for vegan visits in the UK. We've got an array of eateries, hotels and shops that cater for plant-based diets. Here's a list of our favourite spots!
Places to Eat
How on Earth Deli
How on Earth is situated on South Street in Exeter and is Devon's first ever vegan deli! This family-run business sells a range of artisanal vegan cheese and sweets, as well as hand-made vegan deli meat. A hot favourite amongst customers is their selection of take away sandwiches. Check their Instagram to see what's on the menu each day, but our favourite has to be the Ruben (made with peppery pastrami, Russian dressing, sauerkraut, cheese and pickles), or their spicy buffalo chicken slider (a pretzel bun with homemade fried chicken, buffalo sauce, slaw, pickles, ranch dressing and rocket). Just up from How on Earth, Fore Street is renowned for its independent businesses, but you'll also find a fabulous selection of indie vegan and vegetarian eateries, such as The Flat – serving incredible sour dough pizza, and Sacred Grounds Coffee Shop which is a great stop for brunch.
If you're looking for a cosy pub meal, then head to The Dartmouth Arms located at Bayard's Cove. They have a wide selection of warming meals such as a smoky three bean chilli, nachos or vegan fajitas. They also sell pizzas which can be made with vegan cheese.
It wouldn't be a trip to Devon without feasting on a cream tea – with cream on first, obviously, because that's the Devon way! Luckily, Bovey Castle Hotel located on Dartmoor, do a fabulous afternoon tea with vegan scones and a selection of tasty sandwiches and delightful pastries. You can even upgrade your afternoon tea to include champagne!
Ice-cream
If you're an ice-cream lover like us, then don't worry because Devon has so many tasty dairy free options! Take a trip to The Local Scoop in Dawlish who serve an array of vegan delights such as dairy free waffles, thick milkshakes and ice cream tubs! Yarde Farm ice-cream also have a delightful selection of vegan treats, they have a tasty vegan chocolate ice cream, or if you'd prefer something more refreshing, opt for a Cornish cider sorbet! Another place to grab a vegan cone is from the Dartmouth Ice Cream Company, who create vegan ice cream, so deliciously creamy, you wouldn't be able to tell the difference! You'll find lots of small ice cream parlours across Devon too which serve Yarde Farm or Dartmouth Ice Cream.
Grabbing a Pint
This cosy bar and bottle shop sits right in the centre of Dartmouth. Selling a huge variety of beers from independent breweries such as Deya, Gypsy Hill and Cloudwater, they're one our favourite places to stop and grab a pint or two. Most of these beers will be vegan, but their lovely staff are always on hand to help if you're not sure.
New Lion Brewery
New Lion Brewery is a 100% community owned craft brewery in Dartington, just outside of Totnes. Lots of the beers they make are vegan, but double check with staff to see which ones are suitable. They also host an array of exciting events including live gigs, handmade craft nights and even drink and draw events! Pop down on a Sunday to catch The Big Kebabski, a 100% homemade vegan kebab truck, or pick up a vegan wood- fired Pizza from Pizzalogica.
The Cove
If you're looking for a place to get a burger and a beer, then head to The Cove in Hope Cove. The Cove is known for its craft beer and has won many awards for it. Most of the beer they serve will be suitable for vegans, but you'll need to check with staff as the taps are constantly changing. On their food menu, you can choose from a range of vegan pizzas, vegan fish and chips (made with banana blossom) or a hearty vegan burger.
Places to Stay
Whether you're looking for a vegan stay in Devon, or travelling with vegan companions, Woodbury Hotel and Golf Club should definitely be on your list. A good proportion of their menu is suitable for vegans, including their breakfast menu where you can choose from a cooked breakfast, American pancakes or a warm sourdough with sautéed mushrooms. If you're travelling with little vegans, they also have plenty of options to choose from on their junior menu. Their restaurant is open for non-guests as well. On their main menu you can choose between a hummus and beetroot falafel wrap, a tasty vegan cheese and chutney sandwich, or a fragrant Thai green curry, just to name a few.
If you're wanting to stay somewhere submerged in countryside, The Pig at Combe is an absolutely stunning place to for just that. This stately home in East Devon serves a selection of plant-based dishes containing a variety of produce which is freshly picked each morning. Their dishes change each day depending on what the forager supplies and what the pickers deem to be in perfect eating condition.
Gara Rock Hotel near Salcombe, is the perfect place to stay if you want panoramic views of the sea. The restaurant serves a wide range of unique vegan dishes such as shallot bhaji (a fragrant dhal) to start, followed by whole baked cauliflower with apricots, almonds tahini and wild rice, or if you're just looking for lunch, why not try the maple rotisserie celeriac 'winter Waldorf' with radish, celery and pickled walnut salad.
If you're looking for a seaside hotel in East Devon, we'd recommend staying with Dukes Seaside Inn in Sidmouth. Set on the waterfront promenade, this charming hotel has views over the English Channel and serves a great selection of tasty vegan food for breakfast, lunch and dinner! It's also an excellent place to visit for Sunday Lunch and is ideal for meat-eaters and vegans alike.
Something a Little Different
South Devon Chilli Farm
Loddiswell, just outside of Kingsbridge, is home to the famous South Devon Chilli Farm. Set on a 10-acre farmland, South Devon Chilli farm is home to around 200 variations of chilli's, including some rare species. There, you will also find a farm shop, a café and a children's play area. They host tours around the site in the spring and summer time, and you can book a private one for 5 people for just £25!
Vegan fudge can be hard to come by, but Roly's Fudge Pantry has 10 different locations in Devon alone, and they sell three kinds of tasty dairy-free fudges - salted maple and pecan, chocolate orange or maple and cashew. Just walking past the shop and getting a whiff of that sweet, fudgey smell will make it hard to resist the urge to buy some! You can find a Roly's Pantry in destinations such as Dartmouth, Totnes and Exeter.
If you're looking to spend the day with your little ones doing something arty but also want to grab a bite to eat, China Blue in Totnes is a great option as their restaurant, Wild Thyme Deli and Kitchen, serves array of tasty brunch and lunch items. Our top pick has to be the Veggie Thyme cooked breakfast which consists of avocado, falafel, hashbrowns, roasted tomatoes, BBQ beans, mushrooms and locally baked sourdough bread – delicious!
Make sure you like our Facebook page here to be notified of new blog posts. We'll also share our latest competitions, news and events.
Related
0 Comments