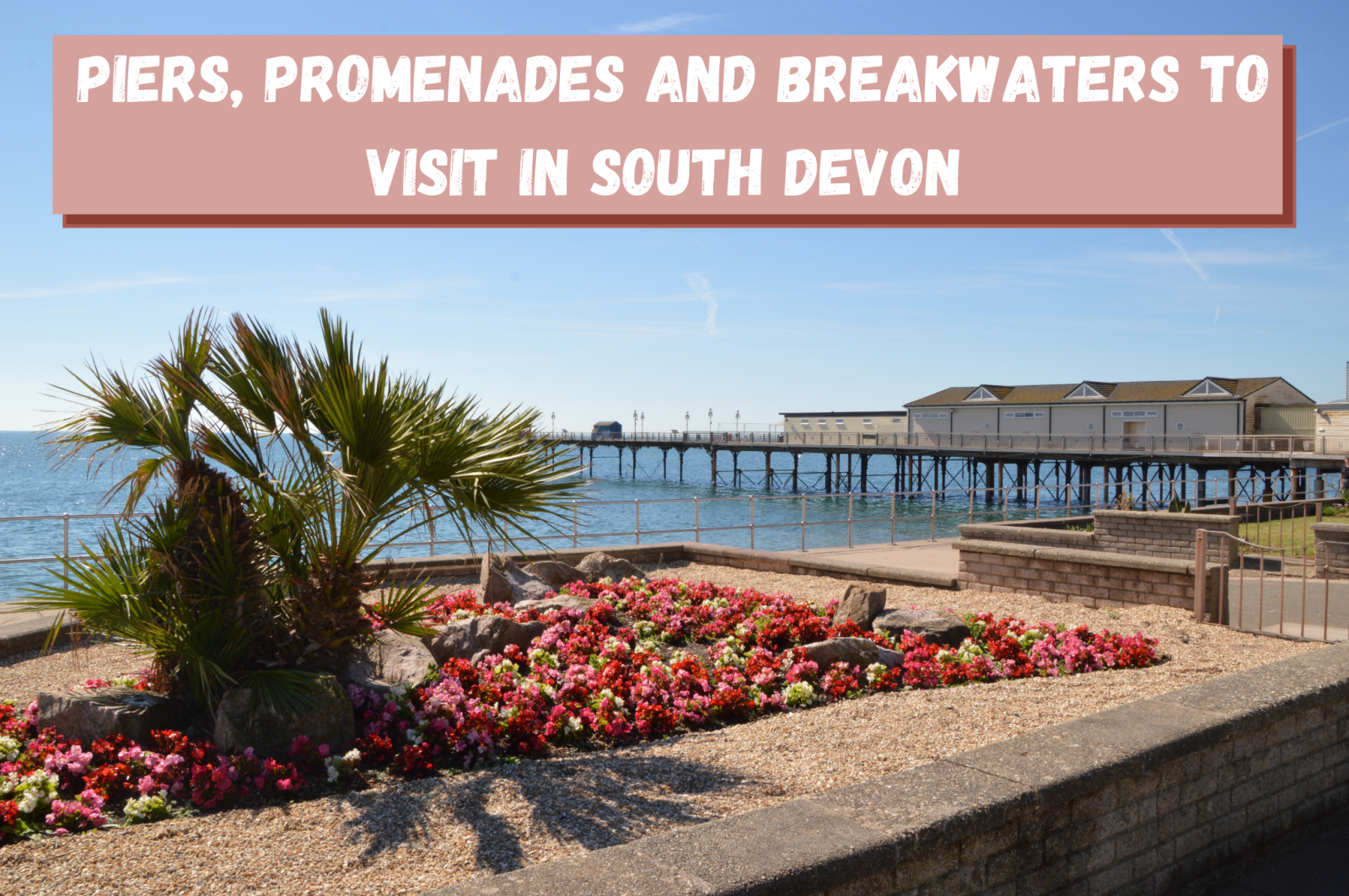 Visiting a pier, promenade or breakwater when you head to the coast is something enjoyed by many holiday makers; they're as much a staple of a traditional seaside holiday as enjoying fish and chips, just as it was in the Victorian era. In Devon we're lucky enough to boast two amazing amusement piers, both within South Devon, that offer entertainment, refreshments and plenty to see and do. As well as these, there are other piers (depending on your definition of a pier!) in the region where visitors can enjoy a walk along the promenade out over the water.
The iconic Grand Pier in Teignmouth was built in 1865 by London engineering consultant Joseph Wilson and is rich in history. It was constructed by screwing giant cast-iron screw piles into the sand, down to the clay level and is almost 700-foot long. The deck is open and made up of wood from Yellow Balou, a hard wood from Borneo. The Pier was initially designed and created as a landing stage to enable steamboat passengers to get to shore, and in the second World War, a whole 60-foot section was removed so that the Germans could not breech if they invaded England. It remained like this until the early 1960 where they replaced it to its original size. In 2014 the pier suffered severe damage during the big February storm, and in 2020 it was announced that the pier would be shortened again.
The Grand Pier is situated in the middle of a picture-postcard seafront and town meaning there are great amenities around to enjoy, you can discover more about the popular resort of Teignmouth here.
Situated on the gorgeous English Riviera coastline, Paignton Pier is a popular pleasure pier with tourists and the locals alike, with a significant history. Constructed in 1878 by Arthur Hyde Dendy, the 780-foot pier was home to a variety of entertainment such as live music, dancing and most famously, Gilbert and Sullivan's comic opera, HMS Pinafore in 1880. In 1881 the head of the pier was enlarged to facilitate the construction of a billiard room. When Arthur Hyde Dendy passed away, the pier was popular for paddle steamers travelling along the English Riviera as it was purchased by Devon Dock, Pier and Steamship Company. Unfortunately, a fire destroyed the pier-head and associated buildings in 1919, and a period of decline followed. In 1980 a redevelopment project was undertaken, resulting in the widening of the shoreward and the construction of the pavilions took place. The pier has changed very little since, aside from the addition of new amusement games and outside attractions. Today visitors can enjoy a whole host of entertainment from traditional coin machines to modern go-karting, as well as picking up that essential chippy lunch from their popular fish and chip takeaway. You can find more things to visit and explore in Paignton here.
Princess Pier, Torquay
Whilst not your traditional amusement pier, the Princess Pier in Torquay offers a beautiful waterfront promenade, alongside Torquay's iconic palm trees and lined with traditional Victorian benches. It's the perfect place to stop and gaze out to sea and makes an ideal lunch spot. You may have heard of the Princess Pier in one of Agatha Christie's mystery crime novels, as the writer spent much of her childhood in the area. The Princess Pier has had a significant amount of work since it's construction in 1890, but it still remains an iconic Victorian promenade. Much like the Grand Pier, the area suffered serious damage in the 2014 February storms, after being battered by huge waves that lifted the concrete and exposed electrical wires. Its repairs began December 2014 and was completed in 2016, but it has since undergone a major £1.7 million refurbishment in 2018 to improve access for those with disabilities. Torquay and the Princess Pier is certainly worth a visit, click here discover more places to visit in the English Riviera.
Brixham Breakwater, Brixham
A popular spot for fishing, Brixham Breakwater is a half mile promenade offshore and was created to protect the stunning Brixham Harbour. The seafood of Brixham is what makes this small town incredibly well known and is home to a wide variety of fish and other sea life such as wrasse, mackerel, bass and pollack. If you're not a fisher yourself, you can still enjoy tucking into a fresh lobster or piece of battered cod in one of the many seafood eateries in Brixham, caught from this very breakwater. Built in 1843 as a replacement for the old pier who didn't provide sufficient safe haven for vessels, the breakwater has seen thousands of ships and millions of visitors. The limestone used was quarried from nearby Berry Head and places atop of an elongated rubble mound with jointed masonry on the seaward side. In 1909 an additional 600-foot was to the end of the pier, and by 1916, a further 1000-foot had been added. Brixham Breakwater offers a pleasant walk and grants you a different perspective of the harbour and the town, you can find other things to explore in Brixham here.
Like much of the city, the West Hoe Pier in Plymouth was destroyed by the 1941 Blitz. The pier was built in 1880, reaching almost 500 feet long and contained a 2000-seater pavilions used for roller-skating, dancing, boxing, and live music. After the bombing, the skeleton of the pier remained until 1952. There have been several attempts to rebuild the structure, but unfortunately these plans never got off the ground. As it stands, all that remains of the pier is the Grade II listed stone walkway around the waterfront, populated with a number of eateries and it offers a lovely view of the sea front and Drake's Island. Here you will also find the sculpture LOOK II by British artist Antony Gormley, marking the site where Francis Chichester returned in 1967 following his circumnavigation of the globe in the Gypsy Moth Iv. LOOK II was commissioned by Plymouth City Council and The Box as part of the city's Mayflower 400 celebrations. Plymouth Hoe is an exceptional place to explore, with plenty of things to do and see!
Exmouth Promenade, Exmouth
Exmouth is a lovely seaside resort at the mouth of the River Exe with gorgeous beaches and a long-stretching promenade. Walking along the Esplanade you'll be transported back in time with traditional Victorian-era attractions like swinging boats and a Ferris wheel which will surely be enjoyed by children and adults alike. There are plenty of places along the promenade to grab a spot of lunch or a delicious ice cream. Much of the architecture in Exmouth were erected in the Victorian era, including the promenade in 1841, with the arrival of the railway station. Discover more about Exmouth's beaches here.
Stay updated with South Devon by following us on Instagram and Twitter, and make sure you also like our page on Facebook. You can also subscribe to our Newsletter here to keep up to date with our latest competitions and other exciting South Devon news!
Related
0 Comments