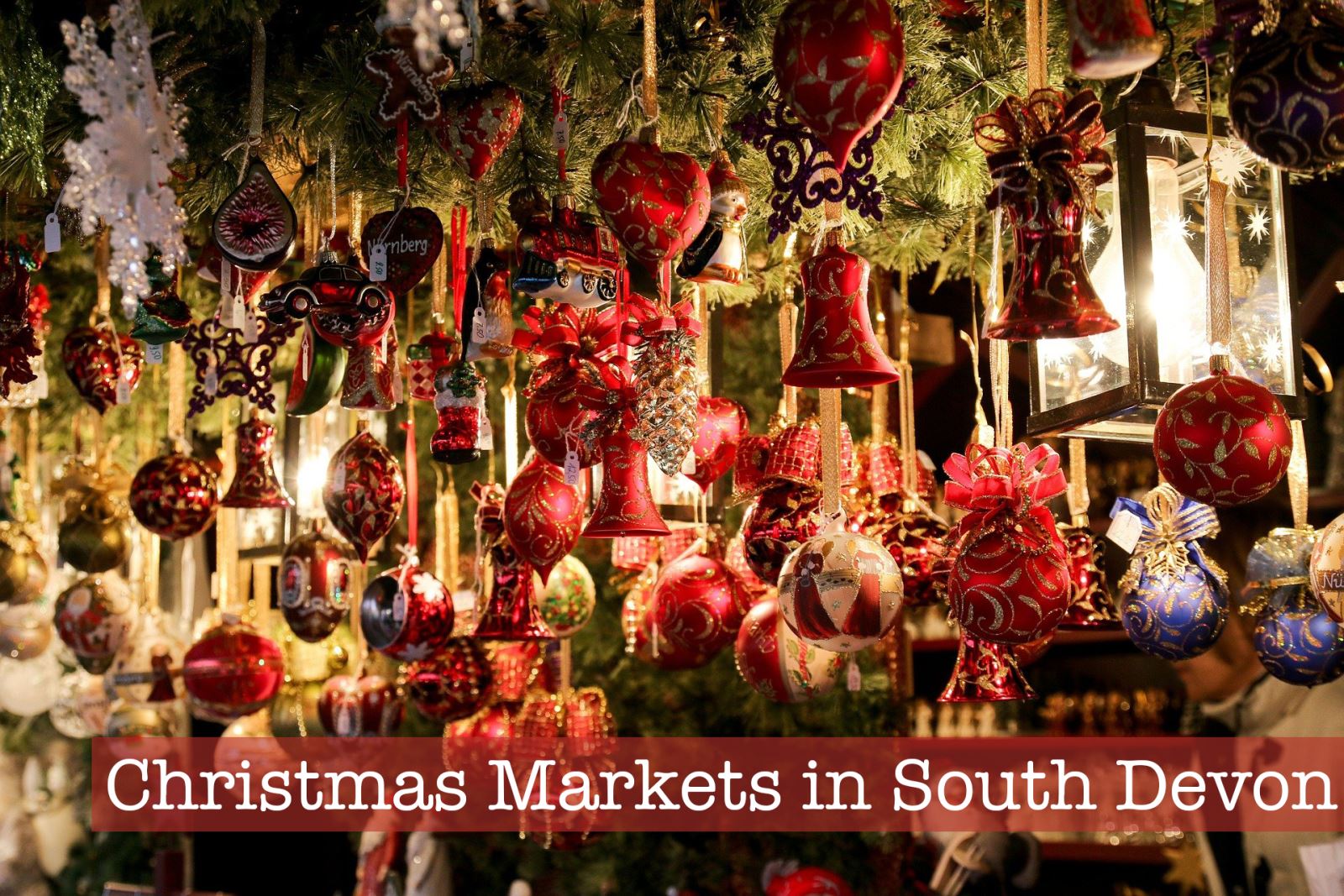 The festive season is almost upon us, and there's no better way to immerse yourself in the enchantment of Christmas than by exploring the Christmas markets and indulging in Christmas shopping in the heart of South Devon. With twinkling lights, the aroma of mulled wine, and the joy of finding the perfect gifts, South Devon transforms into a winter wonderland that will fill your heart with warmth and cheer.
In this blog post, we invite you to join us on a journey across our picturesque region as we discover the most charming Christmas markets and shopping experiences for 2023. From the delightful stalls to the unique handcrafted treasures, we'll show you how to make the most of your holiday shopping while savouring the festive atmosphere.
So, grab your favourite winter coat, wrap up in your cosiest scarf, and let's explore the delightful Christmas spirit that awaits in South Devon!
Thursday 16th November, 4pm-8pm
Kicking off the start of late-night shopping, the switch-on of this year's awesome Christmas lights in Plymouth will add much festive sparkle and colour to the city centre.
Santa and his Elves will be on stage with special guests, who will be joining the Lord Mayor in switching on the fabulous Christmas lights - marking the start of Christmas in Plymouth!
Plymouth Christmas Market
Thursday 30th November – Sunday 17th December, 10am – 6pm
Visit Plymouth Christmas Market and shop for delightful gifts from over FIFTY beautifully decorated Christmas cabins in the heart of the city centre!
Shop a range of unique gifts and crafts from bespoke jewellery and handmade Christmas decorations to unique one-off lamps, there will be something for everyone -including the family pooch! Make sure you bring an appetite too, as there will be a variety of stalls serving hot food and local grog to enjoy.
Soak up the atmosphere with daily performances from local choirs, steel bands, jazz singers and folk music, all adding a unique twist to this celebration of festive delights.
Thursday 16th November, 5pm onwards
Exeter's Princesshay Shopping Centre will be transformed into a magical wonderland this November with a brand-new festive lighting scheme to mark the start of late-night shopping! The new lights will be illuminated from Thursday 16th November, switched on by Worldbeaters act SPARK! who will officially start the countdown to Christmas.
Princesshay 'Christmashay Market'
Thursday 16th November - Thursday 23rd December, times listed below
In collaboration with 'Markets In Exeter', Princesshay will also host a new local Christmas Market in Bedford Street with ten Christmas chalets offering an eclectic and alternative array of gifting, fashion and accessories with local traders changing on a weekly basis - so there's always something new to see each visit! The 'Christmashay Market' will be open from 10am – 5pm Monday, Tuesday, Wednesday, Friday & Saturday. 12pm – 8pm on Thursdays and 10am – 4pm on Sundays.
Friday 18th November – Sunday 18th December
Taking place on Exeter's Cathedral Green, the Cathedral Christmas Market is wonderfully atmospheric, set among a labyrinth of winding lanes, festooned with fairy lights and laced with the seasonal sights and smells of festive chalets, showcasing a wide range of local, regional, national and international suppliers, offering crafts and gifts, and seasonal food and drink.
Friday 18th – Saturday 19th November, 10am-4pm
The Combeinteignhead Artisan Market is always the perfect opportunity to start your festive shopping or perhaps inspire your own 'wish list.'
Stalls to tempt and delight will include jewellery, ceramics, cards, clothing, willow weaving, green wood carving, collector's bears, organic skincare, sweet treats, print, handmade books, textiles, metalwork, enamels and more!
Thursday 16th November, 5pm-8pm
Join Greendale Farm Shop for a free Christmas Tasting Evening – the perfect event for testing out a few festive foodie gifts and supplies before you buy!
Enjoy delicious Devon tasters of Otter Vale's preserves, savoury specials from West Country Olives and foraged flavours from Forage & Combe. Try sweet treats from Baytree & McQueen Fudge, Exe Chocolate, Marshfield Ice Cream and festive flavours from Devon Scone Co. and Figgy's Puddings.
Plus, there'll be plenty of festive tipples from Ashcombe Cider, Bar Buoy, Dartmoor Whisky, Devon Cove Vodka, Exmoor Distillery, Gray's Cider, Hanlons Brewery, Hunts Cider, Loveday Gin, Norcotts Cider, Papillon Gin, Pocketful of Stones, Swanaford Wine, Thunderflower Gin and Two Drifters!
Thursday 23rd November, 5pm – 8pm
Join Thurlestone Hotel this November for an evening of Christmas shopping, classic carols and a festive raffle! Expect over thirty local artisans selling beautiful handmade wares for you to browse and select unique gifts for all the family!
Late-night Thursdays, 4pm-8pm
From November 30th, you can find a unique market each Thursday during the run-up to Christmas Day (Exeter's late night shopping evenings), on the fourth floor at John Lewis Exeter. The Love Local Christmas Market will be showcasing some of the brilliant, small and locally based suppliers and producers, including Greendale Farm Shop!
Thursday 30th November – Saturday 2nd December, 10am – 5pm
Buckfast Abbey's annual Christmas Market returns this year with an abundance of tasty treats, festive cheer and great family fun!
Alongside a mix of stalls from some wonderful local artisans and makers, there'll be some amazing live entertainment and the opportunity to explore the grounds before returning to the festive fun.
Saturday 2nd December, 10am-3pm
Head along to The Old Market in Dartmouth from 10am to 3pm on Saturday 2nd December for a Christmas Fair in aid of Children's Hospice South West.
There will be lots of stalls selling all sorts of desirables, including cards, crafts, art, alpaca wear, jewellery, driftwood gifts, books, cakes, candles and more! Plus, Dartmouth Rock will be singing live Christmas Carols whilst the team runs a raffle with very impressive prizes!
Saturday 2nd December, 9am - 8pm
Kingsbridge Celebrates Christmas promises to be bigger and better than ever. Kick off your day at the Farmers Market, where you can indulge in a selection of festive culinary delights from local producers. While perusing the market, enjoy the harmonious tunes of carol singers and be on the lookout for the grand entrance of Father Christmas. Kids can pay him a visit in his charming grotto and receive a complimentary gift, courtesy of local sponsors. Enhancing the enchanting ambiance will be live music and entertainment. And, of course, seize the opportunity to glide around the Ice Rink.
Explore shops adorned with brilliantly illuminated displays offering exclusive promotions. Fore Street will be adorned with stalls brimming with an array of delightful gifts and seasonal goodies. Follow their Facebook page for the latest updates.
Monday 4th December - Saturday 23rd December, 10am-4.30pm
Wednesday 27th December – Friday 29th December, 10am-4.30pm
Get ready for Christmas with Kingsbridge Crafts Market! There will be an amazing range of wonderful things to browse and buy, all created by local, talented makers. Shoppers can expect handmade jewellery, children's clothing, greetings cards, toiletries, bags, chopping boards, pictures, prints, wood turning with resin, textiles, a weaving demonstration and much, much more!
Tuesday 5th December, Tuesday 12th December, Tuesday 19th December, 3pm – 9pm
Join Miss Ivy Events (in partnership with Totnes Town Council) on December 5th, 12th and 19th December from 15:00 until 21:00 when Totnes town will sparkle with yuletide cheer!
There'll be a treasure trove of artisan gifts and yuletide treats thanks to more than eighty stalls taking part in the delightful Christmas market. Visitors can also expect a delicious array of street food, with two dedicated Food Courts serving up everything from BBQ's, wraps and nachos to paella.
Many town centre shops will join in the Christmas spirit and remain open until late to welcome visitors too, making these festive evenings the best time to get all your Christmas shopping done!
Christmas Market at the National Marine Aquarium, Plymouth
Thursday 30th November, 5.30pm - 9.30pm
On Thursday 30th November the National Marine Aquarium in Plymouth will be hosting a unique Sustainable Ocean Friendly Christmas Market! This market evening is for adults only, to allow you a peaceful evening of looking at the animals and shopping.
Visitors will receive a free festive snack and drink on arrival (mulled mine or orange juice) and will be able to join in with a soy wax wrap making workshop with the aquarium's Ocean Discovery Rangers. The aquarium will also be hosting two festive talks, where you can learn more about how to have an Ocean friendly Christmas.
Christmas Shopping Fayre at Westpoint Exeter
Friday 1st December – Sunday 3rd December, 9am-5pm (4pm finish on Sunday)
Are you ready for three fun-packed days of festive indoor shopping? Choose from over 300 stands with unique Christmas gift ideas for all the family. Enjoy the entertainers, demonstrators, a free Santa's Grotto…there's guaranteed to be such a terrific, bustling atmosphere at the Fayre each day.
Buckfastleigh Christmas Fair
Wednesday 6th December, 4pm-7.30pm
Join the festivities taking place at Buckfastleigh's Fore Street this December! Visitors can expect a wide range of fabulous stalls to browse, plenty of live entertainment and fun for all the family.
Exmouth Christmas Village Indoor Christmas Market
Friday 15th December – Monday 18th December
Experience Exmouth's Christmas village and events this year and enjoy a festive day out for all the family all under one roof! With more than a hundred local vendors, regional produce and gifts, bars, street food, and seasonal entertainment, there's something for everyone.
Shopping Small at Christmas
Many of us are looking to shop small this Christmas and support our local businesses and communities. Across South Devon, villages and towns are home to independent shops which are the perfect places to get started on your Christmas shopping. Dartmouth, for example is a great destination for artwork due to its wide range of galleries whilst Tavistock is wonderful for stylish clothing and Totnes is the place to visit for ethical and eco-friendly gifts. To find out more about shopping small in South Devon, have a look at our Shop Local in South Devon blog post here.
Or you can take a look at our selection of shops in South Devon here.
Shopping Centres
If you're not able to attend any of the Christmas markets or fairs, don't panic as we have plenty of other great places for you to get some Christmas shopping done!
In the heart of Exeter, Princesshay Shopping Centre houses lots of well known shops and restaurants for you to choose from. The wider Exeter high street also boasts lots of beautiful independent boutiques too.
If you're staying on the English Riviera, also known as Torbay, make sure to check out Fleet Walk Shopping Centre in Torquay. You'll find a great range of shops to pick up those special presents.
In the heart of Newton Abbot's pedestrianised town centre, Market Walk is the newly regenerated shopping area, home to some great high street names and local, independent shops to meet all your retail needs. You can also find the Indoor Market here, offering a wide selection of stalls showcasing local produce, vintage records, and more.
Conveniently located in the centre of Dartmouth, Old Market Square features plenty of independent shops and provides an eclectic shopping experience. Here you can find fantastic local food, health products, hardware and household goods, children's clothes and plants, just to name a few! It's also home to the Dartmouth Farmers Market which runs on the second Saturday of each month.

We hope this guide has ignited your holiday spirit and provided you with the inspiration you need to create cherished memories! South Devon's enchanting markets, handcrafted treasures, and festive atmosphere offer a truly magical experience for all. Whether you're seeking the perfect gifts for your loved ones or simply looking to soak in the Christmas cheer, South Devon's Christmas markets are the ideal destination.
We hope you have a magical festive season filled with love, laughter and the spirit of giving! If you want to stay updated on all the Christmas events in South Devon, make sure to view our Christmas events page here. You can also follow us on Facebook, Instagram and X (Twitter) where we'll keep you informed about what's happening and provide you with roundups of the best festive events in the region. It's going to be a joyous holiday season in South Devon!
Related
0 Comments