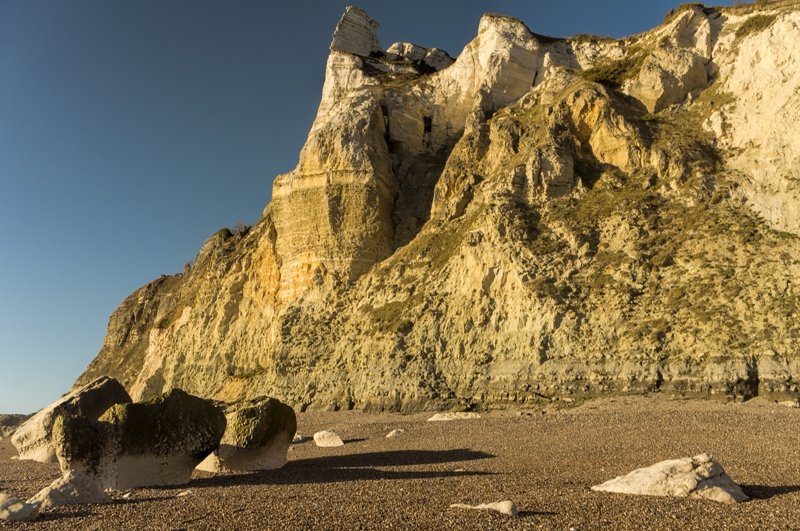 From the starting point on the Devon coastline at Exmouth, all the way up to the Dorset border, the stretch of Jurassic Coast that lies on the South Devon coastline is simply magnificent. Home to varied geology, fascinating rock formations and views that will take your breath away, it's no wonder this part of South Devon is extremely popular with Instagram users and photographers. With that in mind, we've put together our top 10 Instagrammable places along the Jurassic Coast that lie within South Devon, read on below to find out our favourite.
Just East of Exmouth lays the picturesque coastal town of Budleigh Salterton. If you want to up your Instagram game then head to the Otter Estuary, not only is it a haven for wildlife and an ideal place to go for a walk, the beautiful setting makes a perfect photo opportunity!
Ladram Bay, Otterton
Image credit: www.alexwaltonphotography.co.uk
A secluded cove with staggering red stacks in the sea, Ladram Bay is a great Instagrammable beach, whether you take a snap looking down, head to the bay itself or grab a mesmerising shot from the water as you kayak around the impressive rock formations, it's sure to capture the attention of your followers!
High Peak, Otterton
If views are something you look for when wanting to add to your Instagram feed, High Peak is the place to go. Stand upon the top of a towering cliff and receive vast vistas of the Jurassic Coast as well as the stunning East Devon countryside.
The white, wooden structure of Jacobs Ladder to the West of Sidmouth Town Beach and on Jacobs Ladder Beach in Sidmouth is definitely an Instagram-worthy image. From the top or the bottom, this pretty addition to the gorgeous coastline often makes an appearance on the popular photo sharing app.
Connaught Gardens, Sidmouth
If you're heading to Jacobs Ladder for a photograph then make sure to stop by Connaught Gardens which can be found once you climbed the steps. The archways perfectly frame the serene beach and dramatic coastline below making for a very pretty Instagram post.
Branscombe Beach is a pebble bay with wonderful coastal walks and glorious countryside surrounding it. Often featured in Instagram photos, the charming fishing boats will make your images even better!
Hooken Cliffs, Beer
Jaw-dropping cliff faces and exceptional views are what you can expect if you head to Hooken Cliffs near Beer. Head onto the beach if you want some dramatic cliff shots and to get a sense of the scale or make your way up to Beer Head to look down on these astonishing rock faces.
Jubilee Gardens, Beer
Beer is pretty picture-perfect but if you want a particularly divine photo, make your way to Jubilee Gardens. Set overlooking the captivating beach and stark white cliffs, this photo is certainly worthy for your Instagram account!
Axmouth Harbour, Seaton
If boats and harbours are something you enjoy capturing, Axmouth Harbour near Seaton should without question be on your list. You could get some close ups of the intricate lobster pots or take a stunning sunset shot of the alluring harbour as a whole.
Charton Bay, Near Seaton
Charton Bay near Seaton is a small and secluded beach with the opportunity for some beautiful images as it is often quite quiet. Nearby Pinhay Bay also takes a lovely photograph – both sure deserve to be included in our Instagrammable spots along the Jurassic Coast.
And one for luck...
Fossils
Not so much as a place but more as a subject of a great Instagram shot, fossils can be found all the way along the Jurassic Coast. Team a fantastic day out with some unusual photos as you hunt for fossils, some good places to try are; Sidmouth Beach, Beer Head and Hooken Cliffs, Seaton Beach and Pinhay Bay.
We hope you enjoy exploring the Jurassic Coast in South Devon and that this little list has given you some inspiration of where you can capture some great and Instagram-worthy photos! Don't forget to share your snaps with us on Instagram by tagging us @visitsouthdevon or using #southdevon – we look forward to seeing them and we might even share yours with our followers!
Other Posts You Might Like
Related
0 Comments