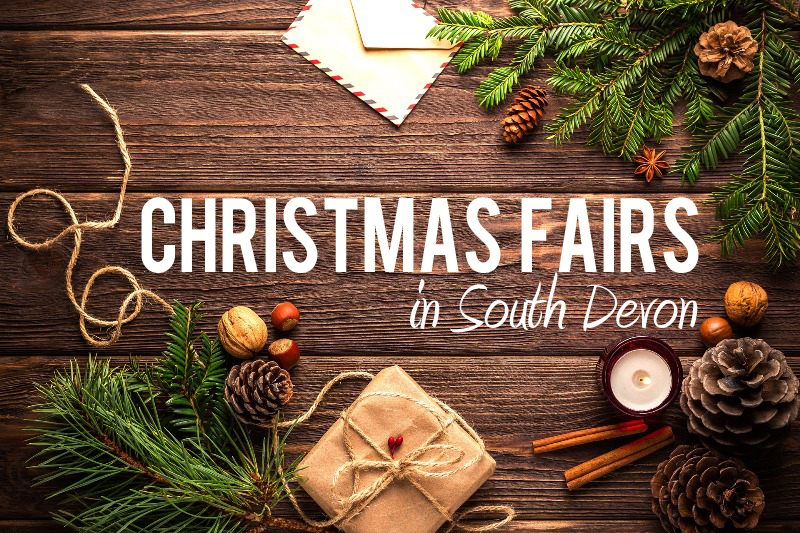 The festive season is almost upon us meaning we're all starting to think about getting our Christmas shopping started and what better way to snap up some gifts than visiting a Christmas fair. Whether you're looking for handmade crafts or something a little different, South Devon has plenty of great fairs taking place across the region in the lead up to the big day. To help you plan where to go find out about the Christmas Fairs in South Devon below.
A wonderful Christmas Craft Fair held at Woodbury Village Hall on the 2nd of November by Woodbury Woodturners Club. Visitors can purchase a whole range of great crafts including pottery, carvings, woodturnings and more. For more information about the Christmas Craft Fair, please click here.
Taking place at the Thelma Hulbert Gallery in Honiton, the annual Present Makers Selling Exhibition celebrates South West-based artists and craftspeople and showcases their fantastic work. Pieces range from textiles and jewellery to ceramics and glasswork. Please click here to learn more about the Present Makers Selling Exhibition.
Make your way to Plymouth Guildhall on the 16th of November for the Plymouth Christmas Show. There will be a brilliant indoor market for a spot of Christmas shopping as well as the chance for little ones to visit Santa in his grotto! Free entry. Additional details about the Plymouth Christmas Show can be found here.
The Xmas Craft Fayre takes place at the Teign Heritage Centre in Teignmouth on the 23rd of November from 10am until 4:30pm. There will be a beautiful selection of hand-crafted items for shoppers to browse and its free entry. Further information about the Xmas Craft Fayre is available here.
The Children's Hospice South West Christmas Fair takes place at The Old Market in Dartmouth on the 23rd of November from 10am until 3pm. Visitors can expect plenty of crafts, cakes, jewellery, cards and more – all perfect Christmas gifts! Please click here if you would like to learn more about the CHSW Christmas Fair.
There's a Christmas Fair on at Stoke Fleming Village Hall near Dartmouth on the 23rd of November. Pick up some Christmas presents for your loved ones from the lovely stalls and enjoy some delightful refreshments too! It will be on from 10am until 12 noon. For further details about the Christmas Fair, please click here.
On the 23rd and 24th of November a Christmas Fayre will be taking place at Livermead Cliff Hotel. It will be on from 10:30am until 4pm and is £1 entry while under 16s go free. With over 40 stalls and live music throughout the day it's sure to get you in the Christmas spirit! If you would like to learn more about the Christmas Fayre, click here.
Thurlestone Hotel are hosting a Christmas Shopping Night on the 28th of November. Festivities begin at 5pm and will continue on until 8pm. Lots of stalls will be there run by local traders so it's the ideal opportunity to get some real South Devon gifts for your friends and family. Find out more about the Thurlestone Christmas Shopping Night here.
Head to Dartmoor Zoo on the 5th of December for a Christmas Craft Fair with a difference. Exhibitors will be local, eco-friendly, responsible businesses meaning you can purchase beautiful gifts that won't harm the planet. Please click here for additional information about the Dartmoor Zoo Christmas Craft Fair.
Harbertonford's Christmas Makers Fair takes place on the 8th of December from 10:30am until 4:30pm. Stalls will be filled with unique items crafted by local makers and the art and craft raffle and café is being run by the WI with all proceeds going to Children's Hospice South West. Find out more about Harbertonford's Christmas Makers Fair here.
There are loads of Christmas events taking place throughout South Devon this year, for Christmas Markets please view our blog post here and for where to meet Santa in the region, please click here.
Don't forget to sign up to our e-newsletter here too! We'll keep you updated with the latest blog posts, competitions and more!
Other Posts You Might Like
Related
0 Comments