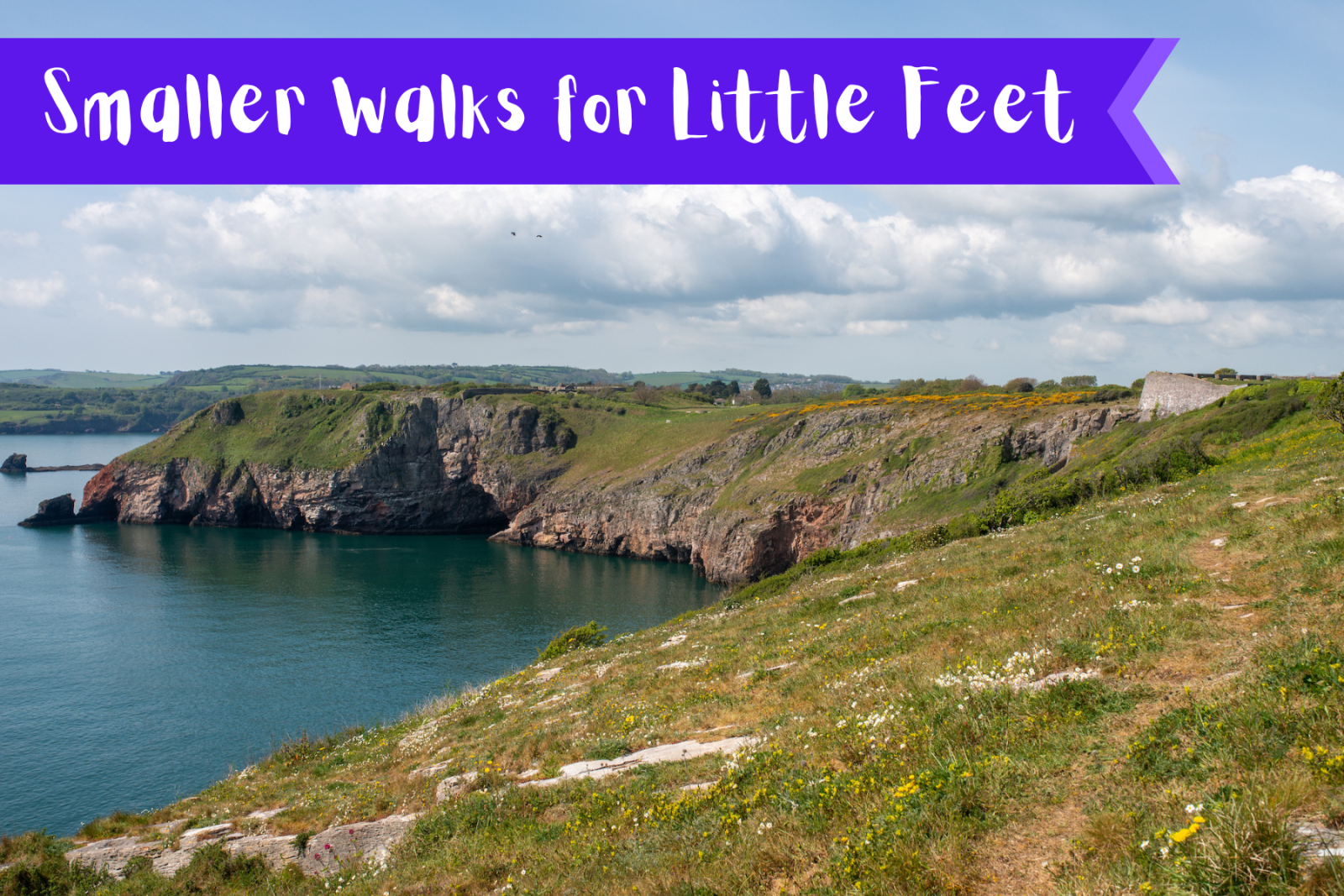 South Devon is a great place to spend some family time together and what better way to make some lifetime memories than taking everyone on a walk to view the sites of our beautiful landscape. We have plenty of paths, trails and tracks for all walking abilities so if your little one's love exploring on their own two feet or prefer to sit back in their pushchairs whilst admiring the views, South Devon is the perfect place to visit! Here's a list of just some of the great, shorter walks for little feet!
Located in Brixham, Berry Head Nature Reserve is one of Torbay's best viewpoints and most important wildlife sites, home to many rare plants and species. This stunning headland has a lighthouse and a Napoleonic fort, surrounded by water with exceptional views of the English Riviera. The site is reasonably even, with no steep inclines and the walk around it is just over 2 and a half kilometres, making it a great route for families with young children. Your little ones will love exploring the diverse wildlife, you may spot rare Alpine swifts nesting or goats grazing on the grassland. It's also a common area to spot seals or dolphins in the sea below.
Another gorgeous coastal walk is the area around Bolberry Down. Owned by the National Trust, the area has been flattened to ensure that the network of paths can be used by people in wheelchairs or those with buggies and young children. Bolberry Down has a network of paths running along the cliff tops providing a wide choice of walks of varying length with beautiful coastal and countryside views. If you fancied adding a trip to the beach into this walk, follow the path down to Soar Mill Cove, a remote beach with a sandy shore and beautiful clear water. The walk down to the beach can be a little steep so keep this in mind if you're venturing down there.
Situated on the outskirts of Newton Abbot, Stover Country Park sits within 114 acres of woodland, heathland, grassland, marshes and a stunning lake. The different environments in the park are habitats to various animals including herons, dragonflies, pikes, and shrews. The walking routes around Stover are flat and great for young children, however, please note that the woodland may be a little uneven if you decide to venture off the path.
Also located on the outskirts of Newton Abbot, Decoy Country Park is a great place to visit within walking distance from Newton Abbot Train Station. Once a clay quarry, Decoy now boasts a beautiful lake, a large woodland, a children's play area with water play features, and plenty of picnic areas. The park provides opportunities for walking, wildlife watching and duck feeding with great pushchair and wheelchair access.
The walk around Salcombe Hill in Sidmouth is one of the shorter walks, being just 1-mile-long, but the views are still spectacular. After arriving at the car park and walking along the tarmac path, you'll be able to see across the Sidmouth Valley. Follow the waymarked routes until you reach the toposcope and admire the stunning red cliffs of Sidmouth. If you're walking on a clear day, you may see out to Portland Bill in Dorset, and even the Channel Islands and the north of France!
If you're after a walk with a bit of history, you could try the Dartmouth Mayflower Heritage Trail. It was created to celebrate the 400th year anniversary of the sailing of the Mayflower and the trail tells the story of the town and its relationship with the infamous voyage to America. The trail consists of three sections: The Town Trail, The Packhorse Trail and The Castle Trail, you can even use the Mayflower Self-Guided Tour app which provides users with a free, easy to follow, self-guided tour, or you can download the trails here.
Potter's Walk is a short, 0.75-mile route that starts at the car park of Fernworthy Reservoir and takes you past the beautiful reservoir and dam to Thornworthy Tor. The route is mostly flat with no steps, gates or stiles and has plenty of resting and picnic spots. Fernworthy is home to a variety of bird species such as mallards, grebes, coots, cormorants and herons, which can often be seen bathing in the water. The path will lead you into the Fernworthy Forest and past the bronze age hut circles which date back to over 4000 years ago – let your little ones imagine what life would have been like living on the moors all those years ago!
There are a number of walks suitable for families with children across the expansive 3,500 acres of land in Haldon Forest. Our top picks would be the Discovery Trail and the Mamhead Sensory Trail with paths for all walking abilities and fun features for children to investigate alongside picturesque views of the beautiful Devonshire countryside. If you have older children who are capable of walking longer, steeper distances with uneven paths, their Butterfly Trail is a great option and it has 30 species of butterfly recorded in the area, including one of Britain's rarest butterflies, the Pearl Bordered Fritillary.
A popular trail along the South West Coast Path, the South Milton Sands to Hope Cove walk will take you through some of the most stunning landscapes in South Devon. Starting at the South Milton National Trust car park, walk along the beach for a short stretch or over the bridge through the nature reserve. From here, there will be a very small incline to take you up over the cliffs where you can see the rugged coastline below. The walk to the Hope Cove will take you about 25 – 30 minutes, so once you arrive at this beautiful, historic fishing village, you could spend the day at the beach here or head back to South Milton Sands.
If you're looking for a short, but picturesque walk in Paignton, try the Roundham Head trail. An easy, surfaced path walk with the option to walk along the beach. From Paignton Harbour, you could take a slight detour and explore the lovely Fairy Cove beach or continue onto Cliff Road and around to Roundham Gardens. This open green space offers fantastic views of the Goodrington Sands and Broadsands and would make a great picnic spot too. This walk is less than a mile long and is pushchair and wheelchair friendly.
This is just the tip of the iceberg – there are plenty of other great walks around South Devon which are suitable for children, to find out more please visit Our South Devon walking page here. If you enjoyed reading our blog post, stay up to date with our latest ones by subscribing to our newsletter or follow us on Facebook, Instagram or Twitter.
Related
0 Comments