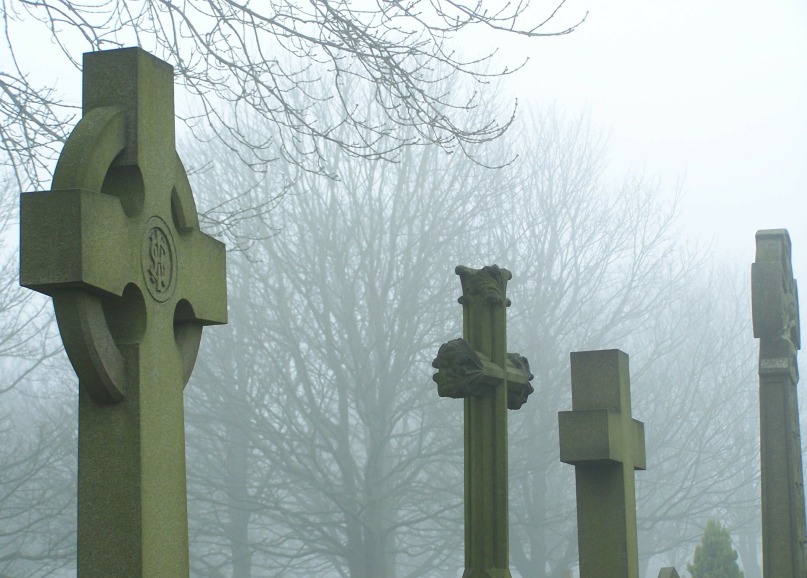 Halloween is upon us and it's that time of year when all the spooky stories come to light about ghosts, legends, and other mysterious happenings. With its wealth of history, South Devon has no shortage of haunted castles, spine-chilling stories and eerie ghouls that lurk around old pubs and hotels. So with that in mind, we've picked out a selection of places across the region that are known for their creepy and peculiar tales...
Believed to be one of the most haunted sites in Great Britain, Berry Pomeroy Castle near Totnes is awash with sightings of ghosts and paranormal activity. The castle was owned by the Pomeroy family until the mid 16th century when it was acquired by the Seymour family (family of Jane Seymour, wife number 3 of Henry VIII) who built a mansion within its defences. By 1700 the castle and home had been abandoned and nowadays merely a shell remains, but the spirits of those who lived there still linger within the grounds. One of the most famous ghosts at Berry Pomeroy Castle is the White Lady whom many believe to be Lady Margaret Pomeroy. It is said that Lady Margaret was imprisoned in the dungeons by her sister because of jealousy and miserably starved to death. Berry Pomeroy Castle also famously appeared on the TV show 'Most Haunted Live' during their 'Terror in Torbay' episode, where the host Yvette Fielding actually passed out during their visit!
Holy Trinity Church
Resting upon a hilltop overlooking the market town of Buckfastleigh is Holy Trinity Church. A 13th Century building, nowadays merely a shell remains after a devastating fire in 1992. The magnificent structure is creepy in its own right but it is the bizarre tomb in the graveyard that is perhaps the most eerie part of this site. Within the grounds lies the Cabell family tomb where Squire Richard Cabell is buried, Cabell was considered so evil by the local residents that they built a building around the tomb, placed a heavy stone on top of it and constructed iron bars along one side in a bid to prevent is spirits escape. However, many say that a pack of hounds visit the tomb some nights and Squire Richard Cabell joins them in a hunt across the vast moorland of Dartmoor. This legend is also believed to have inspired Sir Arthur Conan Doyle's Sherlock Holmes adventure, 'The Hound of the Baskervilles'.
The Royal Castle Hotel is located in the pretty harbourside town of Dartmouth. Standing proudly looking over the popular Boat Float, this intriguing pub with rooms is extremely popular among locals and visitors due to its unique history and charm. The hotel has played host to a number of famous names including Agatha Christie, Queen Victoria and Sir Francis Drake and is said to be haunted by a phantom coach in the small hours during the autumn months. Hooves can allegedly be heard rattling over cobblestones along with a whip cracking and a door being slammed shut.
Located just outside of Exeter, in a village named Kenton, Powderham Castle was built during the 14th century and drastically renovated and expanded during the 18th and 19th centuries. Allegedly during work in the 19th century, the remains of a women and baby were discovered in a hollow wall and legend has it they were bricked up alive, it is said that although their remains were moved to Powderham church, their spirits stayed behind. The Grade II listed manor house is also supposedly haunted by the Grey Lady. Many believe her to be Lady Frances, wife of Viscount Courtenay, and that her apparition is a bad omen, forewarning the death of the head of the Courtenay family.
The Cridford Inn
A beautiful thatched tavern on the outskirts of Dartmoor National Park, The Cridford Inn in Trusham could possibly be one of the oldest pubs in Britain. The building dates back to 825AD and is a beautiful ancient structure in the heart of the Teign Valley. With a inn this old it is no wonder that a couple of ghouls are said to haunt the premises, one being a Nun and the other is believed to be a cavalier involved in Trusham's conflict with the nearby village of Ashton during the civil war in 1642 – 1646.
Old Church House Inn
The Old Church House Inn is in Torbryan, near to Ipplepen and south west of Newton Abbot. Dating back to the 13th Century, the inn is cloaked in history, with panelling from a ship of the Spanish Armada and one of England's oldest bread ovens. Many eerie stories have been reported over the years; often strange noises can be heard such as floorboards creaking and mysterious sighs. During 1997, a woman staying in one of the bedrooms also accounted that she awoke to see an arm pointing to the wall behind her.
Okehampton Castle
Okehampton Castle is perched on the northern border of Dartmoor National Park and was converted into a home during the 14th century by Hugh Courtenay, Earl of Devon after its purpose at a motte and bailey castle with a stone keep. Much like Dartmoor itself, the ghost associated with this castle is shrouded by mystery and there are many versions. All include the ghost of a lady who rides across the moors in a carriage of bones led by a black hound with red eyes. However, it is the stories that surround this white lady that differ, most agree it is Lady Frances Howard, but some say the bones are that of her husband's whom she murdered, others suggest that she was not in fact as awful as many believe but that it was her father's evil which over the years has turned the tragedy of her life into something much more sinister. Either way, the condemned murderess is said to travel to the castle each night to pluck one blade of grass and only once all the grass is gone will she be able to rest easy.
Buckland Abbey
Situated near Yelverton and owned and managed by the National Trust, Buckland Abbey is 700 years old and was originally a Cistercian abbey. The house was most notably home to Sir Richard Grenville the Younger and also Sir Francis Drake, it is the latter who is believed to haunt the grand building. Although often considered a national hero, locals in the area were scared of Sir Francis Drake and some thought that he made a pact with the Devil when he defeated the Spanish Armada.
Torquay Museum
In the beautiful coastal resort of Torquay, on the English Riviera, also known as Torbay, Torquay Museum is a great Victorian museum with a brilliant selection of local history and artefacts. The museum houses a vast array of exhibitions and collections including Natural History, Ancient Egypt and Palaeontology. Unusual activity has occurred in various ways within the museum over the years such as books flying off shelves, photos of ghosts, footsteps and banging, as well as fingerprints appearing on the inside of the Museum's mummy case which is home to Devon's only human mummy. Lots of paranormal groups have visited for investigations and some of their findings have made the national press.
Saltram House
A Grade I listed, Tudor mansion, Saltram House can be found just outside the maritime city of Plymouth in Plympton. It was donated to the National Trust in 1957 and is home to a couple of spooky phantoms that are said to haunt the opulent house. One spectre is believed to be that of a maid who was murdered and now roams the building as a hooded figure. The other ghost is apparently a child who has been known to emerge at the foot of a bed before disappearing into the night.
Jay's Grave
Nestled on Dartmoor near the village of Manaton is Jay's Grave. The gravesite is shrouded in differing stories, but most can agree that it belongs to a lady named Kitty Jay. The exact circumstances surrounding her death have never been confirmed but one version is that Kitty worked for a local farming family where she fell in love with the landowner's son and the two began an affair. Upon discovering she was pregnant, the young man and his family shunned Kitty Jay who tragically killed herself. She was buried at a crossroads which back in those days was common practice for victims of suicide as taking one's own life was considered a crime. These days, the grave draws crowds hoping to catch a glimpse of a ghostly stature or somebody changing the flowers, it is reported that there are fresh flowers daily on Kitty's grave yet nobody knows who is responsible. It is known that a local author used to change the flora but she passed away in 1955, now it is simply speculation, some say pixies, others say a spirit and some people even claim to have seen a hooded figure kneeling by the grave at night.
Hairy Hands
The Hairy Hands of Dartmoor is a legend that began in the early 1900s. The medical officer for Dartmoor Prison was killed in a crash along the road between Postbridge and Two Bridges in 1921 and a similar incident occurred to an army officer but he survived to tell the tale. He reported that a pair of disembodied hands took control of his handlebars forcing the bike off the road. These were two in a series of accidents along this stretch of road which gave birth to the legend, local sceptics put it down to grockles driving carelessly and recklessly along narrow stretches, but not all can be so sure.
Whether you're a believer or not, ghost stories in South Devon are rife thanks to the captivating surroundings and there's certainly plenty of haunted places to visit during your time in the region. So next time you enjoy a trip to a historical building or head up to the moors be sure to keep your wits about you – you never know what may be lurking!
Keep up-to-date with all things South Devon including competitions and new blog posts by liking us on Facebook and following us on Twitter.
Related
0 Comments