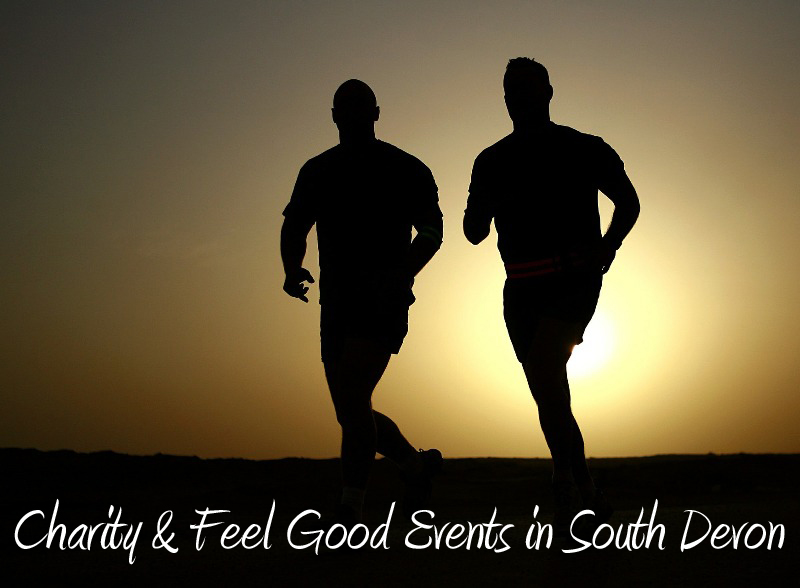 Holidays are great for relaxing, recharging your batteries and enjoying a bit of me time.
But wouldn't it be great to go to an event whilst you're on holiday which relaxes you or makes you feel good about yourself? Well in South Devon you can, throughout the region there are a number of events taking place which are great feel good events, or events where you can benefit a charity. And we've listed some of these below.
Wellness & Feel Good Events
Come to The Osborne Hotel for The Health & Wellbeing Show on the 23rd March where you can find out about improving your physical fitness, exploring mindfulness, learning more about nutrition, or developing your general wellbeing in new and exciting ways.
Simply Soulful Yoga are holding a series of great feel good events in South Devon this year. You can join them for a Yoga, Oils & Nutrition Masterclass, a Yoga Brunch or a Laughter & Yoga Workshop, all events are taking place near Kingsbridge.
Exercise is a great way to relax and feel good about yourself and if you're raising money for charity as well, even better.
Brand new for 2019 The Male Trail is the first ever men-only event supporting Rowcroft. Taking place on the 16th March the 8 mile charity walk starts at Torquay Rugby Club and passes stunning views of Torbay and a number local pubs before finishing back at the start in time for the England vs Scotland 6 Nations match.
On the 19th May you can join in with the Exeter Marathon, the route begins at St James Park, the home of Exeter City Football Club, and takes you through the city centre before heading along the River Exe.
The 22nd June sees the WestPoint – Children's Hospice South West Rainbow Run take place at Westpoint Arena. You can walk, jog or run your way through 5k of colour explosions to raise money for Children's Hospice South West.
Charity Events
If you're looking to support some good courses whilst you're having fun in South Devon, there are a number of great events running across the regions where the money raised goes to a local charity.
Below we've listed some of the brilliant events which are taking place during 2019.
January to May
Taking place at The Flavel on the 15th and 16th February is a Charity Beer Festival run by the Dartmouth Rotary. The event will see a fantastic selection of beers, ciders and a wine and prosecco bar accompanied by great music and local food. Money raised will be split between The Flavel and Rowcroft Hospice.
Paignton Zoo is holding a series of fundraising events in support of their vital animal conservation work. The first is Ape & Cake which is taking place on the 24th April where you can enjoy an exclusive opportunity to eat cake with the apes, quiz the keepers and enjoy a guided tour of the orangutan; gorilla and gibbon enclosures and a have delicious slice of cake.
From the 3rd to the 5th May Paignton turns in to a biker's paradise when the BMAD Motorbike Festival takes place. This charity festival, which raises money for local good courses, features live music, stunts, a beer tent, stalls and the stars of the show: thousands of motorbikes.
Held in the coastal town of Salcombe on the 5th May, Crabfest is a celebration of crab and all things seafood. The event includes crab picking tuition, demonstration kitchen, crab pot making, music, wine tasting and much more! Run by Rotary Club of Salcombe along with other local businesses the event raises money for local and national charities.
On the 10th May the Events and Stuff South West Charitable Trust Black Tie Gala Dinner will be taking place in Torquay. Enjoy a 3 course meal, entertainment from legendary 70's glam rock band Sweet, comedy from Gary Delaney, local top band Society Rocks and a draw and auction with amazing prizes. All proceeds from the event will go to Save the Children.
The second event at Paington Zoo is taking place on the 22nd May where you can enjoy Tea with the Tigers. This after hours event will give you the opportunity to learn all about the majestic Sumatran tigers and Asiatic lions. Watch them at feeding time, meet their keepers and enjoy a presentation. All of this plus tea and a delicious slice of cake!
June to July
From the 1st – 6th June Crediton Parish Church Flower Festival will transform the Grade I listed building with floral displays inspired by the title 'Colours of the Wind'. This 6 day festival is one of the main fundraising events for the upkeep of Crediton Parish Church.
The 16th annual Dartmouth Art & Craft Weekend in aid of Children's Hospice South West is taking place in Royal Avenue Gardens, Dartmouth, on the 29th and 30th June. Come along to this fun weekend where you can watch, talk to and buy from some great artists and craft workers.
On the edge of Dartmoor, Chagstock Music Festival is a 'not for profit' organisation supporting the Devon Air Ambulance Trust and Water Aid. This year's festival is taking place on the 19th and 20th July with headliners Fun Lovin' Criminals.
Honiton Charter Day celebrates the awarding of the Royal charter in 1257 and is a day for local charities and groups to raise funds and awareness of their good work. This year's celebrations take place on the 20th July.
The third of Paignton Zoo's fundraising events, Penguins & Prosecco, takes place at their sister site Living Coasts on the 24th July. You can enjoy a glass of prosecco on Penguin Beach where you will watch the playful penguins get fed. Afterwards enjoy a presentation and some more prosecco in their Terrace Café.
Paignton Harbour Festival Day is a one day free family fun day at Paignton's bustling harbour in aid of the Fishermans Mission. The event, taking place on the 27th July, includes a live demo stage with fantastic local chefs, music from live bands, children's circus skills workshop, a variety food and craft stalls, a visit from the RNLI lifeboat and much much more.
August to December
Laufest takes place in Wembury on the outskirts of Plymouth from the 2nd to the 4th August. This charity event, with great music, amazing food and camping, was set up to celebrate the life of Laura Plane as well as raise funds for breast cancer charity CoppaFeel!
On the 16th, 17th and 18th August Woofstock UK, a festival by dogs for dogs, is held just outside the harbour town of Dartmouth. With dog show displays and demonstrations, shopping and live music this doggy festival also raises money for local and international animal charities.
Abbfest food, beer & music festival is returning for its 15th year on the outskirts of Newton Abbot. This three day festival which runs from the 20th to the 22nd September has raised over £220,000 for local charities and causes. At the event you can find over 200 ales, 30 ciders, a wine, pimms and prosecco bar as well as over 50 local crafters and food producers.
Get into the festive spirit at Crediton Parish Church Christmas Tree Festival. From the 5th to the 8th of December this fundraising event for the Grade1 listed building is sure to get you in the Christmas mood.
Find out about all events taking place in South Devon here. And keep up-to-date with all things South Devon by follwing us on Twitter here, we'll be tweeting about new blog posts, competitions and upcoming events.
Other Posts You Might Like
Related
0 Comments