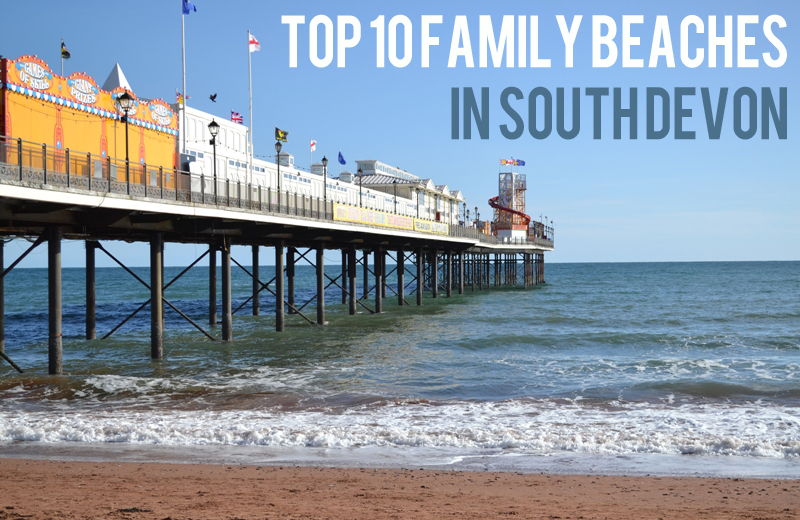 South Devon is home to a plethora of stunning beaches a lot of which have fantastic facilities perfect for a family trip. Finding a family friendly beach in South Devon isn't too difficult but we've decided to put together our top ten to make it that little bit easier. If it's amusements nearby to keep the little ones entertained or safe shallow waters, we'll have a beach ideal for you. Read on to find out our top ten family beaches in South Devon.
Dawlish Warren is a beautiful coastal resort in the Teignbridge district of South Devon home to the fabulous Dawlish Warren Beach. A one and a half mile stretch of sandy expanse, this Blue Flag beach is perfect for families due to its clear waters and nearby family amusements. The beach boasts daily RNLI lifeguard services during July and August meaning families can enjoy the sea safely. For a full day of fun, you can also visit the Dawlish Warren Nature & Wildlife Reserve too. To find out more about Dawlish Warren Beach, please click here.
Goodrington Sands can be found in the popular town of Paignton on the English Riviera. The beach provides ample space for families to set up for the day as well as having a grassed area nearby with crazy golf and swan boats. Next to the sandy stretch is Splashdown Quaywest, the UK's largest outdoor waterpark, meaning the children (and big kids!) can also enjoy flumes and rides as well. Discover further information about Goodrington Sands here.
Widely known for its fantastic Victorian pier, Teignmouth Town Beach is the perfect spot for a traditional seaside trip. Not only will little ones love the arcade games on the pier, but close by there is a play park, skate park, green and more if the family get fed up of playing on the sand. Deckchairs are available for hire and an RNLI lifeguard service runs from Whitsun to the first week of September. More details about Teignmouth Town Beach are available here.
Preston Sands is located in Paignton and is extremely popular amongst families due to its great facilities and fantastic green. Preston Green runs along the length of the beach behind the beach huts and is a great space for games as well as relaxing. A kiosk serving refreshments means little ones can enjoy an ice cream and there are toilets at both ends. To one end you'll also find a restaurant/café - ideal for a cooling drink after a long day in the sunshine. Please click here if you wish to learn more about Preston Sands.
Situated in the South Hams district of South Devon and within the South Devon Area of Outstanding Natural Beauty, Bigbury On Sea Beach is great if you're looking to take the children out for a whole day. Wonderful facilities including toilets with baby changing, a beach shop, café nearby and more means you'll have all you need during your visit. You can even walk across to Burgh Island at low tide or hop on the sea tractor if the tide is high, a great addition to a beach day out! Find out more about Bigbury On Sea Beach here.
Paignton Sands lays on either side of the famous Paignton Pier with fantastic facilities for families. The sandy beach is great for building sandcastles and paddling and during the summer months there are often fairs on Paignton Green as well as other brilliant events. On Paignton Green also there's the Geoplay Park compete with climbing frames, swings and even a zip line! The beach's close proximity to the town means it's easy to find somewhere for lunch or pick up a beach essential if you've forgotten something! Learn more about Paignton Sands by clicking here.
Backed by red sandstone cliffs, Dawlish Town Beach is easily accessible by train as the station is adjacent to the beach. Little ones will enjoy waving at passengers from the beach as the train passes by along the stunning Riviera Line. Deckchair hire is on offer and there are toilets and amusements nearby. The sand stretches all the way up to Red Rock at Dawlish Warren so there is lots of room to enjoy. Please click here for additional information about Dawlish Town Beach.
Broadsands Beach is a sandy bay that can be found in the town of Paignton, just out of the town centre on the way to Brixham. Toilets nearby to the beach offer a place to change and there is a green behind the beach huts if you're not a fan of sitting on sand. A kiosk offers refreshments and a beachside bistro is great for a drink or snack. The sloping sands make playing in the waters great for smaller children and if you fancy a walk, you can head over the cliff and down to Elberry Cove, a small pebble beach with beautiful scenery. Discover more about Broadsands Beach by clicking here.
The two mile long Exmouth Beach is the ideal place for families to enjoy golden sands, rockpools and more. A particular hub for watersports, the beach is a great place to try your hand at a new water-based activity such as kitesurfing or kayaking making it a good beach for older children. The promenade that runs alongside the beach provides a lovely walk and there are family favourites such as swing boats and crazy golf nearby. There's also a lifeguard between the red and yellow flags from May through to September. Find out more about Exmouth Beach here.
Torre Abbey Sands can be found in the gorgeous town of Torquay on the beautiful English Rivera. Being the main beach of Torquay, it is very popular with restaurants, bars and shops just a stone's throw from the beach. Across the road you'll come across Torre Abbey Meadows which is perfect for ball games and also hosts a fair during certain weeks in the summer time. If you would like to learn further information about Torre Abbey Sands, please click here.
And one for luck…
For a rockpooling adventure, Wembury Beach in the South Devon Area of Outstanding Natural Beauty near Plymouth is the place to go. A myriad of rockpools line the shore but there's still ample sand to sunbathe and play on. Toilets and a café are present as well as a car park nearby and the clear and shallow waters are lovely for a paddle. Please click here for additional details about Wembury Beach.
Keep up to date with new blog posts, competitions, events and more by signing up to our e-newsletter here! And don't forget to follow us on Instagram here to get your daily dose of the gorgeous South Devon.
Other Posts You Might Like
Related
0 Comments