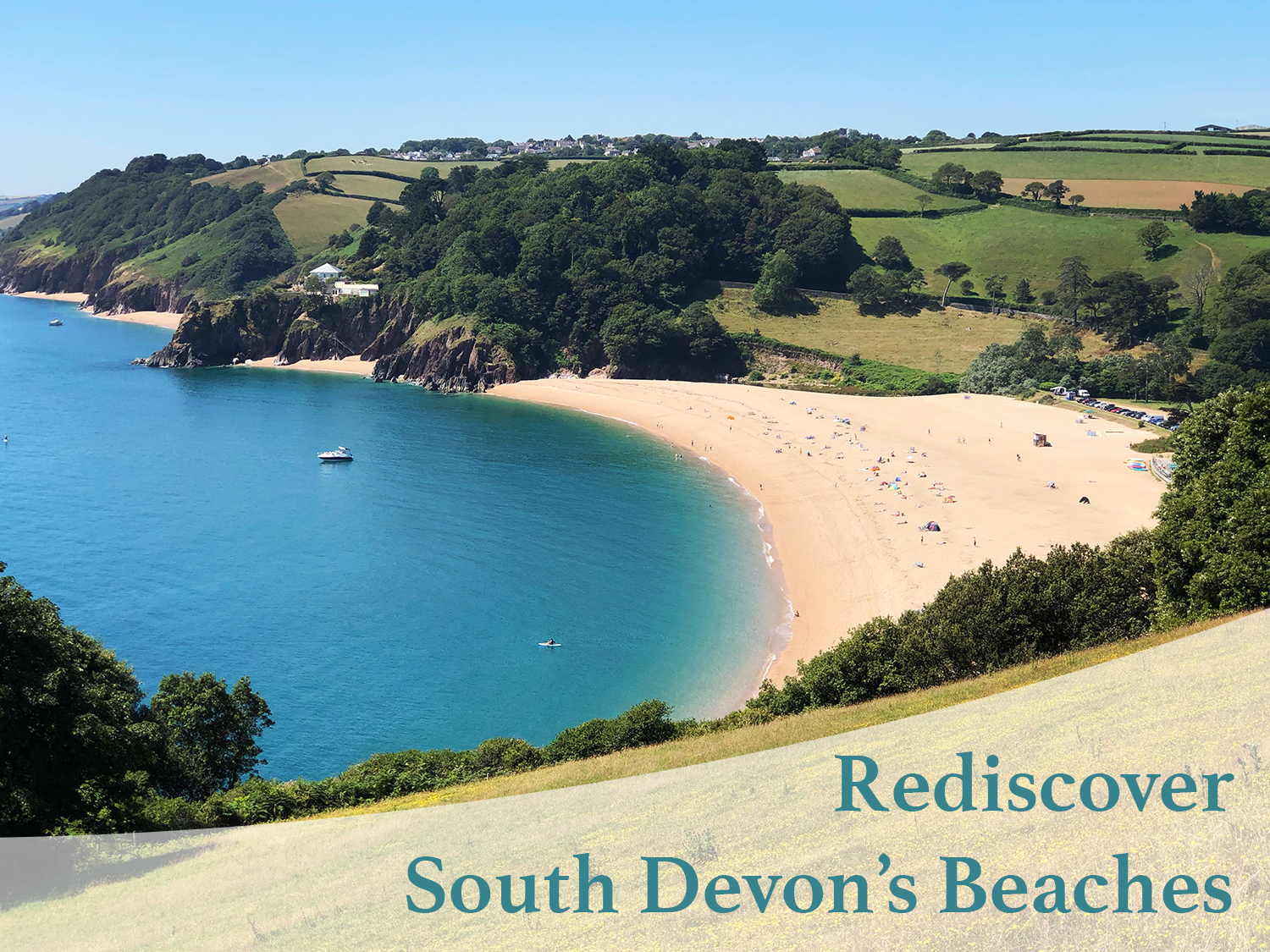 The South Devon coastline is home to some incredible beaches just waiting to be explored. Perhaps you've visited the region before and are looking for some new spots to discover, or you're planning a trip to this part of the country and need some inspiration of things to do by the sea, we've got some great ways to enjoy the seaside and rediscover all that South Devon's beaches have to offer.
Rediscover Relaxing Moments
Fall in love with the South Devon coast all over again as you explore the lesser known beaches and coves. Tucked away between many of the busier areas are a wide array of hidden spots, perfect for some quiet moments. Fishcombe Cove in Brixham is perfect for just this, a secluded shingle beach far from the crowds it's more popular among those mooring boats or yachts than your usual beachgoers. If you're staying in the South Hams, be sure to take a trip to Soar Mill Cove, a sandy inlet with craggy rocks protruding from the sea.
Rediscover Piers & Arcades
Going hand in hand with a trip to the seaside, the great British pier often evokes fond childhood memories. South Devon is lucky to boast two fantastic piers as well as other resorts which have arcades near or on the seafront. Paignton Pier on the English Riviera is home to a range of traditional amusements as well as a play area and places to get refreshments. Our other pier is The Grand Pier located in Teignmouth. Here you'll find classic seaside games for the whole family to enjoy. Find out more about both of these attractions in our blog post, Amusement Piers in South Devon here.
Rediscover Rockpools
One favourite pastime to enjoy at the beach is rockpooling and South Devon has a great selection of beaches to go searching for sea life. The little ones can enjoy a magical time looking for crabs and small creatures hiding between the rocks and it's a great learning experience too. Preston Sands in Paignton has a large area of rocks to one end of it which can be reached at low tide and Coryton Cove also has some brilliant rockpools to explore. We've got plenty more beaches in the region for rockpooling though, check out our pick of the best here.
Rediscover Tasty Treats
For most of us, a visit to the beach or a waterfront resort wouldn't be complete without one of our favourite seaside treats. Whether that's an ice-cream, fish and chips, crab sandwich, some local fudge or something else entirely, we all have a tasty refreshment that reminds us of being by the sea. Places such as Beesands and Seaton are great for grabbing a bite to eat or a drink to enjoy on the waters edge, and if it's fish and chips in particular that you enjoy, be sure to have a look at out Top 10 Fish & Chip Spots in South Devon here.
Rediscover Impressive Scenery
We could all agree that the majority of Devon's beaches are pretty beautiful to look at but if you're after something with that extra wow factor, we've certainly got some of those! From towering cliffs to countryside surroundings, South Devon is home to quite a few beaches with very impressive scenery. So if you're looking for a spot which is a little less commercial and just a bit more beautiful be sure to check out the likes of Beer Beach, Branscombe Beach and Blackpool Sands, to name a few. At Beer Beach you'll find stark white cliffs whilst at Branscombe Beach you can enjoy Jurassic Coast views and at Blackpool Sands you can relax on the glistening shingle expanse backed by evergreens.
Rediscover Watersports
For some, heading for the beach can only mean one thing, getting wet and wild in the sea! Most of us are not averse to dipping our toes in the water or enjoying a quick paddle but if you're wanting to have a go at something a little more adventurous, some kind of watersport is probably going to do the trick. Exmouth Beach is known for its windsurfing scene and has a good selection of places to hire equipment for the sport or others such as kayaking or paddleboarding. And although the south coast of Devon isn't as popular with surfers as the north, Bantham Beach is a good place to give surfing a go.
Rediscover Nature
Spending time in nature is one of the joys that we're probably all appreciating a lot more these days and going to the beach is just one place we can enjoy this. However, if a beach on its own isn't quite enough to satisfy your nature needs, why not head to one which is next to or part of a nature reserve as well. A couple in South Devon which are well worth a visit are Dawlish Warren Beach and Budleigh Salterton Beach. At Budleigh Salterton, to the eastern end rests the mouth of the River Otter and the Otter Estuary Nature Reserve so after a wander along the beach you can explore the salt marshes and reed beds. Dawlish Warren Beach also sits alongside Dawlish Warren Nature Reserve which boasts beautiful walks and plenty of wildlife to spot.
Keep up to date with all things South Devon by signing up to our e-newsletter here. We'll let you know about news from the region, competitions, our latest blog posts and plenty more!
Related
0 Comments