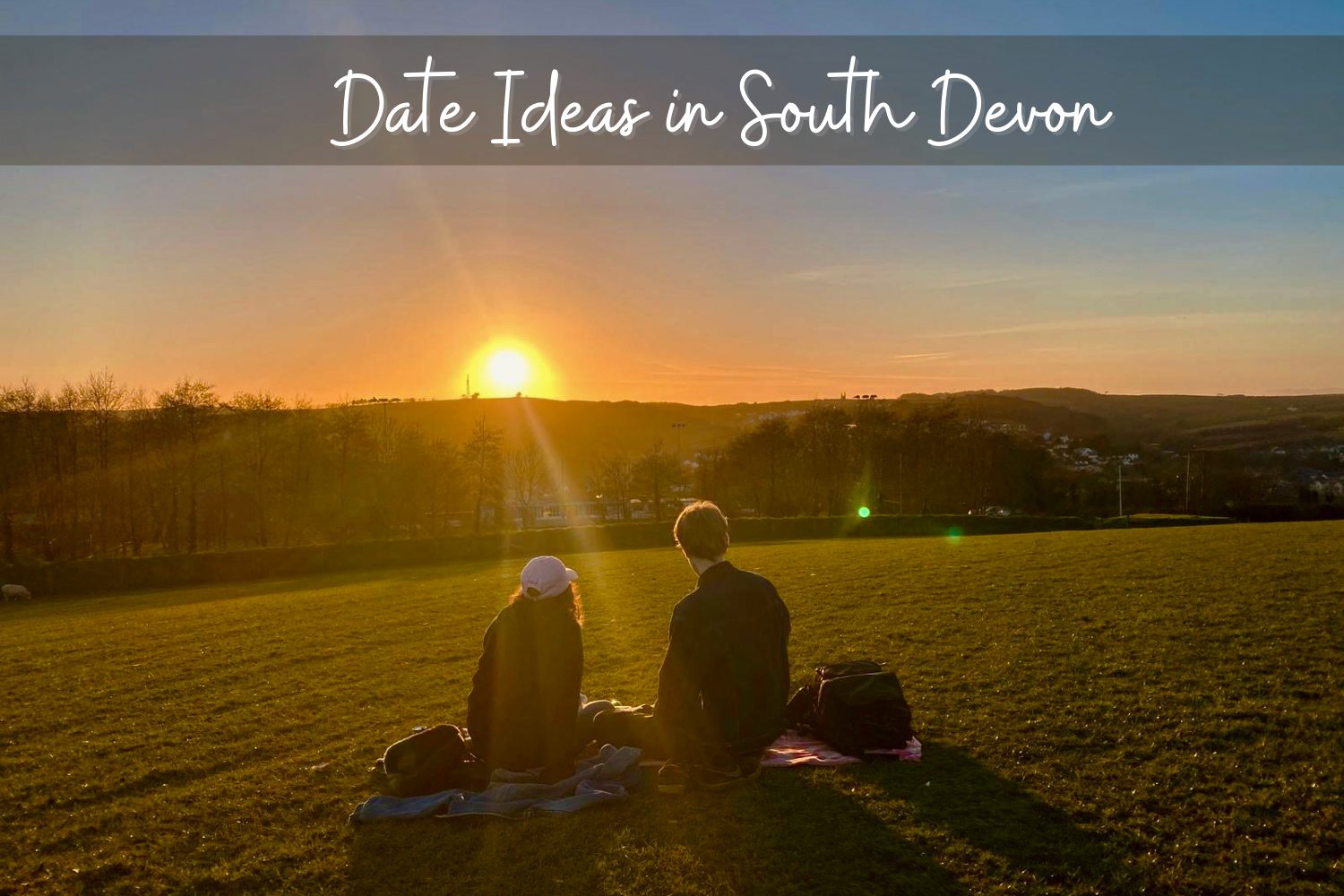 With Valentine's Day just around the corner, whether it's your first date or one hundredth, sometimes we all need a bit of extra inspiration for something to do. South Devon's varied landscape, numerous eateries and unusual attractions offer up plenty of great places to enjoy a date. From watersports for the adventurous couples, to fine dining to impress that new someone in your life, we've got some amazing date ideas in South Devon that are sure to guarantee both of you a fantastic time. Read on to find out some of our favourite date ideas in South Devon.
Romantic Staycation
Lots of people will be looking for a romantic staycation this Valentine's day, whether you'd like a city break, a countryside getaway or a stunning sea-side escape, South Devon will not disappoint. Dittisham Hideaway offers beautiful secluded treehouses and shepherd huts with views of Dartmoor's rolling hills. The ambience is truly romantic with only the sound of the stream and the birds to keep you company.
Burgh Island Hotel is another incredibly stunning location for a Valentines break. Situated on it's on tidal island and surrounded by golden beaches, Burgh Island will provide you with an unforgettable experience, leaving you feeling reconnected to your partner.
City-wise, both Plymouth and Exeter are great places to take a date as they both have so much to offer. Just a short walk away from the High Street and train stations, the Townhouse Exeter is a quaint B&B in a quiet corner of Exeter city centre. Full of history, shopping, attractions and places to get food and drink, your trip to Exeter will surely not disappoint!
Get Active
If you like to stay active in your free time, why not do the same on a date? The region is home to plenty of awesome opportunities to enjoy an energetic date.
Why not go kayaking or stand up paddleboarding? There are lots of watersports providers in South Devon where you can hire equipment or even have a tour. Sea Kayak Devon provides day trips and guided kayak trips around the stunning South Devon coastline near Dartmouth. 
For a date with a difference, you and your plus one could head to the enchanting Haldon Forest and glide through the forest on a rented Segway!
It may seem a little dull to go for a walk on a date but the scenery on offer in South Devon means that walking is nothing of the sort. Head to the South West Coast Path for staggering coastal views and plenty of secluded and romantic spots to stop for a rest or if you prefer countryside surroundings with an added bonus of history, the Blackdown Hills AONB has lots of great walks that will lead you to ancient sites.
Watch a Sport
If getting active on a date isn't really your thing, why not watch other people instead! Attending a sporting fixture is a fun and relaxed date option if you both enjoy spectator sports.
You could take your special someone for a day at the races; bring out the competitive side of your date as you guess each winner! South Devon has two racecourses which offer up a great day out even if you've never before considered it! Exeter Racecourse holds racedays in the winter months and Newton Abbot Racecourse have their racedays in the summer months so there's a venue to enjoy this fantastic sport all year round.
If football is more up your alley, we're not short of places to watch football too. With Exeter City FC, Plymouth Argyle FC & Torquay United FC all within the region, there will be ample opportunities to watch a game whilst you're visiting.
Eat & Drink
When we think of a date, we typically think of going out to dinner, so eating and drinking had to be included in our date ideas in South Devon list, but at least in Devon there's more than just mediocre restaurants.
For luxury fine dining, Devon is home to some amazing restaurants, some holding Michelin stars and run by top chefs; Lympstone Manor in Exmouth is run by Michael Caines and serves up some wonderful tasting menus. South Devon is renowned for its fantastic, fresh seafood and local produce so whatever restaurant you head to for lunch or dinner, you're sure to be offered some delightful cuisine.
The region is also known for its wonderful selection of pubs and bars, perfect for a cosy date; think log fires, rustic beams and plenty of home-grown ales and ciders. The Pig & Whistle in Littlehempston is the perfect place to snuggle up with a pint and loved one on those cooler days. However, if you prefer a trendier place with a livelier atmosphere, Café Alf Fresco in Dartmouth is a fab place to grab a pint or two!
It's no secret that Devon does the best cream teas so why not enjoy one for a date? From a grand hotel such as Bovey Castle Hotel to a rural, countryside hideaway such as Boringdon Hall, you're bound to find that perfect romantic setting for a cream tea in South Devon.
If you're looking for something a little more low-key and inexpensive, South Devon is not short of fish and chip shops, why not visit your favourite sea-side town, pick up a portion of chips and sit on the beach whilst the sun goes down.
Sampling new tastes and flavours is a great date idea and what better place than a vineyard, brewery or distillery in South Devon? The area's beverage industry is continuously growing and lots of makers offering tours of their grounds and behind the scenes access to the production of the delicious drinks. Sharpham Vineyard & Cheese Dairy provide great tours of the vineyard as well as the opportunity to sample a range of their wonderful wines and cheese. If gin is your drink of choice, why not book a Gin Tasting Tour with Exeter Gin? You'll receive a complimentary G&T on arrival, plus the opportunity to taste their full range of delicious gins, whilst being shown how it's made!
Chill Out
Sometimes a date is an opportunity to just sit back and relax and South Devon has plenty of places to put your feet up.
If you really want to push the boat out, why not head for a spa day with your partner. South Devon spas come in all sizes with various treatments and facilities depending on your preference. Aspara Day Spa at The Royal York & Faulkner Hotel in Sidmouth has a hydrotherapy pool, steam cabin, sauna and more for you and your loved one to enjoy.
Getting outdoors on a date is a wonderful way to enjoy the stunning scenery that Devon has to offer. You could head to one of the many beaches for a romantic picnic, or perhaps go to Dartmoor at night for a magical evening of stargazing with that special someone. Or simply set up a blanket on top of a hill and watch the sun set with your significant other.
Visit an Attraction
From petting zoos to fascinating museums, attractions are a safe bet for a fun date and South Devon isn't short of any!
Paignton Zoo isn't just for kids; adults can enjoy a super fun day out with the chance to get up close and personal with some incredible animals from across the globe. Visiting a zoo makes a great date at any stage of a relationship but particularly the beginning as there's plenty to talk about and it's way more relaxed than a fancy dinner.
Learning about heritage and culture isn't for everyone, but if that's your thing, heading to a museum for some quality time could be for you. The region boasts lots of museums, pretty much in every town, but one of our recommendations for a date is the Teign Heritage Centre in Teignmouth. Here you can discover the area's history with plenty of interesting exhibits.
A ride on a steam train makes for a pretty special day out, so why not take your other half to South Devon Railway. The train passes through captivating countryside providing a great backdrop for an unusual date.
If you're an arty-couple, China Blue in Totnes are open late on Valentine's Day. Here you can spend some time with your loved one, painting pottery with a bottle of sparkling wine!
Go to an Event
South Devon hosts tons of events throughout the year so there's sure to be something to suit your taste and budget.
For music lovers, you could find a concert at one of the many theatres in the area, or if stand up is more suited, some hold hilarious comedy nights. The theatres in South Devon offer a variety of other shows too, from pantomimes to musicals; you're bound to find something you can both agree on!
The region's special scenery means that many large and small festivals take place here choosing South Devon as their backdrop. Folk, jazz, literary and classical are just a handful of types that are on offer; check out our festivals section here to find the perfect one for you.
Hopefully we've managed to arm you with some top date ideas in South Devon so you'll never be short of something to do with your loved one. Find out more about the region and keep up to date with events and new blog posts by following us on Twitter here.
Related
0 Comments