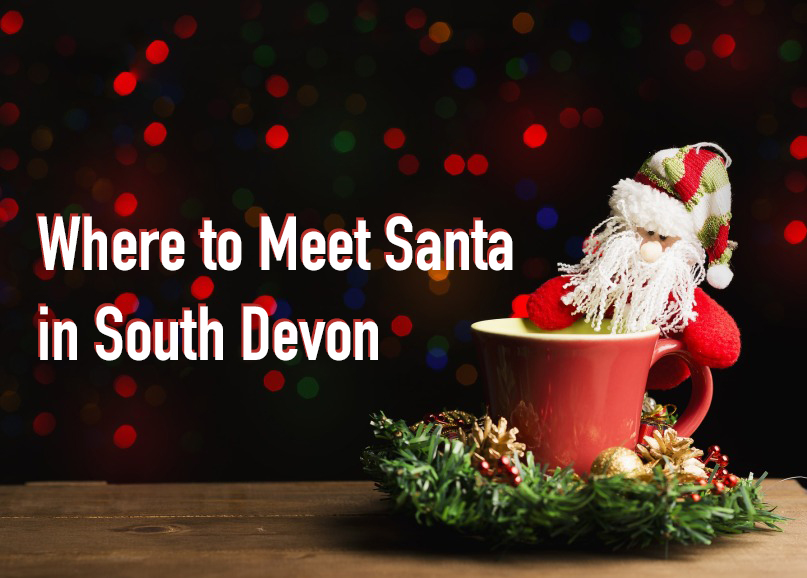 The festive season is just around the corner and in South Devon our local attractions and businesses are gearing up for their Christmas events. One of the most anticipated aspects of Christmas, especially for children (and the young at heart), is the opportunity to meet the jolly man in red, Father Christmas.
This year, South Devon offers a variety of enchanting experiences to meet Santa, from magical tram rides to festive boat trips. So, let's explore some of the top places to meet Father Christmas in South Devon.
Selected dates between 17th November - 24th December
Experience the magic of Christmas at Pennywell Farm, which will be transformed into a winter wonderland with twinkling lights and Christmas trees.
Your ticket includes entry to the famous nativity scene with real animals, a visit to Noah's Barn for Christmas treats and of course, a chance to meet Father Christmas in his cosy grotto, where he has a special gift for every child.
Be sure to book your tickets online in advance, as this event is highly popular and will sell out quickly.
Saturdays & Sundays between 18th November – 24th December
Get ready because Fleet Walk's Santa's Grotto has returned! Secure your booking today to experience their captivating, fully animated winter wonderland and have an enchanting encounter with Father Christmas. This wonderful initiative is run by Rotary to support local charities.
The family ticket covers admission for up to 4 children and 2 adults. With this ticket, you'll embark on a journey through the fully animated grotto, meet Santa in person, and each child, aged up to 12, will receive a beautifully wrapped gift. As an extra special touch, you'll also take home a souvenir photograph to commemorate the day. Don't miss out on this magical holiday experience!
Saturday 18th & Sunday 19th November
If you're planning to visit Santa's Grotto with your four-legged friend, you're in luck.
On the 19th and 20th of November, House of Marbles welcomes pets so every single member of the family can enjoy a festive day out! Capture the moment with a paw-some photo with Santa and let your furry family's joy shine brighter than Rudolph's nose.
Selected dates between 24th November - 23rd December
All aboard The Polar Express! Enjoy a magical journey to the North Pole on the South Devon Railway, inspired by the iconic Christmas film.
Ride The Polar Express along the River Dart, meet Santa, the train conductor, and the singing chefs. Before the ride, explore Christmas stalls and enjoy an exciting pre-show. Afterward, don't forget to visit Santa's workshop for even more festive fun.
24th November – 24th December
Meeting Santa at Plymouth's Christmas Winter Wonderland is an unforgettable experience that encapsulates the enchantment of the holiday season.
This charming, festive event provides families with a unique opportunity to create lasting memories. Children and their families can immerse themselves in a winter wonderland, brimming with twinkling lights, delightful decorations, and the warm, welcoming presence of Santa Claus himself.
The grotto is a place where wishes come to life, as youngsters have the chance to share their Christmas dreams with Santa, receive a special gift, and capture cherished moments through photographs.
Selected days between 25th November - 22nd December.
House of Marbles is hosting Father Christmas in their magical Santa's Grotto every Saturday and Sunday from the 26th of November in the lead up to Christmas, plus some additional days closer to the big day. Visitors will be delighted by a journey through a winter wonderland to meet Santa and his Elves, who will provide a gift and goody bag for each child.
Selected dates between 24th November – 24th December
Another Polar Express-themed adventure awaits at Seaton Tramway.
Enjoy hot chocolate and treats before boarding the specially decorated tram to meet Santa. Children will receive a special gift from Santa, and on the return journey, join in with some cheerful Christmas carols.
Saturdays & Sundays between 25th November – 3rd December
Visit Torre Abbey in Torquay for a festive journey through their beautiful gardens, where you'll encounter magical characters and have the chance to meet Mr & Mrs Clause and receive a special gift!
On your visit you will also be able to explore the Abbey and Gardens, visit their Christmas around the World exhibition and take in the festive atmosphere of Winterfest. This will include a Christmas market in the Spanish Barn and free Christmas crafts for children.
30th November - 24th December
From the 30th of November to Christmas Eve, you can visit Father Christmas at his festive lodge on Bedford Street in Exeter. From Princesshay Square simply head towards Southernhay and follow the charity trees and you'll reach Santa's winter workshop!
For just £10 per child, they'll receive a beautiful Christmas keepsake, and 10% of ticket sales will be donated to Princesshay's charity partner for the year, Home-Start Exeter, East Devon & Mid Devon.
Selected days between 2nd – 23rd December
Christmas at Crealy Adventure Park & Resort is a truly magical experience that ignites the holiday spirit in the heart of Devon.
The park, renowned for its family-friendly attractions, transforms into a festive wonderland, offering visitors a chance to revel in the joy of the season. From enchanting light displays and beautifully adorned Christmas trees to the opportunity to meet Santa in his grotto, Crealy's Christmas celebrations are designed to create unforgettable moments.
Selected days between 2nd December - 22nd December
Sail with Santa has been a beloved tradition at Stuart Line Cruises for over two decades and it's a truly unique way to welcome the festive season.
Cruise along the calm waters of the River Exe and meet Santa in his enchanting on-board Grotto. Children will receive a handpicked gift, and adults can savour mulled wine and locally baked mince pies. It's a treat for all!
This cruise is packed from start to finish with heaps for everyone to do! Watch whilst their balloon modeller creates a masterpiece for them to take home and prepare to roar with laughter at the traditional Punch and Judy show!
Selected days from 2nd December – 24th December
Prepare for an enchanting voyage into the depths of Kents Cavern as the beloved Santa in the Caves celebration makes its joyful return for another year of holiday merriment.
As part of Torbay's 'Bay of Lights' festivities, this family-friendly experience will illuminate the caves, transforming them into Devon's ultimate grotto.
This season, Santa in the Caves invites visitors to embark on an enthralling quest to discover the "true essence of Christmas." Led by festive actors, an interactive pantomime will escort you through the captivating caves, unveiling hidden wonders and delightful surprises along the way.
Christmas Grotto Experience at Bear Town, Cullompton
Selected days between 2nd – 24th December
Experience the magic of Christmas at Bear Town, an indoor role play venue for children aged 12 months – 7 years old.
When you arrive, you'll be handed your exclusive Christmas buzzer, a unique gadget that Father Christmas will activate when it's time to invite you into his splendid grotto. This means you can make the most of our festive town without having to wait in line.
When your buzzer lights up, you'll set off on an enchanting adventure through our winter woodland. Guided by a cheerful elf, every child will have the opportunity to craft their own magical bag of reindeer food. Afterward, it's time to meet Father Christmas in his magnificent grotto, where each child will receive a beautifully wrapped gift.
Breakfast with Santa, The Box, Plymouth
Selected days between 2nd – 22nd December
Immerse yourself in the festive season and savour a delightful breakfast with Santa at The Box Kitchen & Bar.
Join them on Saturdays and Sundays from December 2nd to 17th, as well as on Thursday, December 21st and Friday, December 22nd. This event has been a resounding success in past years, so make sure to secure your booking without delay!
'Breakfast with Santa' tickets come with your choice of a sausage/vegan sausage bap, bacon bap, or fluffy pancakes, accompanied by tea, coffee or hot chocolate. And, of course, all children's tickets include a special gift to make the experience even more memorable.
Santa's Grotto at Dart's Farm, Topsham
Selected days between the 2nd December – 17th December
If you're looking to visit the jolly red man in East Devon, pay a visit to Darts Farm in Topsham for a delightful Santa's Grotto experience.
Enjoy a magical journey through their festive displays and meet Father Christmas, who will have a special gift for the little ones.
3rd, 10th & 17th December
Embrace the Christmas magic at Boringdon Hall Hotel & Spa and be greeted by a captivating dance performance.
Indulge in a divine Festive Afternoon Tea, unleash your creativity with Christmas activities like gingerbread decorating, and of course, meet Santa Claus in person to receive a special Christmas gift. It's a joyous day out that promises fun and wonder for all ages.
Selected days between 9th – 23rd December
Santa Claus is on his way to Dartmoor Zoo!
Come and be a part of a delightful morning filled with Festive Banquets, Christmas-themed Crafts, exclusive access to explore the Zoo before it opens to the public, and the opportunity to meet the beloved, jolly man himself and receive a special gift.
Selected Days between 9th – 19th December
The star of the show, Santa himself, will be making a festive appearance at Greendale Farm Shop this Christmas!
Your little ones will have the special opportunity to visit Santa in his charming grotto and receive a delightful gift to take home. This is their chance to share their Christmas wishes with Father Christmas and capture the moment with memorable photos.
Greendale Farm Shop suggest arriving 15 minutes in advance to fully enjoy our Christmas-themed activities, including colouring, sing-alongs, and making glittering wishes. This will ensure that everyone is all set to take their turn and make the most of the experience.
Meet Occombe Farmer Christmas at Occombe Farm, Paignton
16th December – 22nd December
An enchanting after-hours holiday adventure designed especially for kids. Step into the world of Occombe Farmer Christmas in his cosy farm workshop, where Mrs. Christmas will regale you with festive tales and our friendly Occombe elves will guide you through creative crafts.
To add to the magic, each child will receive a special gift from Occombe Farmer Christmas as a delightful surprise. And, of course, there will be ample time for festive play and a visit to our animal encounters barn, completing this enchanting experience.
16th & 17th December
This Christmas, make your way to Shaldon Wildlife Trust and enjoy the exciting opportunity to meet Santa while discovering their wonderful array of animals.
Santa will be in his magical grotto on the 16th and 17th of December. Each visit to the grotto includes admission to the zoo, a personal visit with Santa, a special gift, and a host of festive activities to enjoy throughout the zoo.
18th – 24th December
Travel back in time to the Yuletide season and encounter Earth Santa, a unique medieval interpretation of Father Christmas.
Nestled within the picturesque landscape of Wildwood Devon, against the backdrop of authentic Saxon dwellings, Wildwood Devon's Saxon Village forms the perfect setting for an unforgettable holiday escapade. Set forth on a wondrous voyage to the captivating Saxon era, where you'll relish the holiday enchantment as if you've journeyed through time itself.
From December 18th to 24th, pay a visit to Santa and his Earth Elves in his Saxon grotto. This year, there's also a chance to visit the evening grotto on December 22nd, adding an extra layer of magic to your holiday experience.
23rd December
Embark on an enchanting family Christmas at The Bedford Hotel, nestled in the heart of Tavistock, dressed in its festive best.
For the little ones, there's the joy of gingerbread decorating and a special surprise from Santa Claus, all while the grown-ups savour a decadent Devon Cream Tea.
If you want to stay updated on all the Christmas events in South Devon, make sure to view our Christmas events page here. You can also follow us on Facebook, Instagram and X (Twitter) where we'll keep you informed about what's happening and provide you with roundups of the best festive events in the region. It's going to be a joyous holiday season in South Devon!
Related
0 Comments