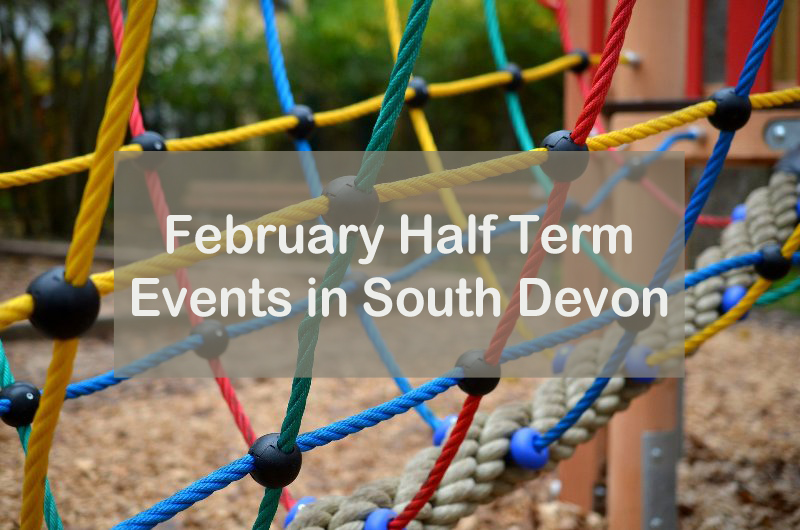 With many of the attractions re-opening after the winter break and special events being held at others, February Half Term in South Devon is full of fun and entertaining things for everyone to get involved in.
Take a look below at some of South Devon's half term events but for further ideas and inspirations of events taking place in the region, and to search by date or location take a look at our What's On page here.
Taking place in the Crealy Arena with four shows a day to choose from, Super Slam Wrestling features professional wrestlers direct from the USA and the shows are included in your ticket price. Please click here if you would like further information about Super Slam Wrestling.
On the Saturday's either end of half term, Thelma Hulbert Gallery will be running two free family friendly drop in workshops as part of their Culture and Climate 2020 programme. Come along and enjoy making nature-based artworks. Find out more about Half Term Family Workshop here.
With over 30 obstacles to climb, slip, tumble and swing over and through, The Bear Trail's Mighty Mudder is here for all bears and cubs to tackle. And everyone who completes the course will receive a #MightyMudder certificate. Discover more about Mighty Mudder here.
Enjoy 9 days for the price of 1 at Pennywell Farm this half term. Meet all the spring babies, visit the miniature ponies and donkeys or watch the ferrets race with your free return ticket valid until the 23rd. Additional details about February Half Term at Pennywell Farm is available here.
Enjoy the glorious display of early spring line-side flowers at the South Devon Railway during half term on diesel rail-car No.W55000, affectionately known as the 'Bubblecar'. There will be a limited service each day between Buckfastleigh and Staverton only and a static steam locomotive will be at Buckfastleigh where the footplate will be accessible for visitors to inspect. Find out more about February Half Term at South Devon Railway here.
Throughout half term Torquay's Dinosaur World will be holding a fantastic February Fossil Festival. Brave explorers can discover amazing fossils, sit on deadly dinosaurs and take a fun family Fossil Festival Quiz. Every visitor gets free unlimited re-entry for 3 months with a Paleo Pass. Further details about February Fossil Festival are available here.
Every day during the holidays Woodlands Family Theme Park are celebrating superheroes and princesses. All children over 92cms who come dressed as a superhero or princess will get a free return ticket. There will also be live entertainment on the 18th, 19th & 20th. Discover more about Superhero & Princess Week here.
Totnes is celebrating the second Fiver Fest for a fortnight which includes half term. During Totnes Fiver Fest the independent retailers and cafés throughout the town will be offering a wide range of special treats for just £5. Find out more about Totnes Fiver Fest here.
Total Pop Party is the perfect party for your little ones. Join in and celebrate modern pop legends like Little Mix, Ariana Grande, P!NK, Jonas Brothers, The Spice Girls, Justin Bieber & so many more. Total Pop Party is an excellent introduction for kids who are too young to go to the big concerts but don't want to miss out. Additional information about Total Pop Party can be found here.
On a guided bird watching cruise see some of the thousands of birds that migrate to the River Exe during the winter months. The cruises have full commentary throughout from ornithologists Ian Waite, Dave Smallshire and Derek Carter. Please click here to find out more about Guided Birdwatching Cruises.
The 21st of February is Devon National Day at Exeter Racecourse. Treat the family to a day out at the races this half term and enjoy watching all the action. Learn more about Devon National Day and other Exeter Racecourse Racedays by clicking here.
Another amazing sporting feature this February Half Term in South Devon sees the Exeter Chiefs take on Northampton at Sandy Park, Exeter. Please click here for additional information about Exeter Chiefs Rugby Fixture.
Keep an eye on everything that's going on in South Devon by following us on Twitter here. We'll let you know about what events are coming up, our latest blog posts, competitions and more!
Other Posts You Might Like
Related
0 Comments