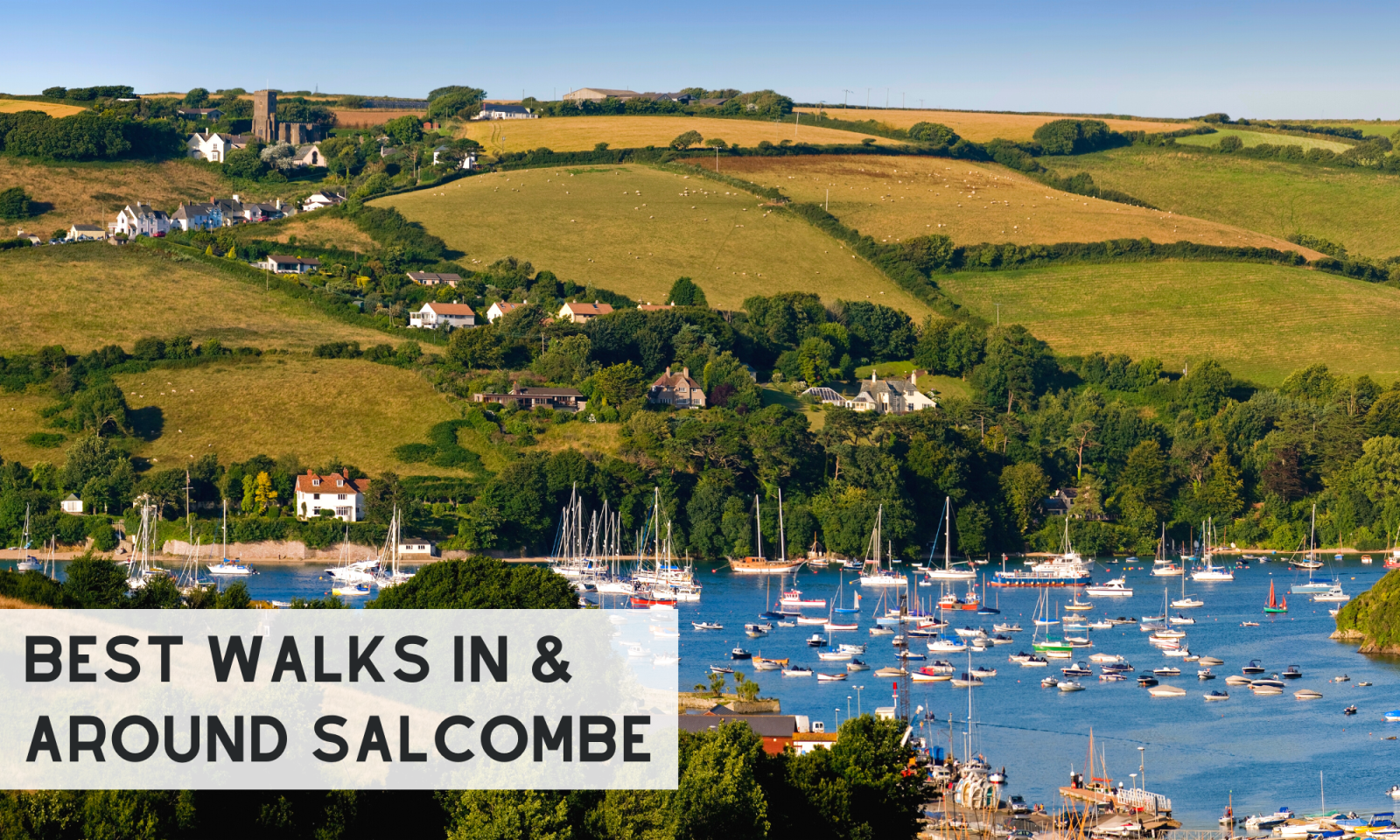 With its breathtaking seascapes, idyllic estuaries, and charming fishing villages, Salcombe offers some of the most stunning walking opportunities in the country. Whether you're a seasoned hiker or a leisurely stroller, the best walks around Salcombe cater to all levels of fitness and enthusiasm.
In this blog post, we'll introduce you to some of the most captivating walks that promise to leave you spellbound by the natural beauty of this picturesque region.
Difficulty: Moderate
Length: 3.3 miles
Embark on a coastal journey, beginning at the Salcombe Estuary and venturing toward the expansive open sea. You'll be greeted by invigorating landscapes, making it a delightful way to let the breeze fill your sails.
This walking route is especially pet-friendly, as it leads past beaches and a welcoming pub where your furry companions are encouraged to join. You can opt to complete the entire walk or simply a portion of it, allowing you to explore the serene shores of East Portlemouth, the tranquil Mill Bay, and the iconic Rickham Sand, reminiscent of Enid Blyton's Famous Five adventures.
Difficulty: Challenging
Length: 7.5 miles
This walk explores the mouth of Salcombe's estuary and the area around and inland of Bolt Head, one of South Devon's most prominent headlands.
Ravens and buzzards circle the dramatic craggy cliffs here above an estuary that is a haven for wildlife but a menace to shipping. Keep your eyes peeled for dolphins, seals and basking sharks. In spring the hedges in the narrow lanes are alight with wildflowers such as primroses and violets, and the woods are carpeted with bluebells and wild garlic. Look out for early purple orchids too, and pink-headed thrift around the cliffs. It is a good place for birdwatching in the autumn and is the only place in Devon where (sometimes!) an American migrant bird, such as a Blackpoll Warbler, can be spotted.
This is a dog friendly walk. Use this walk (or part of it) to visit the hidden beach at Soar Mill Cove, which is dog friendly.
Snapes Point
Difficulty: Easy
Length: Approx. 1 mile
For a shorter and more family-friendly stroll, consider the Snapes Point walk beginning at Snapes Point National Trust Car Park. This route provides a pleasant and relatively easy walk through countryside and alongside Batson Creek.
Snapes Point is a haven for wildlife and offers fantastic views of the Salcombe estuary. This walk is perfect for families with young children or anyone looking for a gentle introduction to the natural beauty of the region, however due to steps, it's not suitable for wheelchairs.
Hope Cove to Salcombe
Difficulty: Challenging
Length: 8.5 miles
One of the most beloved Salcombe walks, this challenging trail unveils a genuine taste of South Devon's paradise. Commencing in the charming fishing village of Hope Cove, you'll venture onto the South West Coast Path and eventually reach Salcombe town after covering a few well-trodden miles. In Salcombe, a plethora of activities awaits, from perusing boutique shops and galleries to savouring delectable Salcombe ice cream – the perfect post-walk indulgence!
Keep in mind that this is a linear route, so you have a few options for the return trip. You can either prepare for the return hike, arrange to park one car at the starting point and one at the finish, or opt for transportation back to Hope Cove. Taxis and buses frequently navigate this route, offering flexibility and convenience for your return journey.
Hope Cove to Bolberry Down
Difficulty: Moderate
Length: 4.5 miles
A moderate walk that winds from the thatched village of Outer Hope, past the sandy beach at Hope Cove (whose deadly rock fringes have wrecked many a ship!) and on around the high headland of Bolt Tail, where the plunging cliffs once formed the seaward defences of a prehistoric promontory fort.
This walk is best suited for those who would like to embark on a journey through towering cliffs, boundless coastal vistas, tales of old shipwrecks, and the enchanting Devon lanes winding their way between lush hedgerows. Your adventure begins and ends in the picturesque and snug fishing village of Hope Cove.
Salcombe to Malborough
Difficulty: Easy
Length: 1.5 miles
The Malborough to Salcombe walk is an excellent choice for those seeking a leisurely stroll into the heart of Salcombe. What's even better is that you can skip the hassle of finding parking in central Salcombe, a relief, especially during the bustling summer season.
Starting your journey from the heart of Malborough village, you'll discover the cycle path running alongside the Village Play Park and Village Hall. This well-defined route offers a direct course leading to the upper reaches of Salcombe. Once there, safely cross the bustling main road – be careful as traffic can be heavy. Continue your descent down the steep hill, heading toward Island Street.
Alternatively, you have the option at this juncture to catch the bus to the town centre. If you have concerns about tackling the uphill return journey, or if little legs are feeling weary, you can also take the bus all the way back to Malborough or as far as Kingsbridge, offering the utmost in convenience for your return trip.
Salcombe and its surroundings are a walker's paradise, with an array of trails catering to various abilities and interests. Whether you're seeking breathtaking coastal views, a taste of history, or a peaceful escape into nature, these walks have it all.
So, lace up your hiking boots, pack a picnic, and get ready to explore the stunning landscapes of this coastal gem! The next time you're in South Devon, make sure to take the time to enjoy these captivating walks and experience the magic of Salcombe on foot.
If you do decide to take on one of these invigorating walks, share your experience with us by tagging us in any photos you publish on Facebook, Instagram and X (Twitter) - we may even repost it on our page! Stay up to date with Visit South Devon by signing up to our e-newsletter here.
Related
0 Comments