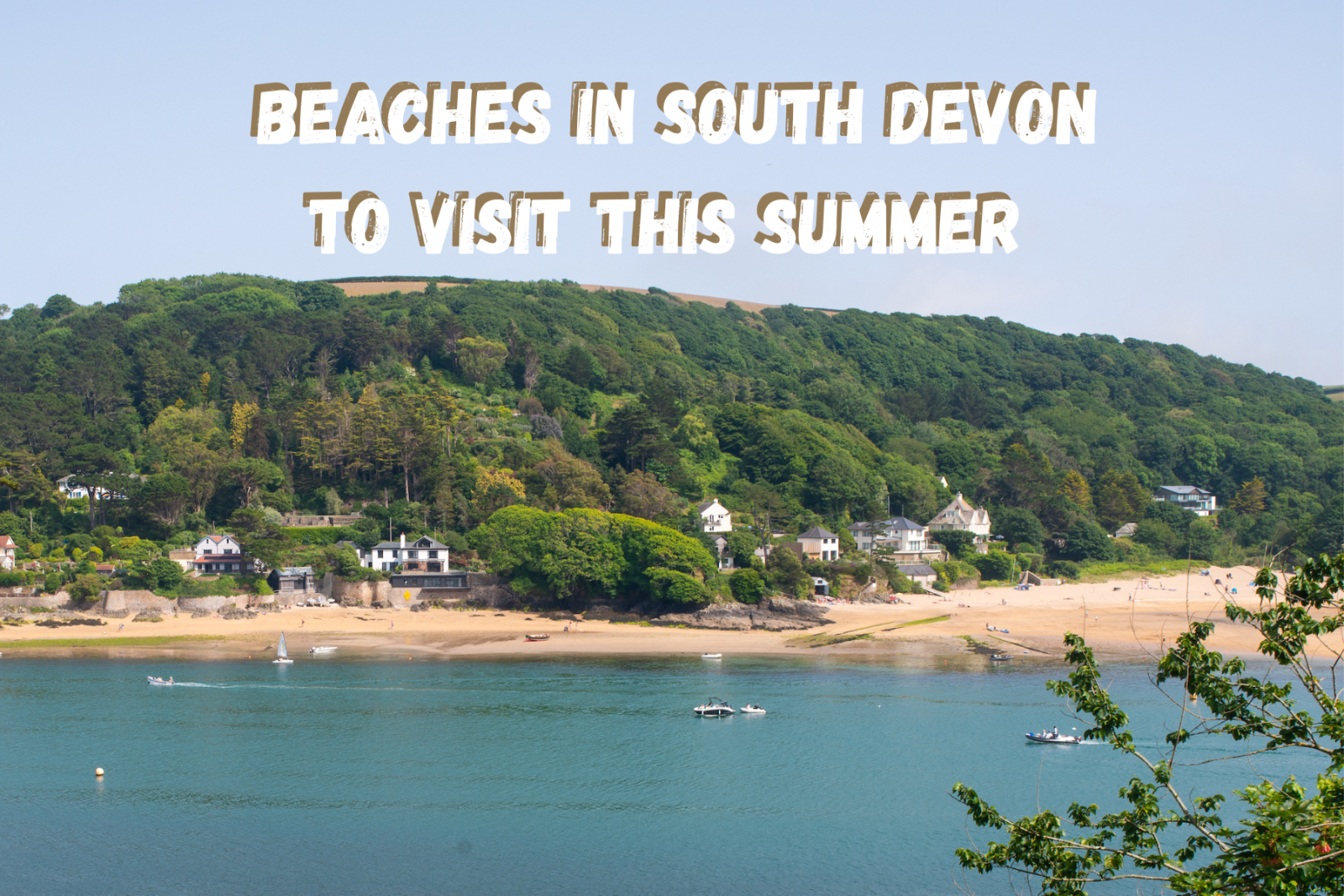 South Devon boasts some of the most beautiful beaches in the world (I promise we aren't being biased!). We have many soft, sandy shores lapped by glistening, clear, blue waters with plenty of marine life and wildlife to be admired! If you fancy the excitement and atmosphere of a holiday abroad without having to fly, take a visit to one of these beautiful beaches!
Located just a short distance from Dartmouth, Blackpool Sands is a stunning, Blue Flag Award-winning beach backed by beautiful green countryside. The water at Blackpool Sands is regularly tested by the Environmental Agency so the sea is always pristine. The beach is very popular with families during the summer and is a great place to visit if you enjoy or want to try out watersports. It's secluded and warm so it's the perfect place to experience the Mediterranean climate without actually having to go there!
Babbacombe Beach is truly picture perfect. It's a haven of tranquillity, tucked away on the English Riviera coastline with amazing scenery of the unspoilt coastline. The calm, deep blue waters and tall red cliffs seclude this beach, making it a great place to escape the stresses of everyday life. Located to the north of Torquay, the beach sits beneath Babbacombe Downs which is the highest cliff top promenade in England. This shingle beach also contains a breakwater for fishing and rock pools which children love to explore and is known to have ideal conditions for snorkelling or scuba diving!
Located opposite Salcombe and accessible via the Salcombe Ferry or the South West Coast Path, Mill Bay is a sheltered, sandy beach, popular with families due to its safe and clean bathing conditions. It's in the South Devon Area of Outstanding Natural Beauty and owned by the National Trust so it's well maintained and looked after. The waters here are a gorgeous turquoise and the sand is beautifully golden, you'll truly feel like you've been transported abroad!
Overlooked by ancient, red cliffs, surrounded by blue water, and lined with colourful beach houses, Jacob's Ladder Beach will make you feel like you've stepped directly into a postcard! It's both a shingle and a sandy beach, so you're getting the best of both worlds here if you like the idea of sand, but don't enjoy getting it between your toes! The beach gets its name from the historic, white, wooden steps that lead from Connaught Gardens. The area is located within the UNESCO Jurassic Coastline World Heritage Site, so not only is it incredibly beautiful, its steeped in history too!
Bantham Beach was previously voted one of the best beaches in Europe by Lonely Planet and it's clear to see why. Set at the mouth of the River Avon, Bantham is a large sandy beach with gorgeous golden sand dunes and backed by incredible countryside landscape. As Bantham is privately owned and the environment around the beach is protected, you can be sure that the area is well cared for and incredibly clean; it's won various awards and the sea is quite shallow so it's perfect for families. Situated in the South Devon Area of Outstanding Natural Beauty, from Bantham you'll be able to see Bigbury Bay and Burgh Island, home to the luxurious Burgh Island Hotel.
Teignmouth Back Beach is located on the estuary side of Teignmouth. The beach is covered with soft sand and lined with many colourful, charming fishing boats and beach houses. The views of Shaldon and Dartmoor are absolutely spectacular and the sun sets magnificently over the River Teign in the evening, lighting the water up with beautiful shades of yellow and pink. The beach is fairly sheltered and tends to have less wind in comparison to Teignmouth's main beach so it's the perfect place to spend a summers evening.
Close to Paignton, just around the corner from Broadsands Beach is Elberry Cove, a small pebbly inlet with beautiful clear, blue water. This beach can only be accessed by foot and is tucked away from the hustle and bustle of the main beaches in Paignton so you can kick back and relax without being disturbed. This beach featured in one of Agatha Christie's novels and was one of her favourite bathing spots – so you know it's a fabulous beach!
Set in the beautiful, quaint fishing village of Beer, Beer Beach is a lovely beach surrounded by striking, white limestone cliffs and can often be found lined with vivid fishing boats. The beach is situated on the Jurassic Coastline and the South West Coast Path, and it's a natural suntrap, sheltered from the wind, meaning the water is often warmer than other parts of the UK.
Located on the stunning South Devon Heritage Coast, Slapton Sands and Torcross Beach are perhaps one of the most picturesque locations in the UK. Stretching a huge 3-miles, on one side you have the beautiful pebble beach with stunning turquoise water, and on the other side of the road is Slapton Ley, the largest natural lake in the South West. People flock from all over England (and the world!) to visit this beach and it's clear to see why, there's truly nowhere else in the UK like this. Thanks to its Mediterranean-style climate, the beach is perfect for water sports such as surfing, sailing and paddle boarding, or for simply kicking back and admiring the scenery. You may even spot a seal or two here!
At the mouth of the River Dart is Sugary Cove, a remote, quiet beach overlooked by Dartmouth Castle. The area is backed by cliffs, rocks, and ancient trees with a small grassy area with benches perfect for a picnic. The beach is a mixture of sand and shingle with calm, clear waters. It's hidden by woodland and can be easily missed, it's a steep, downhill walk but as you can see from the image above, it's completely worth it! We should note that during high-tide this beach completely disappears, so if you're thinking of visiting, it's worth planning around this.
There are plenty of other amazing beaches in South Devon, you can view them all here. We love seeing your beach photos, so if you visit any of the above, be sure to tag us on Instagram using @VisitSouthDevon or #VisitSouthDevon for a chance to be reposted on our page!
Related
0 Comments