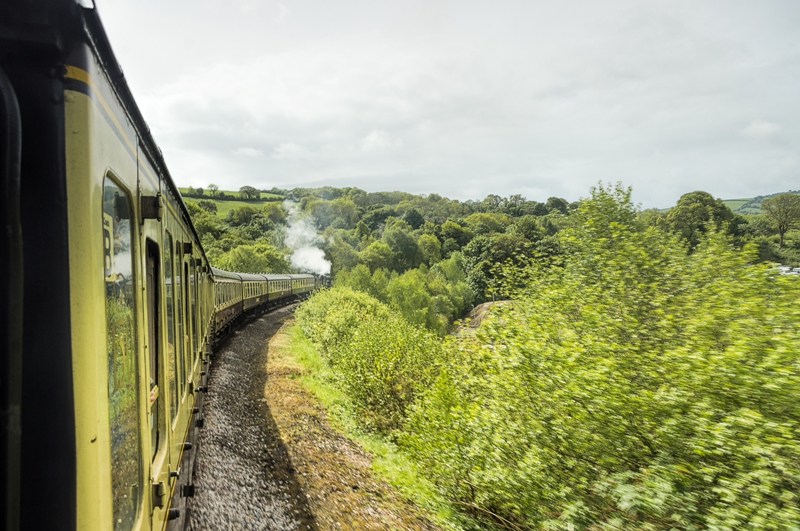 Climb aboard a historical steam train, hitch a ride in a horse and carriage, jump on a charming tram or walk alongside a historic waterway, there's lots of different ways to travel around in South Devon and learn about transport from bygone eras. Whether you're looking for a way to get around the region, have an interest in certain types of historical transport, or just enjoy gazing at pretty scenes that hold history within them, each of our transport themed places to visit in South Devon have their own unique story to tell. Read on to find out historical ways to travel around the region, heritage transport and places you can visit to learn more about the vehicles and vessels of the past.
Catch a Ride
Running from Buckfastleigh to Totnes, the South Devon Railway takes visitors on a magical journey through the South Devon countryside and alongside the River Dart. The Great Western Railway branch line was originally opened in 1872 and was used mainly for the transportation of goods but after never turning a profit it closed to passengers in 1958 with the goods services ending in 1962. By 1969 however, the line was back up and running as a tourist line although in 1971 the service from Buckfastleigh to Ashburton was sadly lost due to the widening of the A38. Nowadays passengers can hop aboard the South Devon Railway and experience the beautiful scenery in all its glory. Find out more about the South Devon Railway here.
Passing through the spectacular Axe Valley between Seaton, Colyford and Colyton in East Devon, Seaton Tramway provides the opportunity for visitors to ride on a heritage trams. The owner of Lancaster Electrical Company in North London, Claude Lane, had always had a passion for trams and with the help of the factory managed to complete one in 1949. After running it at fetes and other locations he finally found a permanent site for the tram at Eastbourne in 1953. However, upon hearing that British Railways were to close the Seaton to Seaton Junction line, Lane was able to negotiate a sale of the Seaton to Colyton section and brought the tram down to its new home. There is much to see as you journey along the line, wildlife in abundance, breath-taking views and the Axe Estuary. Discover further information about Seaton Tramway here.
Discover South Devon in style and hire a Morgan sports car with Berrybrook Motors. Often considered the quintessential British sports car, Morgan sports cars are the perfect way to get behind the wheel and explore the region at your own leisure whilst travelling a little differently. Berrybrook Motors offer a range of hire options for customers whether you're looking for a vehicle for the weekend or longer. To learn more about Berrybrook Motors, please click here.
Teignmouth to Shaldon Ferry, Teignmouth
If you're staying or visiting the coastal resorts of Teignmouth or Shaldon make sure to take a ride on the historic Teignmouth to Shaldon Ferry. Possibly one of the oldest passenger ferry services in England, the crossing can be traced as far back as 1296, with some believing it is probably much older. This crucial ferry has served locals and visitors for hundreds of years and continues to do so now, albeit with much newer vessels! The views on the journey are scenic and pretty and both Teignmouth and Shaldon offer plenty to do.
K&H Carriages, Cockington
K&H Carriages operate in Torquay, part of the English Riviera in a quaint village named Cockington which is home to a cosy pub, craft studios, grand manor house and more. Those visiting the beautiful Cockington can hitch a dreamy ride on a horse and carriage around the chocolate box village with a chance to marvel at thatched cottages, Cockington Court and the vast gardens.
Babbacombe Cliff Railway, Torquay
For an extra special outing to the beach, why not head to Babbacombe in Torquay. From Babbacombe Downs you can take the Babbacombe Cliff Railway down to Oddicombe Beach for a wonderful day on the sand. Built between 1924 and 1926, the railway has helped tourists and locals make their way down to this popular beach with ease.
Paddle Steamer Kingswear Castle, Dartmouth
Take a ride on the water on the UK's only coal fired paddle steamer. Paddle Steamer Kingswear Castle is a historic vessel that was built in 1924 and sailed between Dartmouth and Totnes until 1965. After being purchased by the Paddle Steamer Preservation Society and leaving the River Dart for 47 years whilst she served other areas, the Paddle Steamer Kingswear Castle returned to the Dart restored in 2013. These days visitors can enjoy a variety of cruises on this historical boat that show off this beautiful destination.
Dartmouth Steam Railway, Paignton
Hop aboard the Dartmouth Steam Railway in Paignton and enjoy a stunning ride to Kingswear. The line was first opened in 1864 and is a great part of Torbay and Kingswear's history. Passing by the popular beach of Goodrington Sands, over the viaduct at Broadsands, through the village of Churston and onto Kingswear, this journey is enjoyed by visitors of all ages.
Discover the History
The Stover Canal in parts forms some of the historic 18 mile walking route that is the Templer Way. This walking route traces the journey that granite once took from Haytor on Dartmoor all the way down to the docks at Teignmouth. The Stover Canal runs for close to two miles and was built in the 18th century. It was used to transport materials such as clay and granite as they made their way to Teignmouth. By 1937 it was no longer in use and nowadays just makes for a lovely setting for walks and exploring the area. Learn more about the Stover Canal here.
The Grand Western Canal is 11 miles long and meanders through gorgeous Mid Devon countryside from Tiverton to Lowdswells. It was opened in 1814 and was once used to transport limestone. Today the Grand Western Canal is a country park and nature reserve, ideal for long strolls and recreational activities. Make sure to keep your eyes peeled for the horse drawn barges when visiting! Find out more information about the Grand Western Canal here.
Housed in the Dartmouth Visitor Centre in Dartmouth, the Newcomen Engine is the oldest preserved working steam engine in the world! Designed and constructed around 1720 by Dartmouth-born engineer, Thomas Newcomen, the steam engine spent much of its working life in Warwickshire pumping water into a canal. To celebrate the 300th anniversary of Thomas Newcomen's birth in 1964, the engine was reassembled in Dartmouth. Visitors are able to view this magnificent machine working and find out more about its history. More details about the Newcomen Engine can be found here.
Mayflower Museum, Plymouth
Many will have heard of the story of the Mayflower, particularly with the 400 year anniversary coming up in 2020, where the Pilgrims set sail from Plymouth for America in 1620. The Mayflower and the Speedwell also stopped at the harbourside town on Dartmouth on their momentous journey. This historical trip is brought to life at the Mayflower Museum on The Barbican in the bustling city of Plymouth. Interactive exhibitions and a model of the Mayflower can be enjoyed as well as learning more about the story and the people that made it happen.
The Golden Hind, Brixham
The Golden Hind in Brixham is a full size replica of the famous ship of the same name that Sir Francis Drake used to sail around the world. The first Englishman to circumnavigate the globe, Drake is considered to be one of our greatest explorers and made the monumental journey in the 16th century. The replica in place in Brixham Harbour was built in 1988 after a previous replica, used in the filming of the TV show Sir Francis Drake, sank whilst being towed to Dartmouth for restoration in 1987. Climb aboard and discover more about the crew and the journey on this museum ship – a great attraction for all visitors.
Devon Railway Centre, Tiverton
Located in Bickleigh, just three miles from Tiverton, the Devon Railway Centre is a family friendly attraction that offers all sorts of great activities for train lovers and transport enthusiasts. With play areas, a miniature railway and model village for the little ones as well as a narrow gauge railway and museum. The buildings at Devon Railway Centre have been restored and were once Bickleigh Railway Station. The original station was built in 1885 but closed in 1963; restoration began in 1997 and now houses the centres tea rooms.
If you like vintage cars and motorcycles then Moretonhampstead Motor Museum is for you. Nestled in Dartmoor National Park, this fascinating museum offers up a collection of vintage and historic vehicles including pre-1920s. A fun day out, those who love cars and motorbikes are bound to enjoy this blast from the past and you can even view the restoration workshop.
Hopefully when you come to visit you'll get the chance to catch a ride or visit one of these historical transport attractions in South Devon – we're pretty sure you'll love them all! Keep up-to-date with all things South Devon such as competitions, new blog posts and events by signing up to our e-newsletter here.
Other Posts You Might Like
Related
0 Comments